✅ 52 Week saving challenge UK
The 52 week saving challenge UK is a great way to build up your savings.
This challenge definitely gets harder as the year goes on, but by the time you need to really start cutting back to meet your savings goals, your pot is growing fast and motivating you to keep going!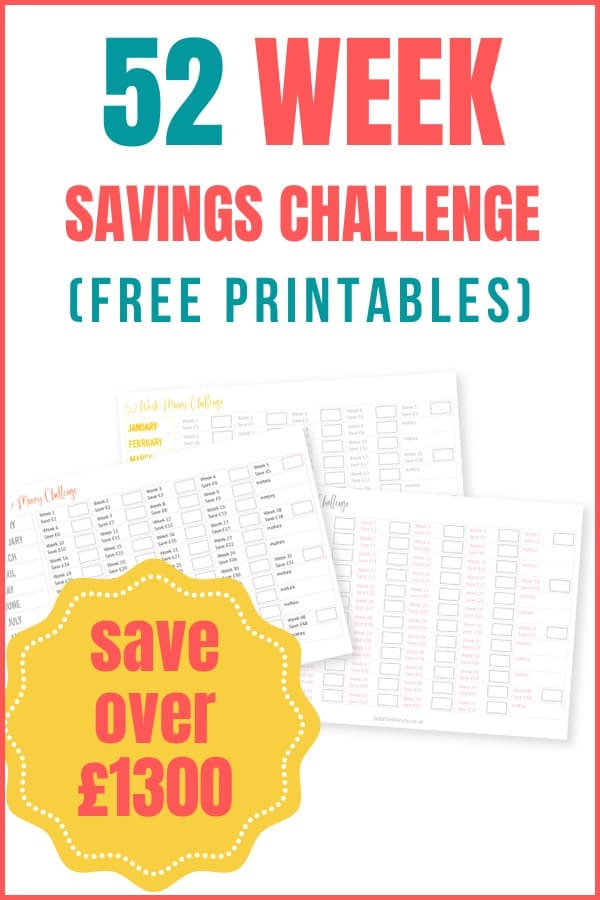 ✅ What is the 52 week savings challenge?
If you're new to this way of saving money, every week you save the amount of the week your in, so it look like this:
Week 1 – save £1
Week 2 – save £2
Week 3 – save £3
Week 4 – Save £4
⬇️
Week 30 – save £30
⬇️
Week 50 – save £50
⬇️
Week 52 – save £52
Total after 52 weeks – £1378 ?
If you think this challenge might be too tough to complete, have a look at the Penny A Day Challenge here
✅ How does the 52 week savings challenge work?
The 52 week savings challenge works by allowing you to get into the habit of saving small amounts at first, and building up to bigger sums as the year goes on.
Some people do this challenge in reverse, December can be an expensive month all round and it can be tricky to find the larger amounts to save.
If you're starting this saving plan in January, reversing it might be a good idea if you think you'll struggle in December.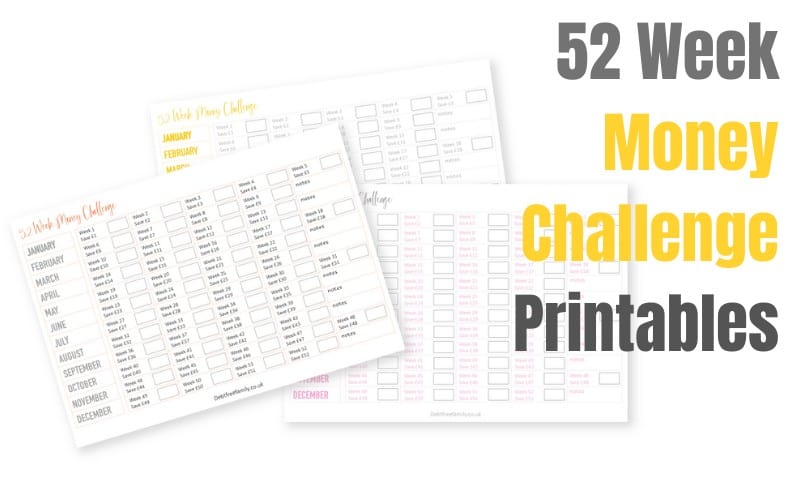 ✅ How much do you save doing the 52 week challenge?
At the end of week 52, if you managed to stick to the plan, you'll have saved yourself a huge £1378.00
Sounds like a lot to save in one year? It is, and this isn't called the 52 week money challenge for no reason.
One thing you can do to help you meet your goal is to think about ways you could bring in some extra money to help you save the bigger amounts, it doesn't have to come from your regular income.
You may want to start challenging yourself to make the amount each week from extra income you're able to make, so you don't have to touch your family budget at all.
We have a number of posts focusing on ways you might boost your budget, these are a few to get you started:
You can also look at ways you can make savings from the budget you have already.
Learning how to budget was the best thing we ever did to turn our finances around, and something that will allow you to see where you're spending your money and where you can make savings.
✅ 52 Week saving challenge printable
We created these FREE 52 week money challenge printables that you can download and print at home.
Being able to have a visual reminder of your savings and how far you've come can be extremely motivating.
The early weeks of this money challenge are fairly easy to get through, and these charts will be well on their way to being checked off by the time you need that extra boost to carry on!
✅ FREE 52 week challenge printables
Recent posts