The best meal prep containers UK (2020)
Looking for the best meal prep containers available in the UK? There are so many meal prep containers out there to buy we've reviewed the best of them, compared and tested and are here with the results!
✅ Our top 3 food prep containers
✅ Food storage containers UK
In the UK, we love meal prep containers , with the vast majority of UK homes owning several sets already. But food storage has come a long way since the yellowing Tupperware days of our childhoods….
Food waste in the UK is a huge issue. With 6.6 million tonnes of food being wasted in the UK each year, food storage containers really help you prep and lessen your food waste. And this means….lower supermarket bills!
There are SO many food storage containers to choose from. We've done the trying and testing, results below!
✅ BEST meal prep containers WINNER
Which meal prep container did we like the most? This is the one we use daily.
Sale
5 PACK - Glass Meal Prep Containers - Glass Food Storage Containers - Glass Storage Containers with Lids - Glass meal prep boxes - Dishwasher Microwave, Oven & Freezer Safe-BPA Free 850ml 28oz 3.5Cups
★ MEAL PREP CONTAINERS – Each food container comes with a very handy SmartestLock lid. Lock your container in two clicks to store your food without a spill. Completely leak-proof, you won't have any bad surprises carrying food around in your bag!
★ PREP YOUR MEAL AT HOME & EAT ON THE GO – What's better to eat than a heart-warming homemade dish? Prepare your own delicious and healthy meals at home and bring them to work or school. Our food containers resist high temperatures, so you can reheat or cook your food directly in them. They are also freezer safe too!  
★ 5 CONTAINERS – Perfect for meal prepping, their ideal size will help you keep control of your food portions. Stay healthy and save time by cooking and freezing your meals for later. DIMENSIONS: 6.5" x 4.75" x 2"/ 16.51cm x 12cm x 5cm - CAPACITY: 28oz/82cl
★ HEALTHIER & STRONGER THAN PLASTIC – Our glass food storage containers are made from high quality borosilicate glass, which is stronger than standard tempered glass meal prep and plastic tupperware containers sold by other cheaper brands. Our borosilicate glass containers are oven, microwave, dishwasher and freezer safe, so they won't crack, warp and leak nasty chemicals like plastic containers. The snap locking Lids and glass containers are BPA Free, FDA, LFGB, SGS, BV approved.
★ MEAL PREP RECIPE E-BOOK INCLUDED - To get you started meal prepping, we created a meal prep recipes e-book specifically for these glass tupperware containers! We list all the nutritional information for each meal so you can keep on track with your health goals. There are links to the recipe videos so you can see how to prepare the recipes. The packaging contains the instructions on how to get the free-ebook or if you can't wait, just contact us via Amazon, we'll be glad to send you a copy.
✅ Glass food storage containers UK
Why do I love glass food storage containers? There's a few reasons to be honest.
One reason that shouldn't be overlooked is the fact that they just look so good. Your food looks really appealing and that goes a long way towards keeping up that habit of packing your meal to take to work with you.
These are some of my favourites, and we've tried a lot :)
✅ Glass meal prep containers UK
The next reason I've taken to these glass meal prep containers is that they don't retain any smell after they've been washed. Ever seen those plastic containers that look sort of yellowish after they've been used and washed too many times? Horrible, aren't they :)
These glass meal prep containers just go on and on looking brand new. The plastics that are used today in a lot of food prep containers is better than it used to be, but glass is the way forward for me!
✅ BPA free food containers UK
Need more reasons? They're better for us as they're BPA free. They last longer than their plastic counterparts, better for the environment. They heat food more evenly than plastics do in a microwave….the list goes on.
✅ Food prep containers – other favourites!
We've talked about the containers I chose for our family, but there are other options to go for as well.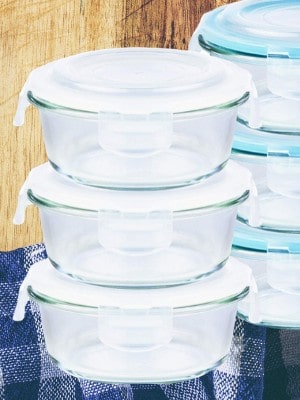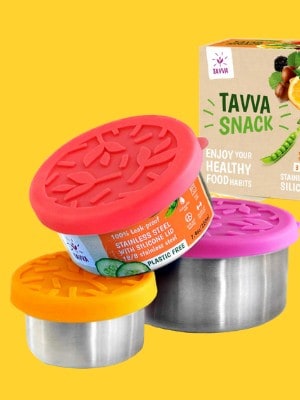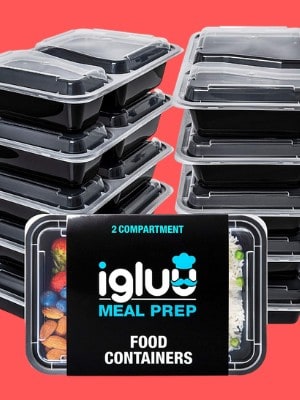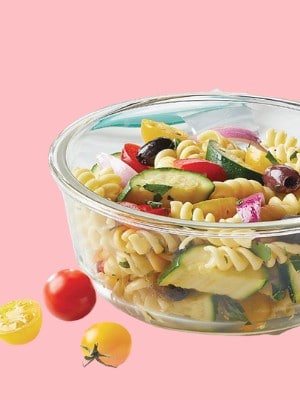 ✅ Freezer to oven containers UK
Freezer to oven containers. What can I say? Busy day at work? Long day out with the kids? If you're frazzled, tired and hungry….these containers let you have dinner, straight from the freezer into the oven, boom, done.
That's the thing about these versatile food prep containers, batch cook when you've got the time, and you've got a healthy dinner for the family with no food prep when you haven't.
✅ Freezer storage containers UK
You probably don't need me to tell you that glass cannot usually go in the oven straight from the freezer. So what makes these containers different?
Well, it's the borosilicate glass used. We're informed this glass can withstand temperatures of -40 to +300, giving you that straight from freeze to oven benefits that are so handy.
We've tried out loads of freezer to oven food prep containers and here is a selection of our favourites. Okay, my favourites :)
✅ Meal prep bags UK
Meal prep bags are another really good option when you're planning out your weeks meals. While obviously you're not going to keep these stored in the same way you would the glass containers and batch cooking containers, if your meals are more lunch box type foods, these meal prep bags are some of the best ones we've found.
✔️ The exterior of the Lunch Bag is constructed out of 1680D water-resistant dirt-proof Oxford fabric for durability and water proofing and easy cleaning
✔️ Size: 9.8 * 10.6 * 7.5 inches (25 * 27 * 19 cm) with a capacity of about 12 liters
✔️6X INSULATED COMPARTMENTS – Versatility and flexibility should be key for any lunch box solution
✔️ Ritfit easy-carry mini meal management insulated bag provide a compact storage room for those who are seeking for a better food management solutions
✔️Larger Component You Need: Design with 3 separately insulated compartments, the main compartment comes with 3 containers can take 3 meals
✔️ Keep Food Cool or Warm: The interior lining is extra-padded with foam for great thermal resistance
✅ Lock and lock food containers UK
Lock and lock food containers have been popular in the UK for what seems like forever. You're likely to have several of these in your kitchen already really, I know we have.
These are relatively cheap, easy to use and store and readily available in supermarkets and just about everywhere. However…these are not my favourite containers.
Why?
In my opinion, they yellow a bit after being repeatedly washed, the plastic stains and they start to smell after a few uses, and I just can't get rid of the smell…and the more you wash them the more they yellow….
Having said all that, they are cheap, and versatile so I've included a few here. I'd recommend using them as fridge storage and always for the same foods though, to avoid the plastic absorbing food smells.
✔️Four sided lockable lid & 100% airtight leak proof
✔️Freezer safe microwave safe dishwasher safe (top rack only)
✔️Freezer safe microwave safe dishwasher safe (top rack only)
✔️Easy to use and clean
✅ Lunch box with compartments uk
Looking for one of the single best ways to save money FAST? Look no further than the lunch box! It's an oldie, but it works.
Using a lunchbox with compartments is a fantastic way to take food to work or school, keep it fresh and stop smells from one food ruining the other.
Stop buying lunch while you're at work, pack it at home to take with you, and the money you can save is upwards of £100's annually, a lot more in some peoples cases!
The days of the old plastic container are long gone though…today's lunch boxes are modern, lightweight and hygienic.
These are our picks of the best out there.
Grab yourself one of these and watch the savings add up. Trust us, you'll be amazed!
What should you look for in a lunchbox with compartments?
✔️Easy to clean – your lunch box should be made of a material you can easily clean or out in the dishwasher if it's plastic
✔️Compact – your lunchbox should be easy to fit into your bag
✔️ Using the separate compartments – the key to taking lunch regularly to work is to make it not boring. Separate compartments means you can take a variety of foods
Other double decker lunch boxes we recommend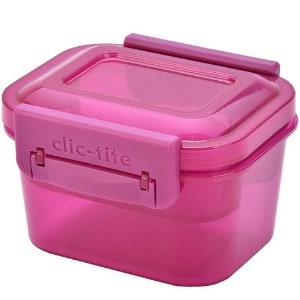 ✅ Best kids lunch box with compartments
Kids and cool lunch boxes go hand in hand, so we've got some of the best lunch boxes, bags and lunch cases on the market that'll make sure your foods kept fresh all day long.
If they're made from re-cycled materials, all the better, and all of these encourage less use of single use plastics. Easily cleanable, this selection of kids lunch boxes with compartments are all leak proof, easily washable and BPA free.
Our kids compartment lunchbox winner?
Other kids lunch boxes we love!