* We sometimes use affiliate links, so we may receive a commission, at no cost to you, if you make a purchase through a link. Check our disclosure for more info.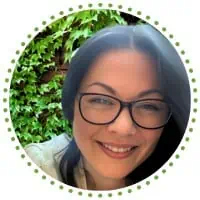 I'm Steph, mum of three! 👋
Here, I share practical insights on making (and saving!) money. With a knack for budgeting and a passion for financial freedom, I've picked up lots of tips & tricks along the way. And I can't wait to share them with you here!
If you're looking to make some quick cash, a car boot sale is the perfect place to start. But what are the best things to sell? Check out our list of the top 10 items to sell at a car boot sale!
The Best Things To Sell At A Car Boot Sale
A relatively alien concept outside of this little island, we take it upon ourselves to open our car boots in the middle of a field at silly o'clock on a Sunday morning just to make sure someone might get some use out of buying some second-hand wardrobe picks.
In fact, we've even got celebrities taking a dab hand at the weekend activity, with some sharing valuables such as award ceremony dresses and old signed memorabilia they found in their third shed at the back.
So, it begs the question, have you tried car boot selling?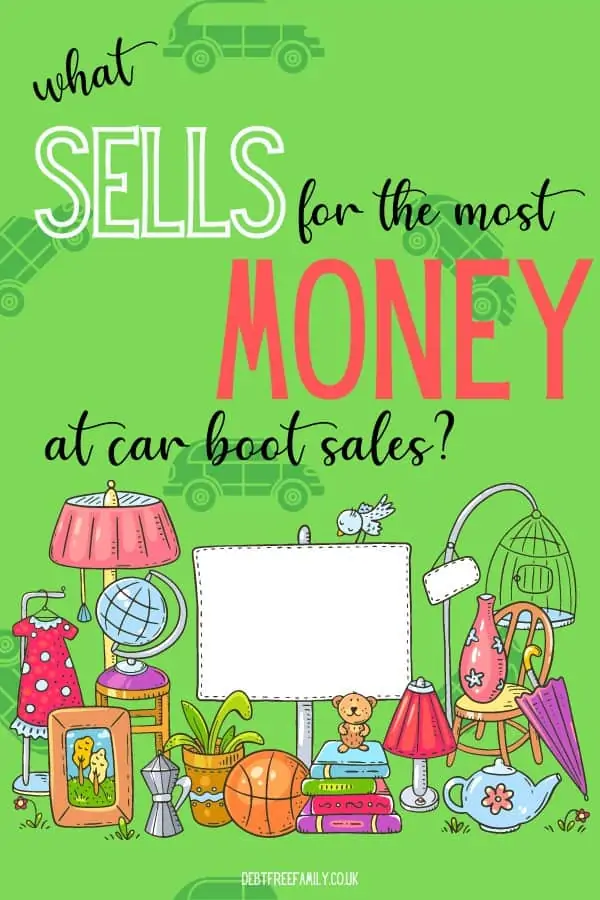 Do you know what the best things to sell at a car boot sale in the UK would be? And do you have any bric-a-brac lying around at home that someone else might find to be their treasure?
We're constantly on-hand to bring new (and sometimes traditional) methods for gaining income and growing a lifestyle at home where you feel most comfortable.
So, in this car boot sale guide we'll be taking you through the motions of a car boot sale from whether it's going to be worth it all the way to the do's and don'ts of the selling table.
What sells well at a car boot sale? Here's a few things to get you started!
Books
CDs
DVDs
Games
Consoles
Lights
Handmade Items
Children's Toys
Paintings
Hobby Equipment
Jewellery
Photo Frames
Ornaments
Gym Equipment
Records
Perfumes (especially discontinued ones)
Collectables
Cards
Instruments
Watches
Garden Tools
Pictures
Furniture
Device Accessories
Candles
Chairs
Mobile Phones
Clocks
Plush Teddies
Throws
Memorabilia
Key Rings
Bric-a-Brac
Basically, there's not much that doesn't sell. (But do see below for the no no's)
Can You Make Money From Car Boot Sales?
Strictly speaking, a car boot sale is an outdoor space dedicated to allowing cars and vans to pull up and create a small stall of goods using their boot and/or a foldaway table in order to sell unwanted possessions.
By definition of the car boot, it is a place to make money from items that would have otherwise gone in the bin, to charity or for the final ride out to the tip.
However, in the spirit of reusing goods to save the environment and allow others to get the remaining life and joy out of your unwanted things, the car boot sale is the perfect place to go.
To answer the question, "can you make money from car boot sales?", yes; it's one of the biggest benefits of a car boot sale.
However, it will depend on the items you've got for sale, the place you decide to go, how many people turn up with the expectation to buy and what your expenditure was for the day.
But we'll get into more detail about this as we go on.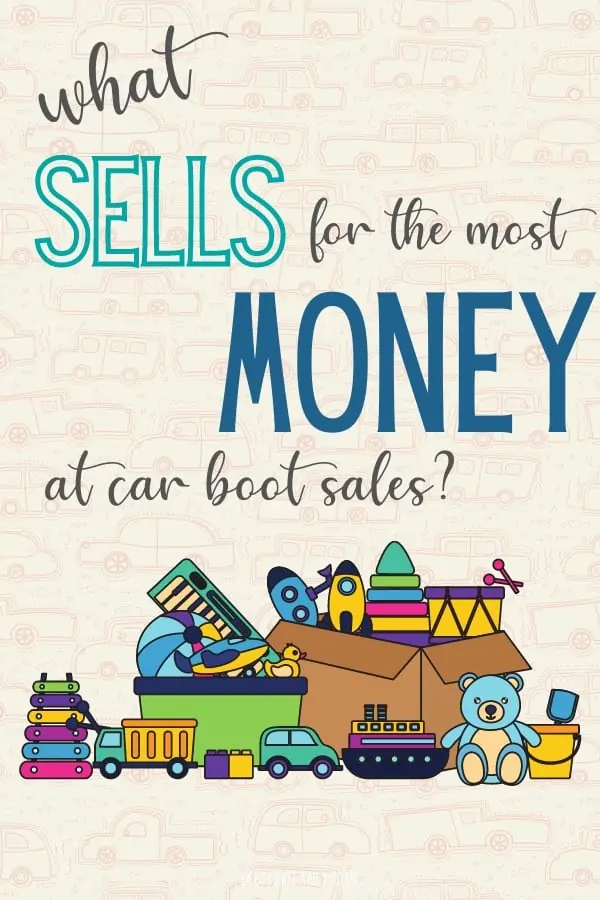 What Can You NOT Sell At A Car Boot Sale?
There are of course, some limitations to what can be sold.
However, they do hold understandable reasoning. For example, the selling of livestock without going through the accountable channels could lead to a sickened herd or animal abuse.
The same goes for food; As per any vendor of food in the UK, they must hold a valid license to permit the sale of food with a demonstration of food safety.
Car Boot Best Sellers
Here are some items that won't be on the list of best things to sell at a car boot sale:
Food (without a license)
Pets or other animals and livestock
Non-safety regulated electricals or appliances
Broken or damaged goods without demonstration
Counterfeited items
We love to help you make some extra cash on the side to get through a birthday, Christmas or other celebration in the year.
However, we'll always promote legal and healthy ways to do so. With that, we suggest always checking in with the owners (or organisers) of a car boot sale in case they have further restrictions on what can and can't be sold or which vehicles are allowed on the grounds.Do clothes sell at car boot sales?
Yes, clothes are one of the most common things to be bought and sold at a car boot sale alongside jewellery and books.
However, there are some regulations about what types of clothes can be sold and for what reason.
For example: you have to be completely transparent about the clothes and their condition. If you have a long dress that has a hole in it, you want to ensure people know they're buying a dress that either needs to be fixed or can be used as a fabric cut off for someone's newest sewing adventure.
As well as this, underwear is a no-go. While they're classed as clothes, garments and fashion, selling second-hand underwear is not permitted for hygiene reasons.
However, if they still have their original packaging, labels, are proven to have never been worn, and weren't bought specifically for re-sale purposes, then they might be on the sale rack.
Is It Worth Doing A Car Boot Sale?
Aside from the money-making capabilities, there are other benefits of a car boot sale.
For example, it takes you into a community of people where you can make new friends and begin a new hobby of the Sunday morning car boot.
You could even opt for the travelling car boot sale, which many enjoy as part of a family road trip each week. 
Making Money At A Car Boot
However, when it comes down to the monetary value of a car boot sale, you'd need to consider the costs of pitching up before you can begin to celebrate the net income for the day.
Here is the generic list of things you would need for a good sale day in this car boot sale guide:
Seller Entry (Approx. £5 to £15 depending on your vehicle and location)
Petrol (Approx. £10 for an hour-long round-trip depending on the car)
Fold-Away Table (Approx. £30 from Amazon retailers)
Clothes Rail (Approx. £30 from amazon retailers)
Change Float (Approx. £20 in loose change)
Camping Chair (Approx. £25 from Amazon retailers)
So, your total (first time) investment is around £120 to £130, but once you know the reigns and have the tools of the trade, you'll only need to cover the seller entry, travel costs and float (which you get back anyway!).
When it comes to selling, the general assumption is that you'll price items at around 10-15% of the original value.
So, if you're selling a dress that you bought for £25, it may be worth attaching a big yellow sticker saying £2.50 on it to attract customers to your stall. But this is as long as it is still in good condition, working order, clean, etc.
And you need to be ready for the hagglers! While there are only few and far between remaining in a 2021 day and age, they're still out there with that cheeky grin and lower price tag.
If you manage to sell around 50 items of this price (which you might have if you do a wardrobe de-clutter) then you'll easily make back your investment plus keep a little to the side as a profit.
Let's Talk About the North/South Divide for a Second
While Northerners may be known for their welcoming and warm attitudes with a community-like spirit, it turns out the some of the biggest and the best car boots are down South.
The further down the UK you travel, the more likely you are to come across higher seller fees when entering the car boot.
So, a quick tip from this car boot guide would be to scout out some car boots that are near you, have high footfall and will charge on the lower side of the entry fee.
If this means heading up to the land of chips and gravy, then so be it (plus, you'll get an amazing lunch out of it).
Here is a list of the best car boots in the UK:
Ardleigh Car Boot Sale (Colchester)
Battersea Car Boot Sale (London)
Bizzy Boots Car Boot Sale (Peterborough)
Brighton Racecourse Car Boot Sale (Brighton)
Capitol Car Boot Sale (London)
Eboot Car Boot Sale (Birmingham)
Edinburgh Car Boot Sale (Edinburgh)
High Street Car Boot Sale (Swansea)
Lymington Car Boot Sale (Hampshire)
Polmadie Car Boot Sale (Glasgow)
Shorts Club Car Boot Sale (Belfast)
Skirlington Car Boot Sale (Hull)
Strawberry Fields Car Boot Sale (Bridlington)
Wimbledon Car Boot Sale (London)
York Auction Car Boot Sale (York)
You can find a whole directory of car boot sales near you right here.
Is It Possible To Do A Car Boot Sale Online?
Yes, it is! After 2020, pretty much everything we know and love has found a way to migrate onto the online marketplace (apart from Primark for some strange reason).
Facebook Marketplace has become its own type of car boot sale where there are no fees, but you do have to think about logistics of the sale and there isn't the same community feel or making a day out of it.
However, Online Car Booty is a website dedicated to the love of car boots without the hassle of investing quite so much while also offering the community chat feel (plus, they have an app!).
One of the biggest benefits of a car boot based online is being able to access custom across the country all through the week rather than being limited to Sunday morning in your local area.
It's certainly worth a try, especially on the rainy days of the year (all 364 of them!).
With that, you are ready to use your car boot sale guide to pitch up at your local car boot (or afar for the adventure) and begin to sell your second-hand items to those who can enjoy the new lease of life. 
Car Boot Sale FAQs
What's the best thing to sell at a car boot?
There's not a lot you can't sell!
Books, CDs, DVDs, Games, Games Consoles, Lights, Handmade Items, Children's Toys, Paintings,
Hobby Equipment, Jewellery, Photo Frames, Ornaments, Gym Equipment, Records, Perfumes (especially discontinued ones), Collectables, Cards, Instruments, Watches, Garden Tools, Pictures, Furniture, Device Accessories, Candles, Chairs, Mobile Phones, Clocks, Plush Teddies, Throws, Memorabilia, Key Rings, Bric-a-Brac
How to make money at car boot sale?
This full guide goes through everything you need to know about selling at car boot sales in the UK, what sells, what doesn't and how to go home with a full wallet and not a full boot!
Do you have to pay tax on car boot sales?
If you're holding a one off car boot sale, there is no tax to be paid. If you're turning car boo sales into a business or holding one as part of your business, you need to declare your earnings and pay tax accordingly.