✅ How to convert nectar points to eBay vouchers
* We sometimes use affiliate links, so we may receive a commission, at no cost to you, if you make a purchase through a link. Check our disclosure for more info.
Wondering how to convert Nectar points to eBay vouchers? It's easier than you might think.
There's a whole host of places you can spend your Nectar points outside of the Sainsbury's stores, and eBay is a great place to not only grab yourself some bargains but use your Nectar card points to pay for them too.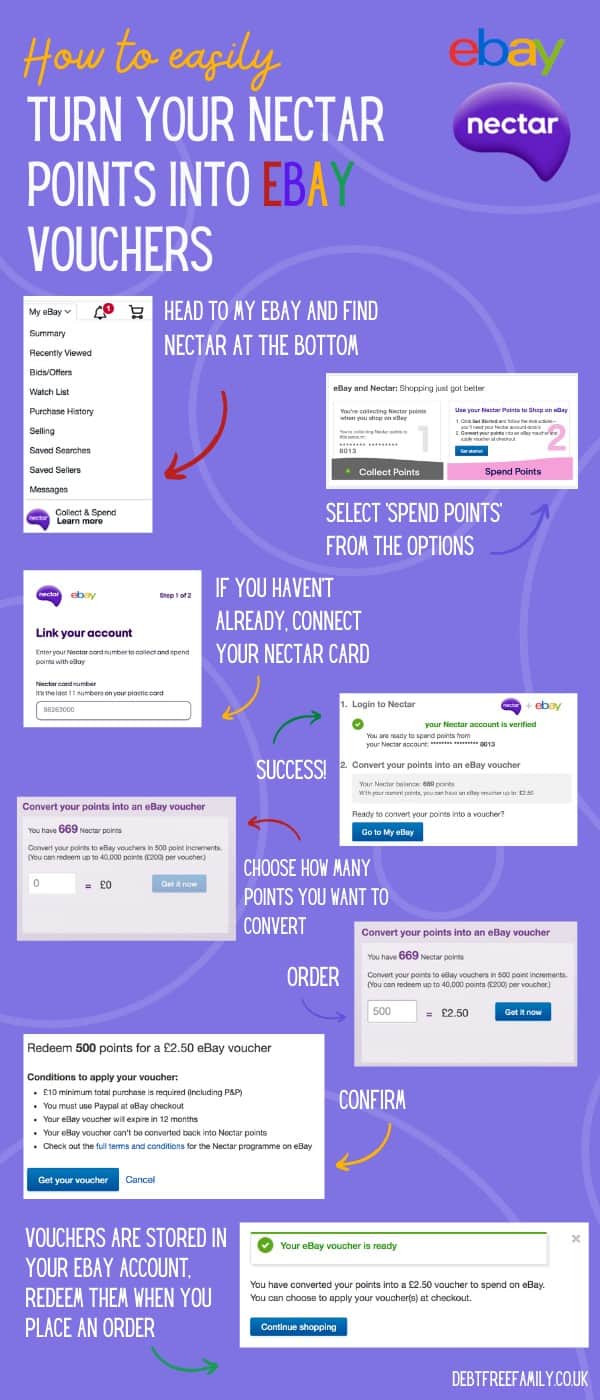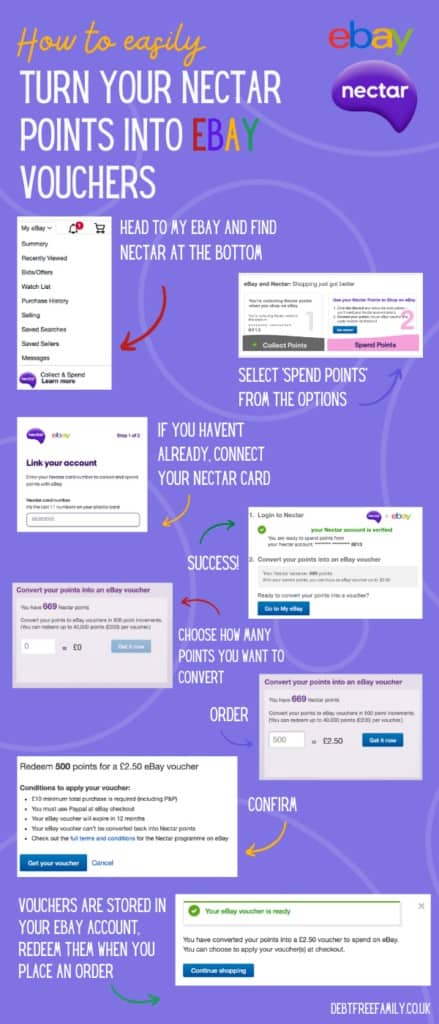 Converting your Nectar points into eBay vouchers can seem a little confusing until you do it, but it's really simple.
There are a few things you should know about before you decide to go ahead and change your Nectar points for eBay vouchers though, we've covered them below for you.
✅ How do I convert my Nectar points to eBay vouchers?
Converting your Nectar points to eBay vouchers just takes a few simple steps we've covered here.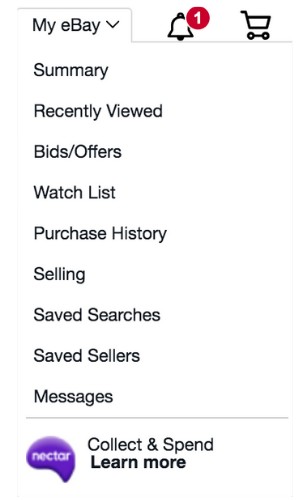 Step One
You need to be logged into your eBay account
Open the My eBay menu
Click on Nectar Collect & Spend in the list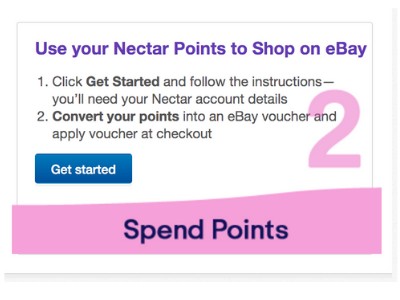 Step Two
Select the 'spend points' tab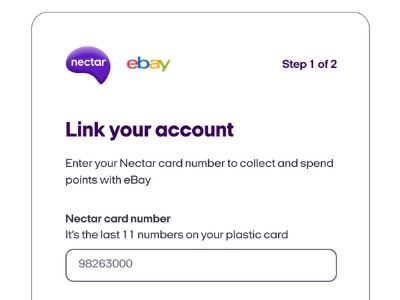 Step Three
If you've not already connected your Nectar card to eBay, do this now
Follow the steps – you'll need your Nectar password for this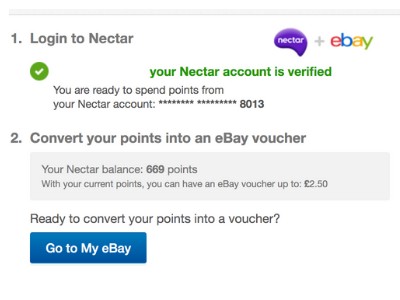 Step Four
Connect your Nectar card as above
Once it's connected you'll receive a success message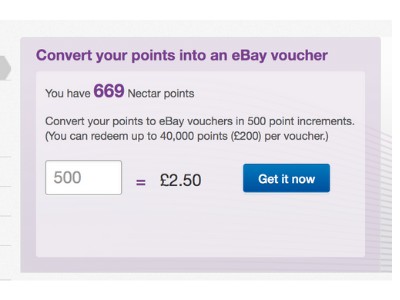 Step Five
You'll see your Nectar points balance
Choose how many Nectar points you want to convert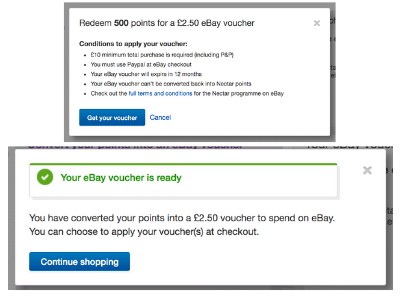 Step Six
You'll be asked to confirm your choice
Once confirmed, your Nectar voucher is ready to spend on eBay when you're ready
✅ How much are Nectar points worth on eBay?
Nectar points converted to eBay vouchers are worth the same as they are in Sainsbury's, so every 500 Nectar points will give you a £2.50 voucher to spend on eBay.
£2.50 eBay voucher – 500 Nectar points
£5.00 eBay voucher – 1000 Nectar points
£7.50 eBay voucher – 1500 Nectar points
£10 eBay voucher – 2000 Nectar points
£20 eBay voucher – 4000 Nectar points
£50 eBay voucher – 10000 Nectar points
✅ What happens if you return items you've spent Nectar points on?
If you need to return an item you've bought from eBay using Nectar points converted into eBay vouchers, eBay will reinstate the voucher once the returns have been received.
However, and it's an important thing to remember, if you've made a multiple purchase and only return one part of the order, the vouchers will not be reinstated and your eBay vouchers converted form Nectar points will be lost.
It's a shame it's like this and it puts a lot of people off converting and using their Nectar points on eBay.
You could get round this and protect your Nectar points by making individual purchases which works if the postage is free, not so much if you have to pay the postage.
✅ Can you cancel your voucher and get your Nectar points back?
No. Once you've gone ahead and converted your Nectar points to eBay vouchers, there is no way to cancel the voucher and get your points back in your Nectar account.
✅ How to spend Nectar points on eBay
Once you've followed all the steps above and your eBay vouchers have been confirmed, you can spend them!
How do you use them? Find the item you want to buy and put it in your basket as you normally would.
Once you're ready to pay, you'll see a 'redeem your points' link under your item, as in the image below.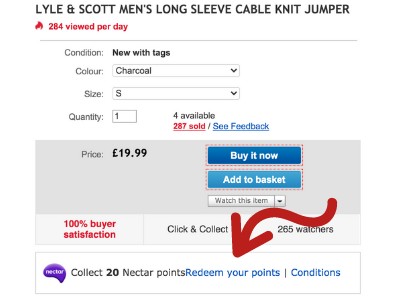 Your vouchers up to the amount you choose will be deducted from your purchase.
You can only use PayPal to pay on eBay when you're using eBay vouchers converted from Nectar points.
Log into your eBay account here.
Recent posts