How to make £100 a day
* We sometimes use affiliate links, so we may receive a commission, at no cost to you, if you make a purchase through a link. Check our disclosure for more info.
Would you like to know how to make £100 a day? That's £36,000 annually, more than the national average, and could mean the difference between struggling each month and being able to get on top of your finances.
✅ How to make money fast UK
These are some great ways to make some money fast:
Take on ironing
Deliver food locally
Be a driver
Get a job in a bar
Babysit or child-mind
Deliver parcels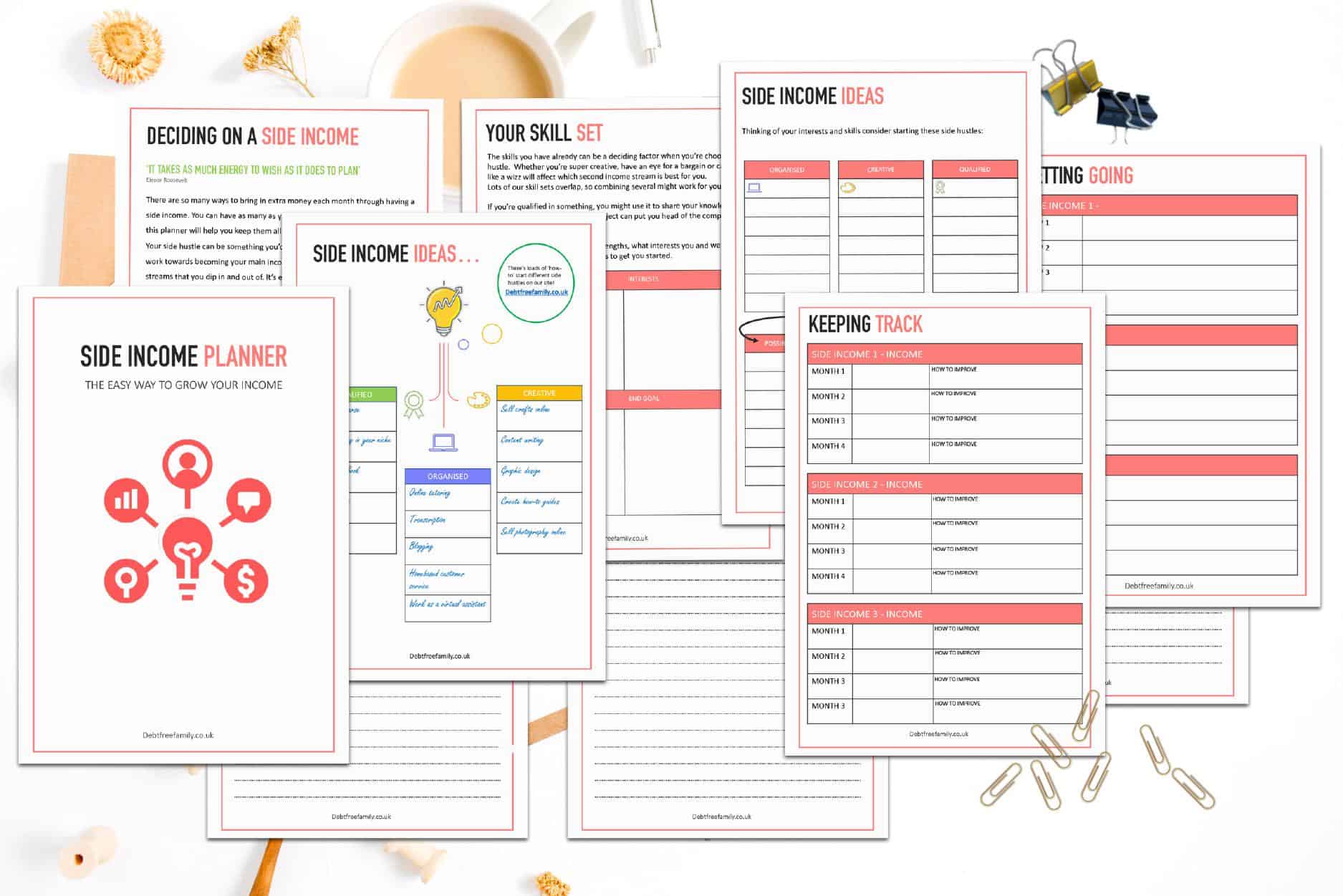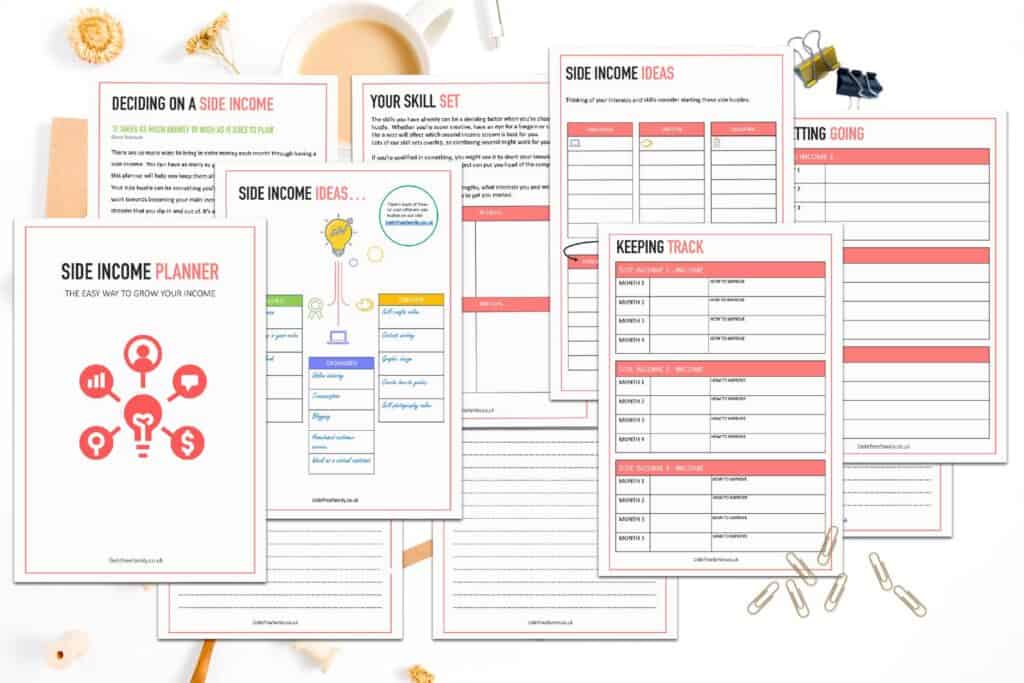 ✅ How to earn 100 pounds a day
Even though it might seem like a mountain now, I honestly believe that if you use the ways I'm about to list below to set yourself up to start earning 100 pounds a day, it's pretty easily achievable.
Let's face it, most of us could do with some more money, a second income stream or even a way to replace your go-to job so you can stay home and if earning 100 a day could help you get there, keep reading!
Having 3 kids and needing to earn some extra money along the way has meant I've had to sort what works from what doesn't, and I'd love to share that with you.
There are a few ways you can start to bring in this type of money straight away so I'll go through them first but whilst you're busy getting on with them, don't forget to start on the ones that might take a little longer to get going.
Some of these ways chug along slowly in the background (set them up first) and others take a little organisation. All it takes is a couple of hours a day…and you'll have made your way to earning £100 a day!
✅ Earn 100 a day from home
If you're looking to make money fast, and like the sound of earning your 100 a day from home, it's often because you're in a tight financial spot and need a quick injection of cash.
Making money fast is possible, just don't expect any of these ways to make you masses of money straight away.
Like most things, creating a steady stream of cash can take some time to build up, although you should be able to start bringing in some money quite quickly.
✅ How to make more money UK
If your looking for ways to make more money, I'm sure you've seen a hundred and one different ways to go about it, but in my experience at least, there are no get rich quick schemes.
Making more money needs a good plan, but it's definitely possible.
These are some related posts you might like…but keep reading, we've got loads of ideas here!
✅ How to make £100 a day online UK
If you're planning your journey to £100 a day, earning online is going to feature pretty heavily in your plan. There's the potential to set up income streams online that can match your goal fast.
Making £100 a day online isn't going to happen overnight and it's important you're realistic and have a plan. But know it's possible, and you can make it happen for you.
✅ Make £100 a day
The first thing you need to do is get some apps set up on your smart phone.
These apps I'm about to list are giving you FREE MONEY. They're not going to make you rich but they take very little effort, in some cases none, and they reward you with cash or cash savings
It's no joke, this app pays you simply for outside walking. If you're like me and always trying to up your steps, this apps a no brainer! Download Sweatcoin onto your phone, start earning Sweatcoins (the currency this app works in) and see how many coins you can get.
Rewards range from the easy to achieve (free yoga) to the harder and you'll need a strategy ($1000 cash).
Read my review on Sweatcoin here.
There are a number of market research companies that are happy to pay or reward you to upload your shopping receipts and let them take a look at them. Why would they do this? They study shoppers shopping habits and your receipts make perfect research!
If you're shopping anyway, don't miss out on these apps, it takes seconds to upload a receipt and the rewards add up quicker than you'd imagine.
The apps I've used are:
The apps we looked at are:
Receipt Hog
Shoppix
CheckoutSmart
Shopprize UK
SnapMyEats
GreenJinn
You can read my reviews and download these apps here.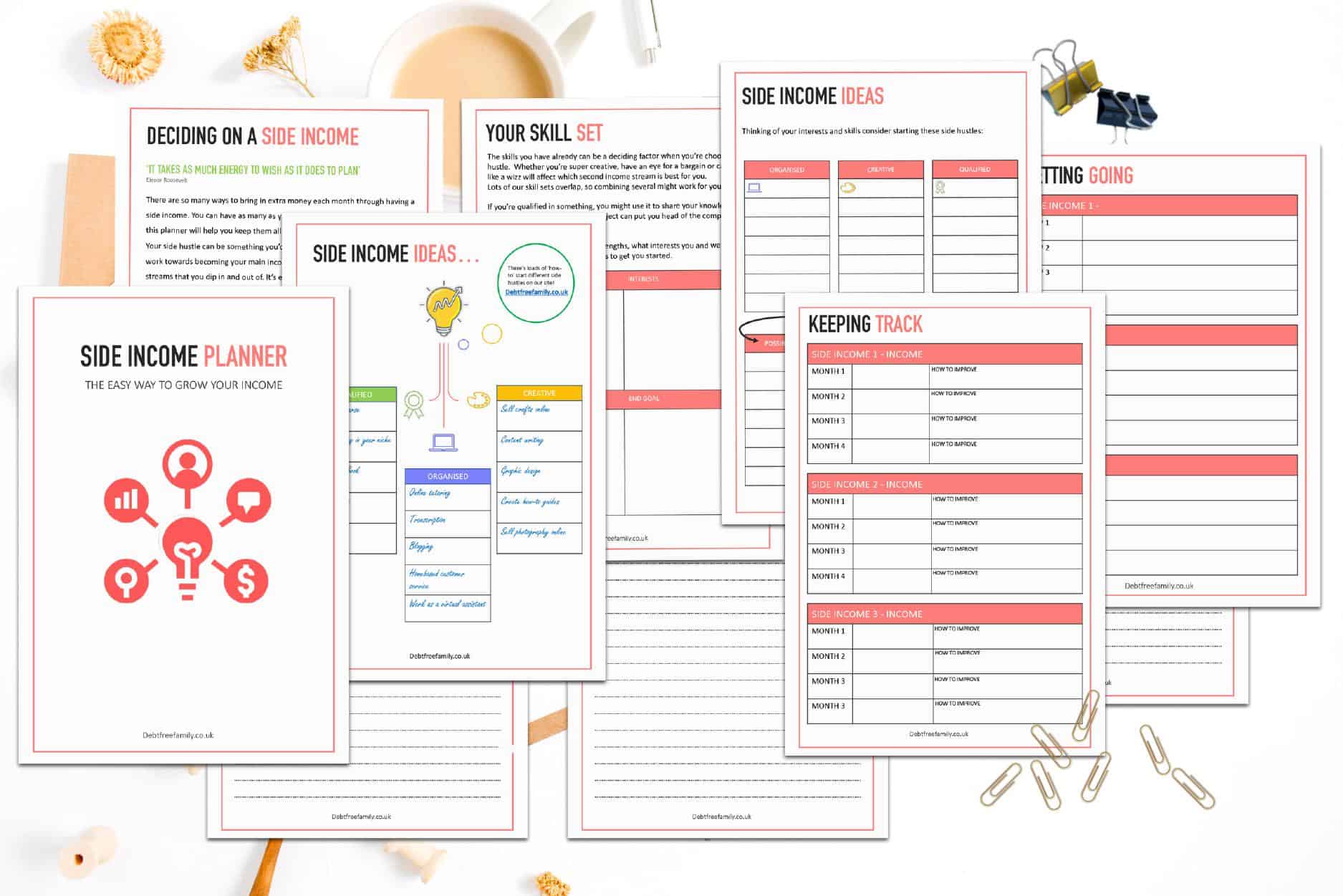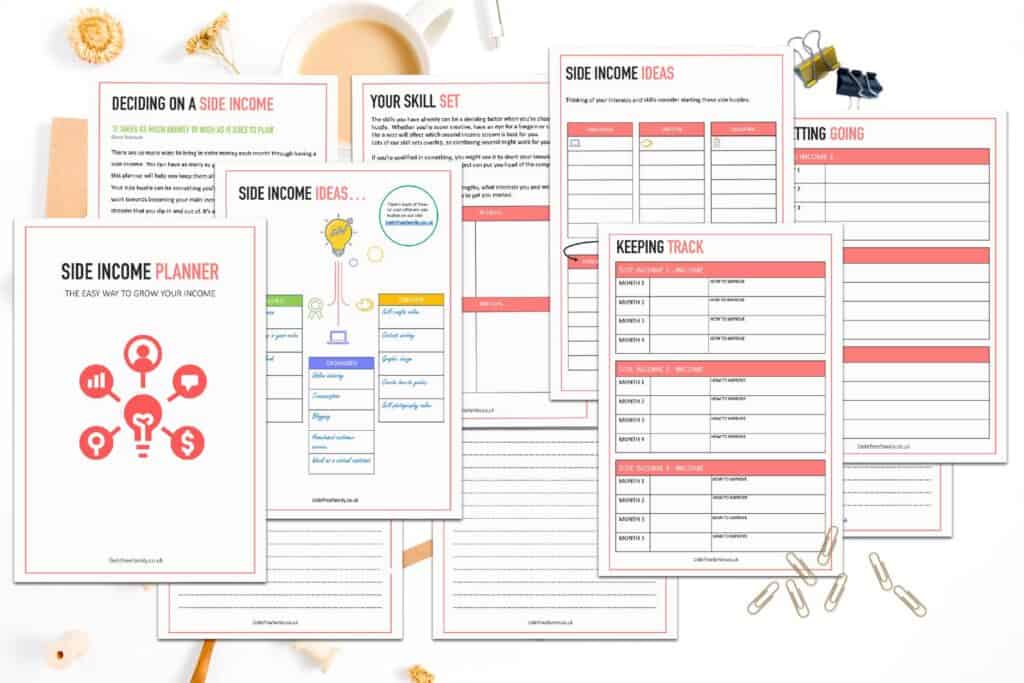 (Read our full post on taking surveys in the UK here!)
Although I'm not a MASSIVE fan of taking surveys, purely because they can take a lot of time and I think there are better, more efficient ways of making money, I do think it's worth having one or two apps on your phone.
Why? If you're waiting around at the doctors, in your car waiting for the kids to come out of school, at the the bus stop etc…it can be a great time to earn a little cash in the form of taking surveys.
Some companies are better than others, so make sure you read some reviews before you spend too much time answering survey questions, and remember to cash out as soon as you can.
We have a post here on survey sites. Read that here.
So you've set the apps up….now what?
Now you could start to set yourself up selling online, offering a product or service. There are quite a few places you can do this, some are better than others.
Here are some ideas based on things I've sold, or services I've used myself so know people need and buy.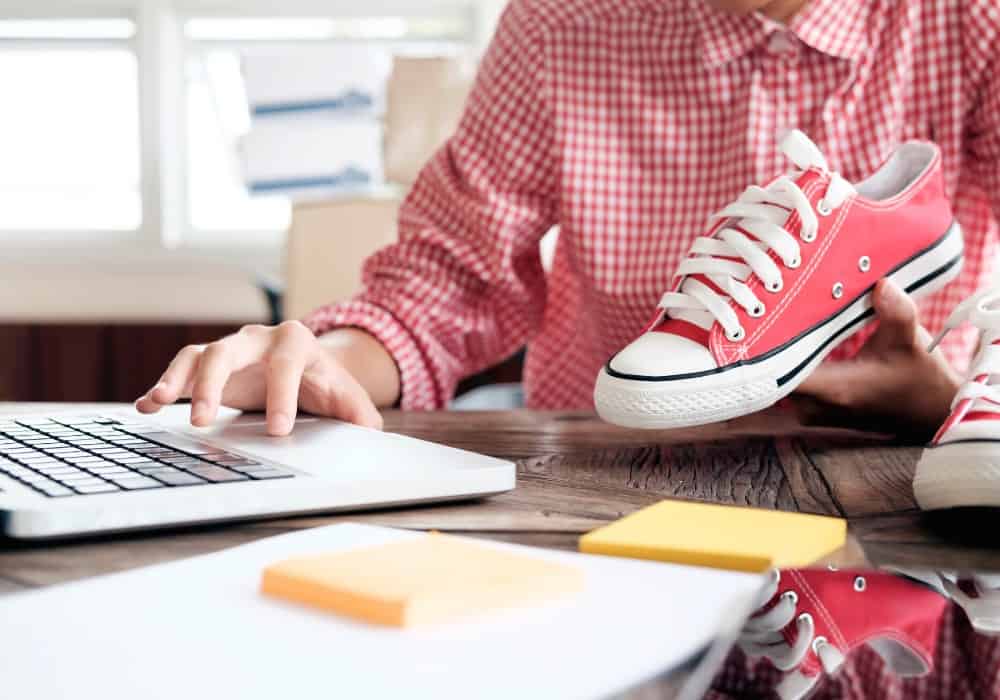 While we don't exactly have an endless supply, we do seem to have a crazy amount of clothes in our house that we don't wear anymore and are never going to wear again.
We're not alone, since in the UK there is £140 MILLION of unwanted clothes going to landfill each year (source). Of course, this is so wasteful and terrible for the environment. It is also a money making opportunity being buried in the ground.
Start by having a clear out of your own house and selling what you can. If you turn out to be really good at this and make decent money, think about charity shops and other places you could find clothes to sell.
Lots of people make lots of money with this side hustle. There's no reason why you can't too.
I've written a post about selling your clothes online. It'll tell you where to get the most money for they type of clothes you're selling, and give you tips on photography and packaging.
Most of us have printers in our homes and as the print qualities improved, the market for digital printable's has exploded.
Don't have a printer that good enough? Fiverr makes this super cheap and easy to do anyway. There are loads of people happy to design products for you and have delivered straight to your door.
What could you design?
Digital CV's – in a time when employers take SIX seconds to evaluate your CV, design is everything.
Great at Pinterest? – Sell Pinterest templates in packs of 4 or 6. Pinterest is the main traffic source for thousands of bloggers and they're all looking to stand out from the crowd.
Party Invites – Personalise party invites ready for printing
Budget Planners – Spend some time designing a good monthly budget planner ready for digital download
These are some of the best sellers. Yes, there are a lot of them already online.
That's because they sell well, are fairly cheap to buy, and for us looking to produce them, they're pretty passive to sell once you've got the template set up.
Find out here where to design these for FREE & where to sell them.
Virtual assistants (VA's) have become super popular in the last 5 years or so.
It's easy to see why.
As a VA you might take over the running of someones social media accounts, do small admin tasks for them, make sure emails are sent and replied to, the list goes on.
The pays is good as well. If you know anything about social media and have a proven track record, you'll be in demand as this is one of the fastest ways for new bloggers and small businesses to grow.
There are agencies you can join to start looking for work, but most VA's get work through word of mouth.
Get the details you need to get started working as a VA here.
Writing is one of those things some people think is only for 'professional' writers. While it's true that having a writing background and lots of reviews and perhaps some printed published work might help you secure more work, this is not the only way to get work as a freelance writer.
There's many different styles of writing and the way you write might be just what someones looking for…so out yourself out there, and see what happens. You never know, you might turn out to be a natural!
One thing I would say is that you need to have some work to show people before they're likely to pay you to write for them. This might be a guest blog post you've written, a post on your own portfolio site, or something you've written purely to showcase your writing.
Where could you start to get some writing work?
There is a more in-depth blog post here about how to get started as a freelance writer.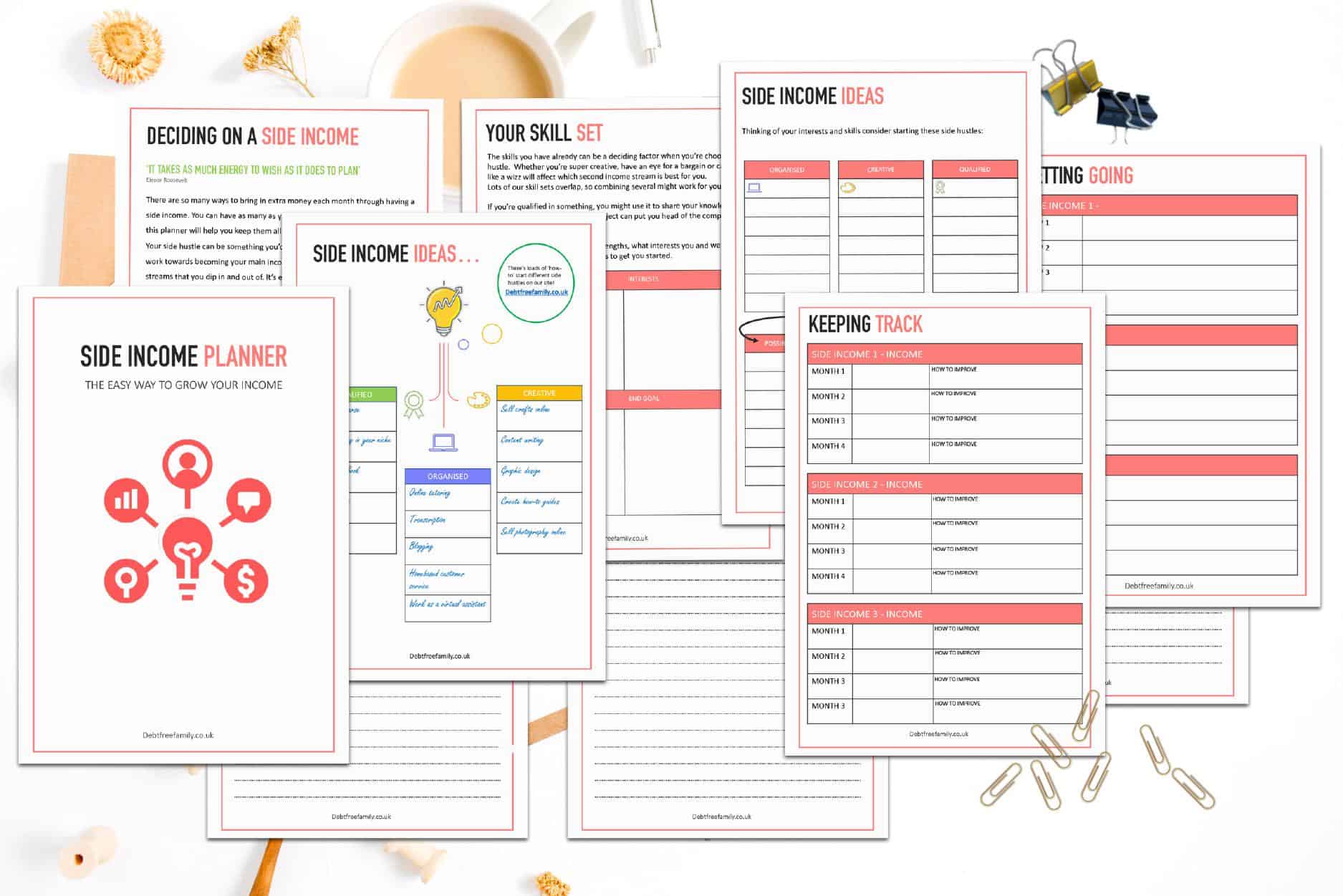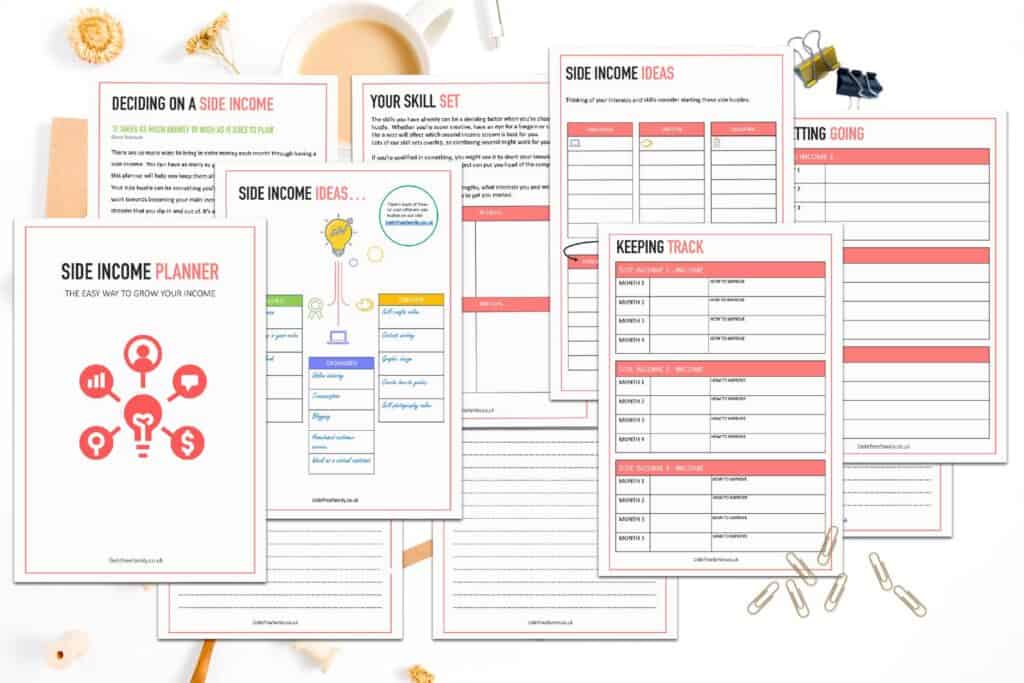 Read our full post on how to become a mystery shopper here!
Who doesn't love the idea of getting paid to shop! Being a mystery shopper is the UK's most popular side hustle, with good reason!
Mystery shopping can range from simply being asked to go to a particular shop (you'll be given the exact shop when you conform the job) and carry out a task. This might be asking a question, checking stock levels or actually buying something.
Afterwards, you'll need to report back to the company paying you.
I did quite a lot of mystery shopping jobs a couple of years back and it's good fun, it fits in with your day and you're fully in charge of the shops you go to and when. I always had 1 or more of the kids with me and it was never an issue. In fact it added to my mystery shopper cover!
Read my reviews of the biggest mystery shopper companies to join here.
Let's face it, many of us spend quite a lot of time surfing the internet at home. I know I do. We know our way around the web like the back of our hand, we know how to search for the things we want and we are pretty good at navigating our way around most sites.
And this is valuable.
There are companies who need people like you and I to test new websites so they can check that the sites are useable and easy to navigate.
You may be asked to complete a task (example: book a fictitious holiday to Spain on Aug 23rd) and the user testing company will track how you do this and note if you get stuck or seem confused at any point.
Sometimes you might simply be asked to have a look around the site and make suggestions. Or search for something…the list of what you may be asked to do is long!
It's fairly well paid as well. Each testing job pays between £10 and £50, and sometimes way more if you're asked to go to a user testing day (usually held in a hall).
There are lots of jobs available and lots of people completing for them, but it IS possible to get them and very often you can get 2/3 of these a month.
Read our post here on the best way to go about finding and securing these jobs.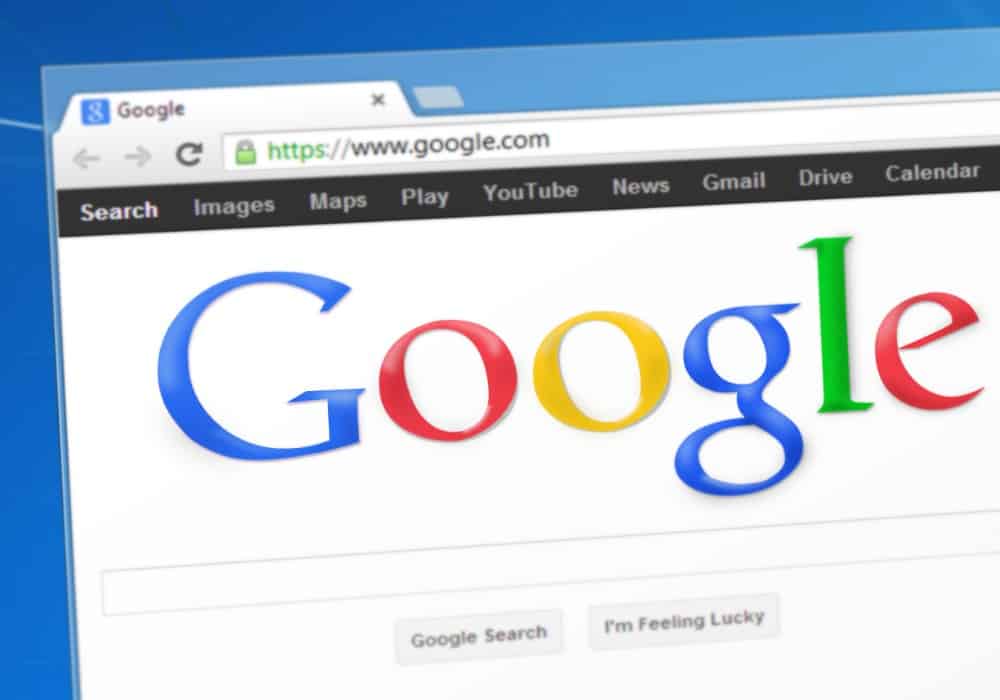 Ever heard of making money as a search engine evaluator? If you hadn't, neither had I until a couple of years ago.
It's an amazing way to make some money…all without leaving the house!
Google is the search engine the majority of us use, in fact they process over 63,000 searches a SECOND globally and for the most part, Google uses an algorithm to decide what to show you when you input a search term.
But it's not the only way Google makes that decision. They also use humans (yay!) and that means they're almost permanently recruiting people to manually check websites for them.
It's a work from home gig, it's well paid and it's pretty easy to get accepted for.
The main two companies that recruit for search engine evaluators are:
Appen – You need to pass an online test to be able to work for Appen, it needs quite a lot of concentration to pass but once you're through and accepted, there's a fair amount of work.
LionBridge – LionBridge has opportunities on a fairly regular basis. Once you've been able to join up, there is a steady supply of work available. If you've heard about an agency called 'LeapForce' this has now been incorporated into LionBridge.
You can learn more about this side hustle here.
11. Sell on Amazon
Selling on Amazon marketplace can be a really lucrative side line to get set up.
It's easy to open a sellers account, and you'll be able to start selling almost straight away.
You can chose to pay a fee on each item you sell (perhaps best for beginners) or to pay a monthly fee and not on individual sales. When I started selling on Amazon, I paid a fee on each item I sold as I was a little nervous about paying a monthly fee as I didn't know what I would be selling, if anything at all! By the end of the first month I'd switched to the monthly fee way of paying. Not because I was making tens of thousands (or even thousands :) but I was making enough to make the monthly fee worth paying.
There is also Amazon's FBA (Fulfilment By Amazon) program which is well worth looking at.
With this, you send Amazon all your items and they package and send them out for you. The fee's are higher, but they take away a lot of the time consuming part of selling on Amazon, so can be well worth it if it gives you more time to focus on selling.
Test the water and see what works for you.
Read about how to get started here.
12. Become an Amazon affiliate
Leading on from Selling on Amazon is starting to make money from the Amazon affiliate scheme. This is simply where you make a percentage of every sale Amazon make from customers who've come to Amazon, referred from your website.
Don't have a website? It's so easy to set one up, I use GoDaddy, and you can have a website set up in a couple of hours using their website builder. Prices are low to, with hosting starting at just £2.99 a month.
How does the Amazon affiliate scheme work?
A visitor comes to my site ->
visitor clicks on something they like & the link takes them to Amazon->
visitor buys on Amazon ->
I get a % of the sale as they came from my site ?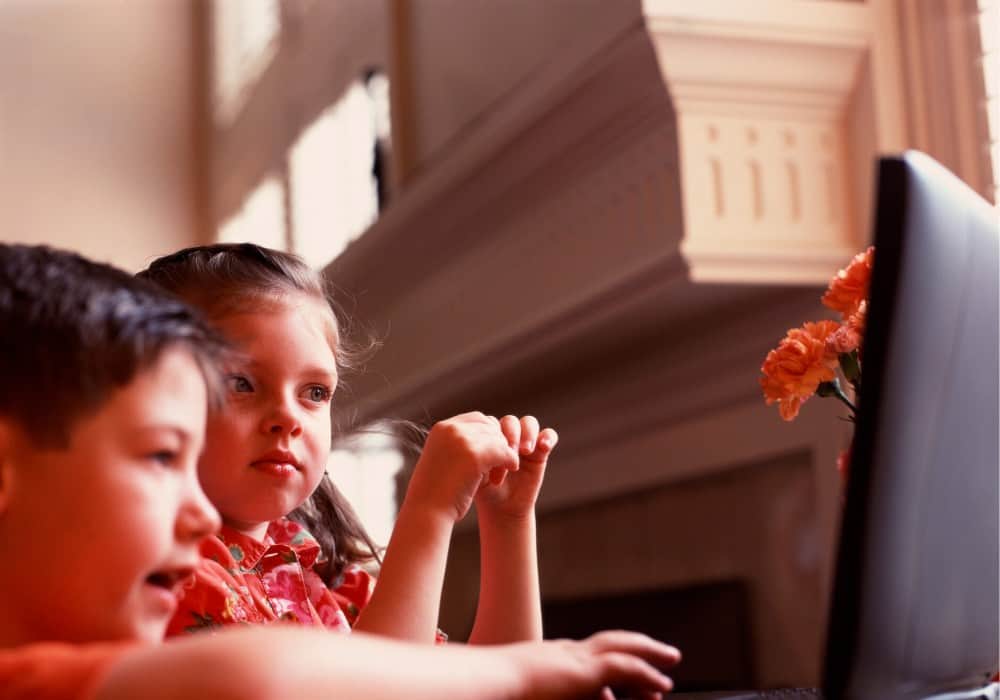 Tutoring kids online has gained popularity in the last few years. Where you'd have previously needed to go to a language school to learn a langauge, learning a new language online, face to face over Skype or something similar, and with a native speaker of the language is big business now.
There are a few well know and trusted places you can become a tutor. Some you'll need a degree for and others you don't. The sites that offer conversational chat practice generally do not require you to have a degree.
The pay is really good, with a number of people actually giving up their full time jobs to do this permanently.
Boost my budget has a really in depth article on teaching online.
Get more info about how to get started on this here.
14. Take on ironing
Does it surprise you that not everyone hates ironing? I'm one of those odd people…it's not that I love it, I just don't hate it as much as most people seem to!
This, of course, provides an amazing chance to make some money from home, that fits in around whatever else you're doing and can generally be an easy way to make some cash.
If you ARE someone that's okay with ironing, you're probably pretty good at it so this means you'll have a few repeat customers. Ironers can earn between £10-12 per hour, although many charge per bag. That's a typical shopping bag (think Sainsbury's or Asda bags) so check how long this might take you to do and charge accordingly.
People will stuff the bags full…make sure you account for this!
To find this type of work, you could try:
Putting an old fashioned ad in the window of some local shops
Asking at your child's school to see if they'll allow you to out a flyer in book bags
Putting a post on your local Facebook group offering your ironing services
Asking at local cleaning companies if they use ironers or recommend them
Read out full post on how to become a dog walker here!
Love dogs? Dog walking might be a great way to not only get some extra steps in (think about the Sweatcoins you'll earn!) but some extra cash in as well.
Most dog owners look for someone reputable. That means you'll need to have insurance, proper dog walking paperwork if your council or district require you to have it and more than likely, come recommended from someone they trust.
Who would YOU trust with your beloved pup? Be that person!
16. Deliver food locally
We've all seen the Deliveroo or JustEat drivers ferrying our takeouts around town right? But have you ever thought about becoming a delivery person yourself, as a way to make some extra cash?
Have a car? Or a moped or even a push bike in some cases? Make some extra money delivering food in your local area. Food delivery is big right now, and there is plenty of work available for those that want it.
Picking your own hours is a big bonus as it fits in brilliantly around any other job you've got. Deliveroo and JustEat are nationwide. Don't forget to check your insurance is the correct type for this sort of work though, in many cases you need to have the correct insurance for a delivery driver.
17. Be a driver
If you've got a car, you might consider joining a company like Uber and driving people about in your spare time for some extra money.
What can driving like this offer you?
Earn anytime, anywhere – You can drive and make as much as you want. And, the more you drive, the more you could make. Plus, your fares get automatically deposited weekly
Set your own schedule – Only drive when it works for you. There's no office and no boss. That means you'll always start and stop on your time—because with Uber, you're in charge
Easy sign up – Sign up to gain access to the app. After your account activation is complete, you can start getting connected with customers
18. Get a job in a bar
I thought I'd add some good old fashioned bar work to this list as it's an old favourite and something I've done on and off over the years as and when I've needed to. No, you don't need an internet connection, you're unlikely to get paid into your PayPal account and you're going to have to use the phone (or your feet) to get talking to people, but bar work has stood the test of time and honestly, is probably one of the most fun ways I can think of to make some extra money!
If you've got experience in: customer service, cash handling, pulling pints or wine knowledge, you're in with a good chance of getting a nice bit of extra work!
19. Babysit or child-mind
If you love spending time with little ones, babysitting can be an easy way to get some money in. It's a good idea to get some first aid training in (St. Johns do a first aid course here) as it means you're going to be able to handle a crisis and parents are likely to be able to trust you more, meaning you'll hopefully get more work.
There's a great guide here to get you started and the safety laws surrounding it.
How much can you earn? Anywhere up to £15 per hour, depending on the number fo children you're looking after, the ages of the children and your level of experience.
20. Deliver parcels
There's lots to love about Amazon Flex. It's not a full time job and they don't pretend it is, but it IS an amazing way to pick up some extra work delivering parcels as and when you need it.
Amazon Flex is always on the lookout for extra workers. They're a HUGE company, meaning that they have a lot of work available! Once you sign up for free, simply log onto their work portal and out yourself down for the job slots you want. The minimum slot is an hour, so most of us are able to slot something in, no matter how pushed we are for time.
Amazon Flex say the pays is between £12-15 per hour. Not bad at all!
✅ How can I make money right now?
This very second? Go round your house, collect up any valuables (clothes, electrical's etc..) and list them online. It's not instant money but it's fast!
✅ How can I get money without a job?
You mean without a traditional job you go to? Easy…check out our list to find ways to earn money from home!