* We sometimes use affiliate links, so we may receive a commission, at no cost to you, if you make a purchase through a link. Check our disclosure for more info.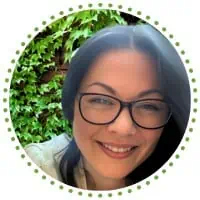 I'm Steph, mum of three! 👋
Here, I share practical insights on making (and saving!) money. With a knack for budgeting and a passion for financial freedom, I've picked up lots of tips & tricks along the way. And I can't wait to share them with you here!
For many people, Christmas is one of the times during the year that cause money worries. Most of us enjoy Christmas, but if you've not been able to save through the year, it can be a big financial hit in one go. We'll show you how to make Christmas cheaper from the traditional Christmas dinner to decking your house out ready for the festivities. There's lots of things you can do reduce the stress on your bank balance :)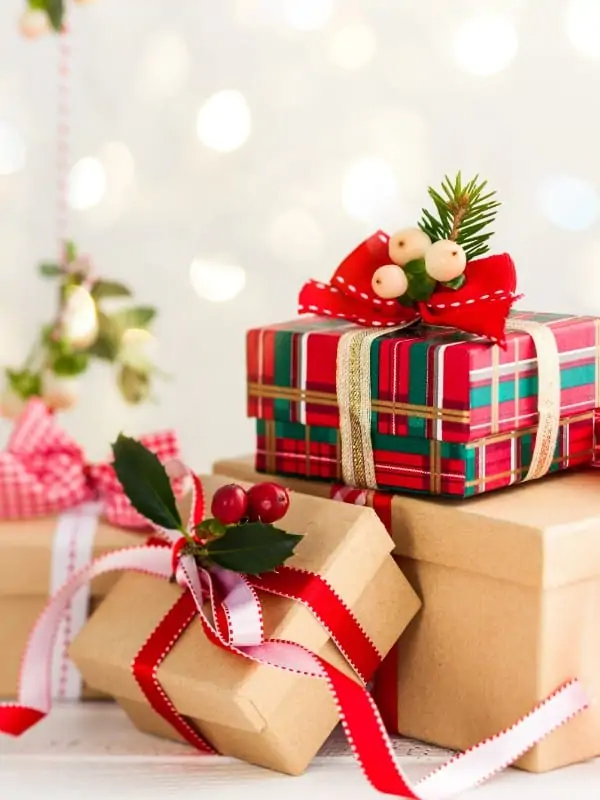 Also see:
How To Make Christmas Cheaper
In this house, we love Christmas. Everything about it can be exciting especially if you've got younger kids in your family, but one aspect of it that's a lot less enjoyable is finding the money to pay for all those holiday extras.
Of course there's no obligation to pay for anything extra at all but if you're like us and want to fully immerse yourself in the Christmas experience, it's always good to know how to do it for less :)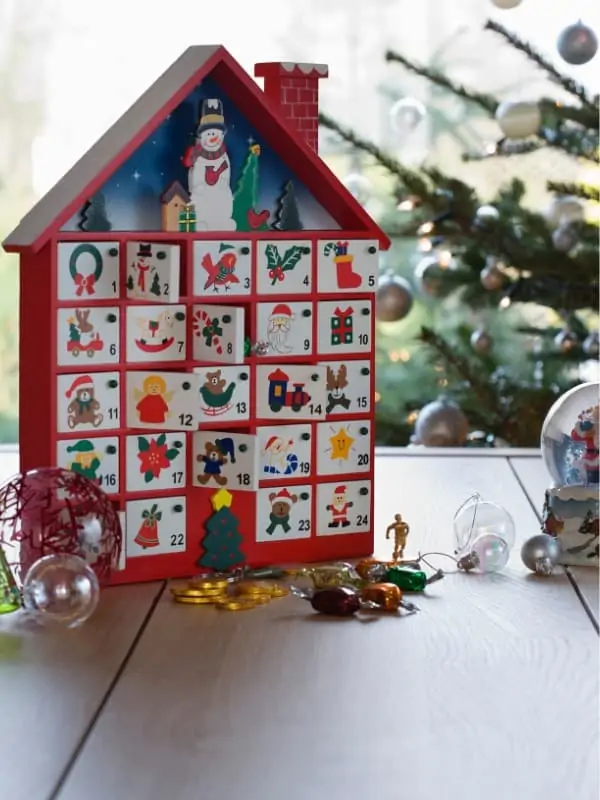 Set A Christmas Budget
The first thing to do, the very first, before you've even thought about anything else 'Christmas' is to set a budget. While you can do this at any time of the year, it's better not to leave it until the last minute.
If you're way ahead of the game and in the position to, you'll have been saving throughout the year and know ahead of time what you've got to spend. For some of us though, for who every single year Christmas seems to creep up and surprise us, we just need to know how much there is to spend, and then you can work out your budget.
The easiest way I've found to do this is to set myself 'categories'. I have food, gifts, entertainment (days out etc..) and decorations. If there's something out of the usual, like travelling, we'd usually know about it in advance and so can plan ahead, otherwise, these are the categories I use.
Making Christmas Dinner Cheaper
Food, for many of us is a central theme of Christmas. Whether it's making the Christmas cake in October or cooking for lots more than you usually would do, food plays a big part in the celebrations and planning ahead is vital if you want to keep your food bill under control.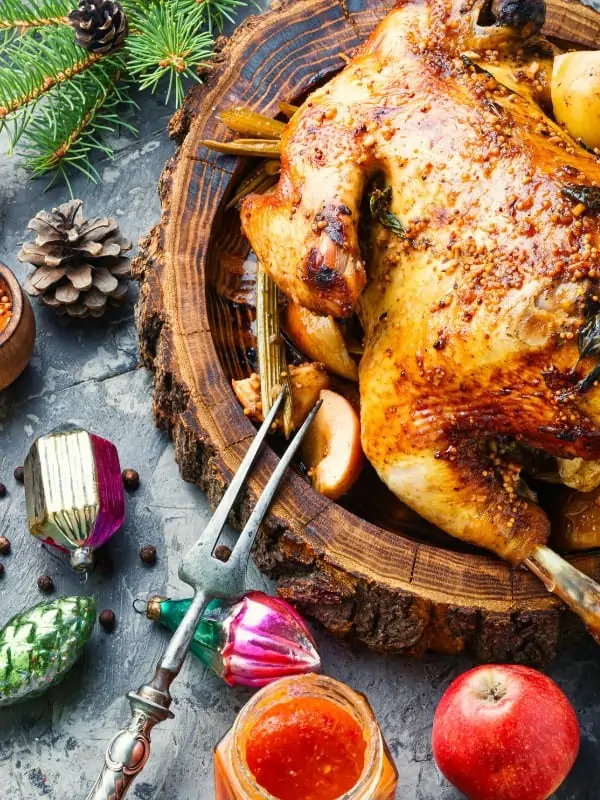 It's incredibly easy to lose track of your spending in this area, with the supermarkets being stacked floor to ceiling with treats and beautifully packaged Christmas themed foods, and so knowing what you're cooking, what you're buying and what it's all going to cost you helps stay on track.
Cook From Scratch
In my experience, the single thing that consistently saves money throughout the year and not just as Christmas, is cooking from scratch. The savings are magnified at Christmas though.
There's no need to go without a single thing, just plan ahead and cook from scratch. There's literally hundreds of thousands of recipes online, many themed for Christmas and I really love to sit down before Christmas with the kids and let them find and choose some recipes to make over the holidays. Get a chart up on the fridge (or a Pinterest board!) and add food ideas to it.
If a turkey is essential to Christmas for you, consider buying a frozen bird. For me, I try and buy the best quality meat I can afford, but that doesn't mean you have to buy fresh. You'll save an average of £28 buying a frozen bird over fresh and this cash can be spent on all those delicious trimmings :)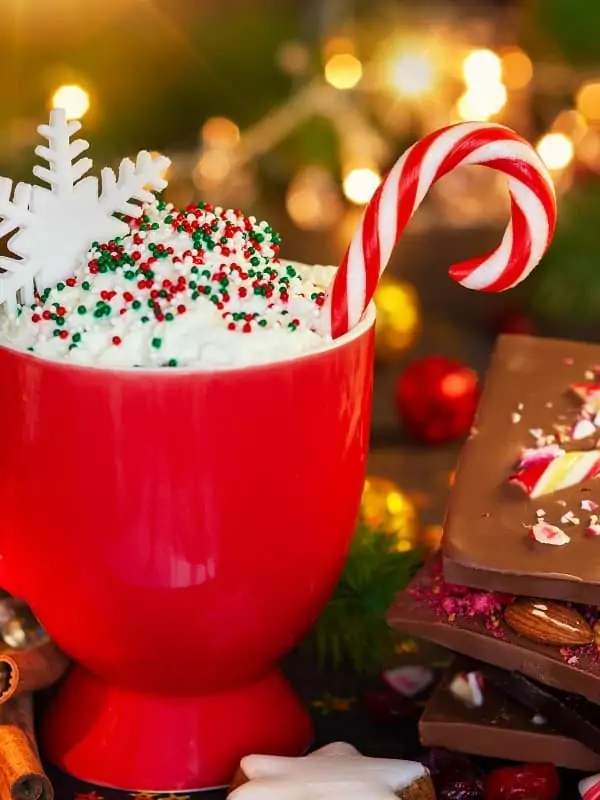 Something else I like to do is mooch around the supermarkets in the run up to Christmas when they start to get their holiday food stock in as they tend to have some yummy 'sides' that I get ideas from and then go home and make myself. The Christmas sides are expensive and are often in pretty small portions, so if you're cooking for large parties, home cooked is the way to go.
Meal Planning
Christmas Eve, Christmas Day and Boxing day. These are the main times we have people over or go visiting, and if we're having people here, these are the main days I make sure I meal plan for.
At this time of year I meal plan a little differently than the rest of the year. Usually I plan a dinner and that what we have for dinner. End of. But….at Christmas it's nice to have a bit more free choice.
The same goes for snacks. We'll make a whole variety of Christmas decorated biscuits and sweets and desserts and have them in glass jars around the kitchen, and they look like beautiful Christmas decorations in themselves with just a little red ribbon tied around the lid!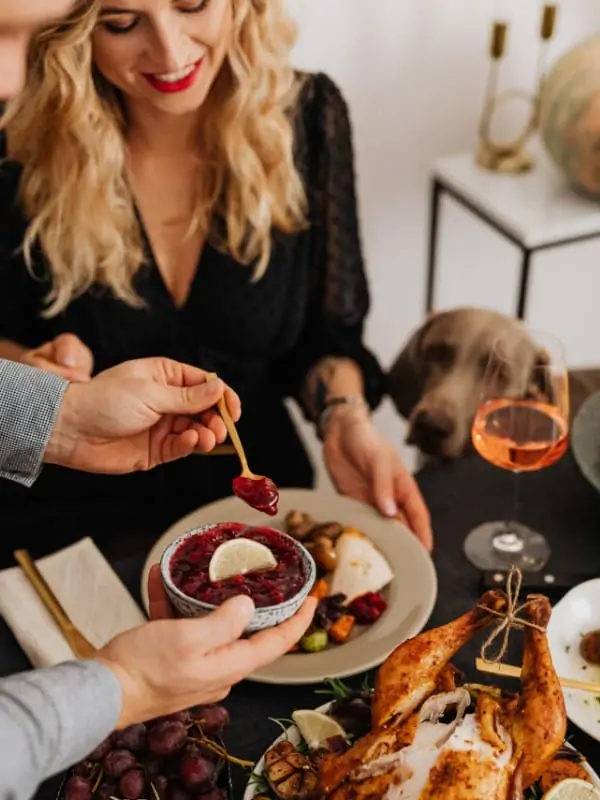 Use Coupons and Vouchers
Vouchers and coupons are your friend at Christmas. One of the best way's I've saved money over the years at Christmas is by making the most of the Nectar Double Up event. These days, I save my Nectar points throughout the year because this event allows you to effectively double the value of your Nectar points and spend it on the Christmas food shop, so halving your shopping bill.
Have a look online for Christmas offer vouchers. Supermarket magazines often have branded vouchers in them but as always, make sure the discounted brand version is cheaper than the shops own brand.
From looking at your meal plan, keep an eye out for offers on ingredients you're going to need. If you see something you know you'll use and is on your plan, stock up (best before dates allowing).
Beyond Christmas Day
What I mean by 'beyond Christmas Day' is that the days surrounding Christmas (so the school holidays really) are also money drains if you're not careful!
While I'm usually careful to make sure the quantities are sensible for the amount of people I'm cooking for, I'm always conscious of not having enough food. So, to counteract this, I incorporate the leftovers I think I might have into the meals after boxing day.
If you bought a huge Turkey, rather than never ending sandwiches, find some turkey recipes for dinners. If you plan and cook with leftovers in mind, you'll always have more than enough over the main days but you'll also have food ready made for the days after.
Make good use of your freezer for whatever you can. If you plan this really well, it's perfectly possible to save on your food bill during January simply by using up Christmas leftovers.
Cheap But Thoughtful Christmas Gifts
Gifts do not have to be expensive. If you had all the money in the world, gifts still do not have to be expensive. There, I said it. Don't you sometimes prefer personal, thoughtful gifts? I know I do, and I believe for the most part if you know someone well enough to be giving them a Christmas present, you'd often know them well enough to make that present thoughtful.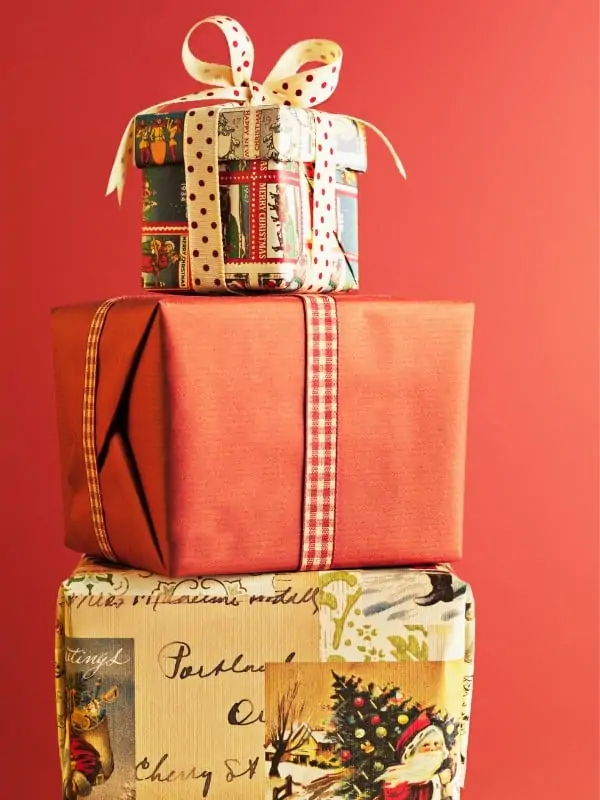 Of course you can spend a fortune and that present might still be very thoughtful, but the point is that it doesn't have to be.
Think about the sort of person you're gifting, their likes and hobbies. Foodies are pretty easy to find a cheap but thoughtful gift for, and making a few extra batches of biscuits or sweet and savoury snacks for won't cost the earth. Wrapping them in pretty themed cellophane and brightly coloured ribbon turns them into something special.
Use Cashback Sites
Cash-back sites are another friend if you're buying gifts. While you're always going to need to double check you're still getting the very vest value for your money and not buying simply to get the cash-back, there's many times you can get a cracking cashback offer on someting you'd be buying anyway.
So the rule here is…before you spend a penny, make sure there's not a cashback offer going for it!
Take Advantage Of Gift Card Offers
There's two good ways I know of where you can take good advantage of gift cards to help make Christmas cheaper. The first is to get as many free Amazon gift cards throughout the year and then use them for Christmas buys to bring your bill down. But this does require you to have planned ahead and started accumulating these gift cards early.
The other pretty awesome way to take advantage of gift cards is to buy discounted gift cards from Asda when they hold a 20% off gift cards sale. This really is a great way to save money. There's usually a wide range of gift cards that go into the 20% off sale and this means you're saving this 20% on the things you then go onto buy from the stores you got gift cards for.
Plan your gifts ahead of this sale and know what you're planning to buy, and then get the gift cards on sale to buy those things. You can also buy these discounted gift cards and save them for when those shops have a sale. That way, you're saving the 20% on the Asda sale and getting the goods cheaper during a sale. It's a win-win :)
Buy Early
Buying early is another way to save some money, if you're able to. Shops have sales on at various times during the year, and it's also worth having a look in shops if you see a closing down sale.
It's often a good idea to buy little gifts for Christmas stockings throughout the year as well as and when you see them.
Homemade Christmas Gifts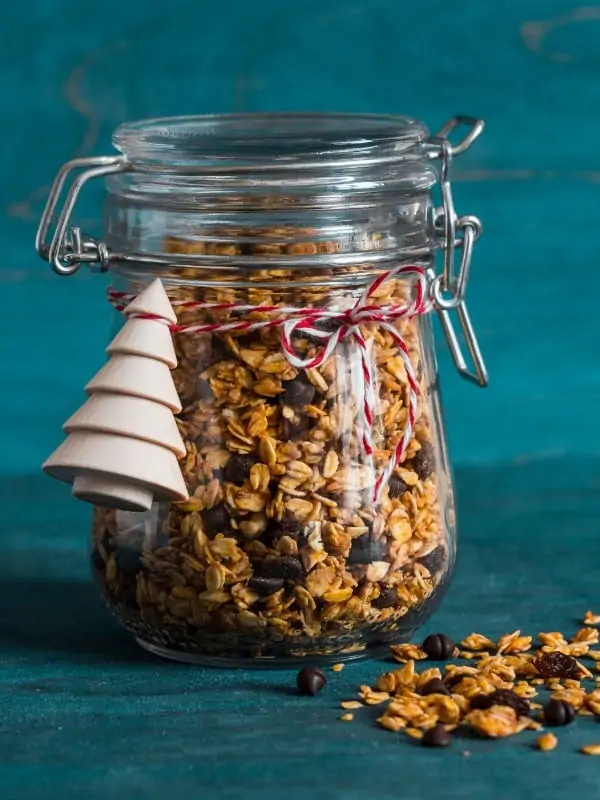 Homemade Christmas gifts are great. This handmade Christmas book is a huge inspiration for me, and if there's something the kids are happy to get involved in, even better.
Homemade gifts don't have to be food either, batches of soap, art work and other crafts are always lovely to receive and if you need some ideas, this is the book for you!
Set Gift Limits
Putting a gift budget limit on presents might feel stingy, but it's really important if you're trying to make this Christmas a little cheaper than it might be otherwise. After a rough few years, money's on a lot of peoples minds and you're unlikely to come across as stingy if you've put some thought into the gift.
And dare i say it….if you're someone like me who used to buy gifts for friends children, it might be time to have the conversation where you mutually decide to stop. And as I found out when I did this, other people were grateful it had been bought up and were happy to stop.
Christmas Decorations For Less
Who doesn't love Christmas decorations? It's one of my favourite parts of Christmas, decorating the house. It seems to get earlier each year in this house, but the basics stay the same. And the basics are…..fairy lights. Yep, we have thousands of them, but we didn't start out with thousands.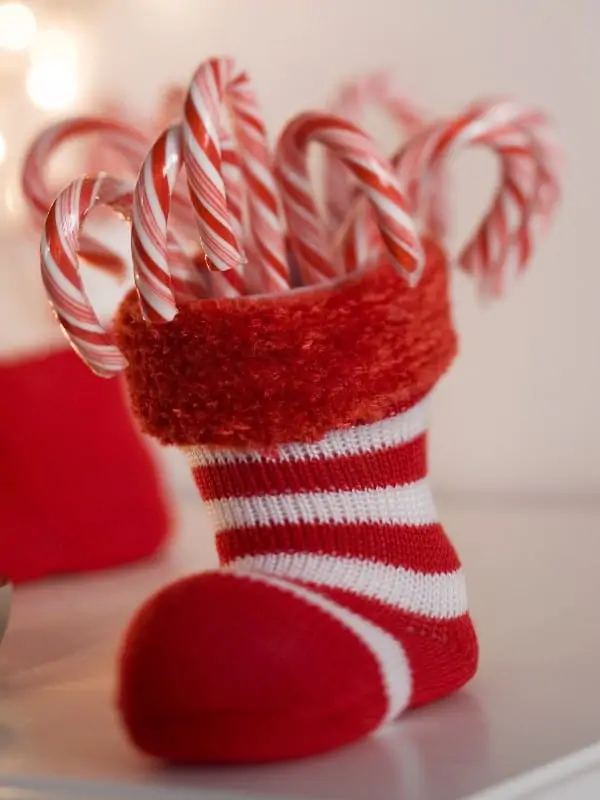 Over the years, I've bought long strings of them in the sales, mostly in January, but sometimes early in November when lots of shops are starting to get Christmas stock in. These are very cheap to power, and they form the basis of our Christmas decorations. Once these are in place, they form a great base for a themed Christmas.
The Tree
The tree. The Christmas Tree. I know there's people who think a natural tree is bad (it is) but…I can't help it, I love a natural Christmas tree. I just do. So, I came to a compromise a number of years ago. We have a beautiful natural tree, it's good for the environment and doesn't cost a penny. Yep, several years ago we invested in a potted Christmas tree. And I'm so glad we did.
I'll say right now, they're not the cheapest trees. But that said they're also not vastly more expensive than a cut tree, and if you look after it it's a one off payment and you'll not need to buy another one for a good few years.
We bought a potted Christmas tree 4 years ago and it was 5 ft high. 4 years later, it's nearly 6 ft high. I think we'll be able to bring it in the house for another 3-4 years and then it'll be too tall. But that's 7-8 years of a natural tree and then we'll plant this one and start again.
And there's another massive bonus to this…..you don't have to take it to the rubbish tip come January!
Make Your Own Christmas Decorations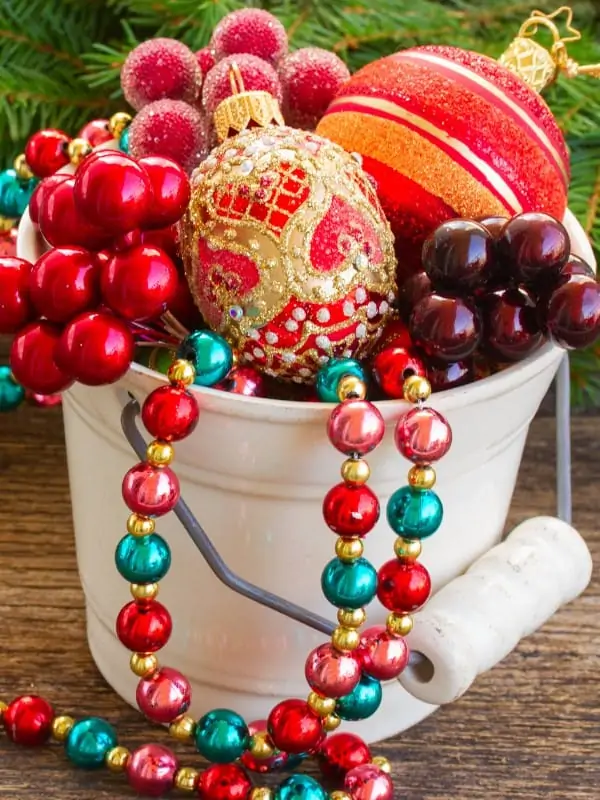 If you've got young kids, you can have a kids homemade Christmas decoration theme. Everything can be homemade, from paper chains, bead strings and sweet strings to homemade Christmas cards. Get a production line set up and get the kids working!
A Natural Themed Christmas
We've also had natural themed Christmases.
While I love kids homemade decorations, I also love long woodland dog walks collecting bits and pieces to decorate the house with. Holly, foliage and bracken can all be used to decorate the house, and a fallen wooden branch provides the perfect place to hang pinecones from.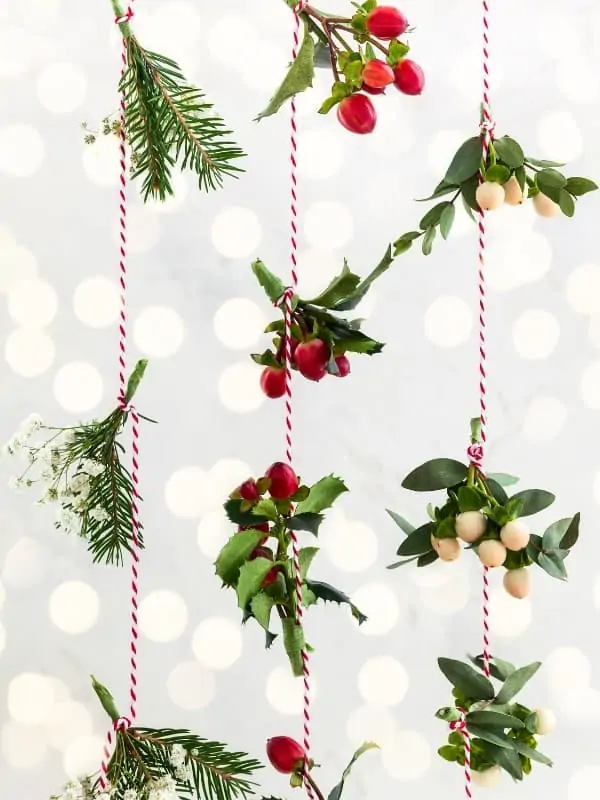 Discount Shops
Poundland and other discount shops are also places you can find some very cheap treasures. It's hot and miss what you'll find, but there's rarely a year I don't pick up a few bits and pieces that add to our house decorations.
I found a 20 meter string of red beads in one of these discount shops a few years ago, and I use them intertwined with the fairy lights. Check in store often, you might be surprised at what you can get for £1!