✅ How to make money without a job
* We sometimes use affiliate links, so we may receive a commission, at no cost to you, if you make a purchase through a link. Check our disclosure for more info.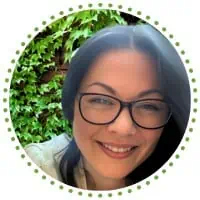 I'm Steph, mum of three! 👋
Here, I share practical insights on making (and saving!) money. With a knack for budgeting and a passion for financial freedom, I've picked up lots of tips & tricks along the way. And I can't wait to share them with you here!
If you've ever wondered if making money without having a traditional job is possible, I can tell you that it is.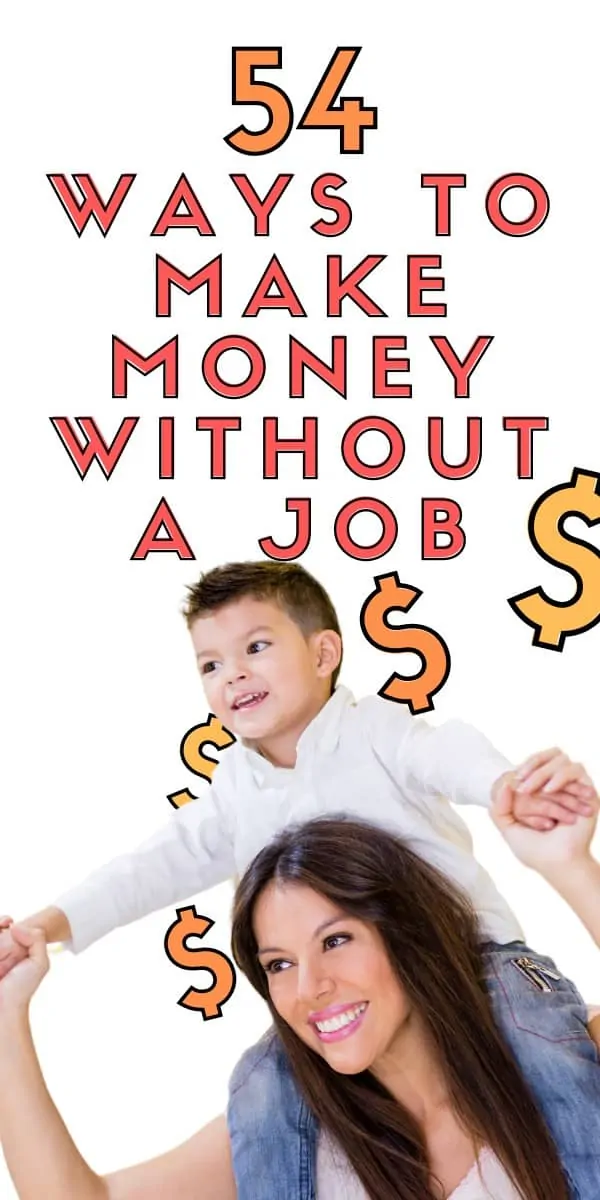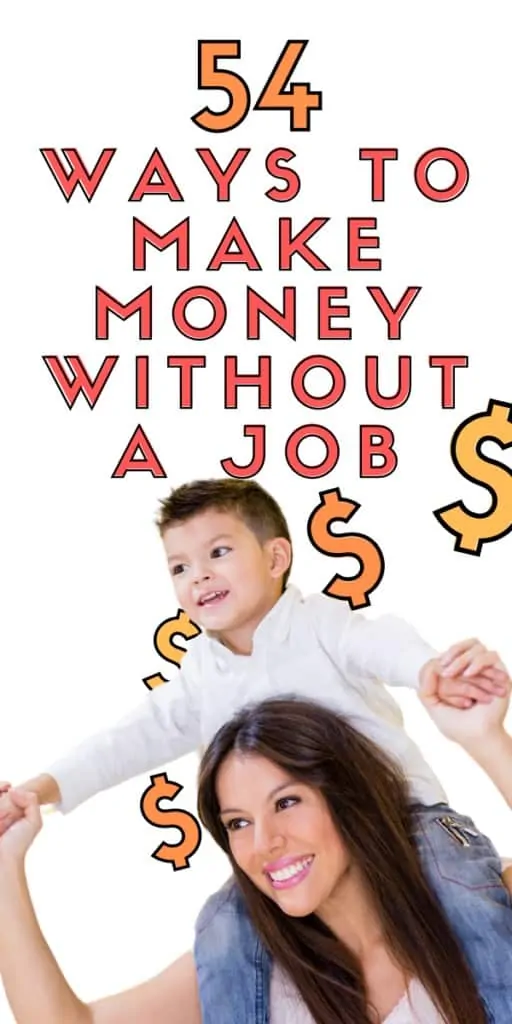 Making money without a job or not having to turn up to the 9-5 can seem like a distant dream.
The same goes for having multiple income streams in order to create a secure cushion for yourself and your family.
But, it's not. In fact, in a modern world of free-living minds and online possibilities, finding new strategies to earn without having to answer to a boss is easier than ever.
✅ Top Ways To Make Money With No Job!
These are some of the more effective ways to make money with no traditional 'go to work' job: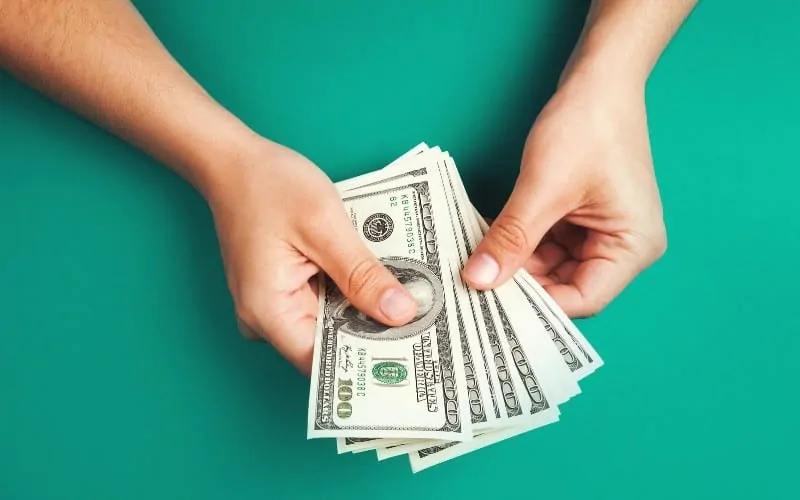 ✅ Making money without a job
We're all about finding new beginner passive income streams
in order to help with the bills, make the seasonal gifting periods a little easier and getting rid of unwanted debt from the younger years all while being able to save and splurge on the future.

And we have a list of 56 ways you might be able to make money without having a job. It's a huge list and there's bound to be some on here you probably haven't thought of and can get stuck into right away!

So, have a gander and find the multiple income streams that best suit you (but, we do suggest having a few strategies to earn rolling in at once to increase income and decrease stress!).
✅ How to make money without a job in the UK
So, in no particular order, here's our list of 54 ways you could bring in cash without actually having to 'go' to a place of work.
That's not to say you don't need to 'work' at these, but they beat having to answer to a boss and leave you in charge of your future!
Fiver is an online platform allowing you to create a profile, draw up gigs and wait for buyers to come to you.
You can offer services in anything from writing and illustrating to diet plans and voice-overs.

The biggest benefit is, while it is called Fiverr for its origins of charging a 'fiver' for all your gigs, you can charge as little or as much as you'd like and you're your own boss in choosing the work you'd like to complete and when.

So, if you're a student needing to head into campus for the day but wanting a little cash in the evenings without commuting to shift work at the local restaurant, sign yourself up to help business around the world grow.
Also see ; How to make money as a student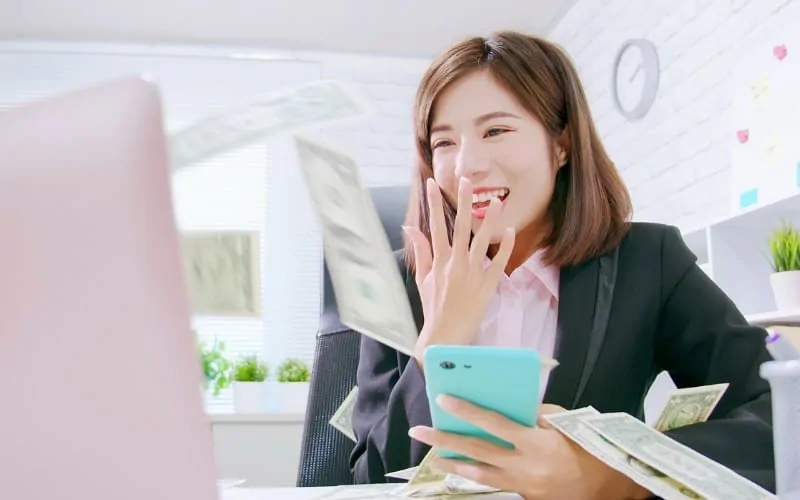 With old and unwanted clothes, set them up on eBay with a starting bid of £0.99.
When people want the clothes, they'll bid and buy them! It's important to know that shipping your items to the highest bidder will create an ever-varying beginner passive
income.
A top tip is to wait until eBay have a maximum £1 selling fee (otherwise, they'll request 10% of your sale!)
For a super-quick fix, you could take your old clothes to a local 'cash-4-clothes' establishment who will often pay around 30-pence-per-kilo of clothes.
These then get shipped to third-world countries helping to clothe families of all ages.
Also see: How to sell your old clothes for cash
Much like Fiverr, you are signing up to offer freelance services on your terms.

However, unlike Fiverr, you apply to small tasks and jobs that buyers post on the UpWork forum.

Place your bid, tell the buyer your price and timeframe while showing them why you're the man for the job before providing quality work for creative ways to make
money.
When you have a hobby, there's a great chance you're crafting stunning objects that others will love and share, too.

So, one of the best ways to ensure you keep on enjoying the creative passions you love while you make money without a job is to sell them through independent seller online sites such as Etsy.
Also see: What to sell on Etsy to make money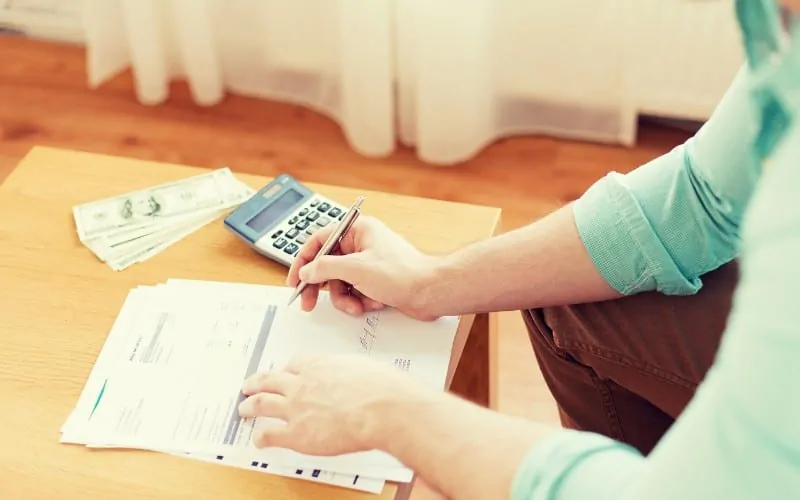 A task many businesses loathe to complete is transcribing a video or audio file in order to be assessed further down the line.

Whether it's for a meeting, a YouTube video, an investigators audio report or anything, just by taking simple tasks off other companies' hands can be one of the best strategies to earn through passive income.

If English is your first language and you have a knack for deciphering between different speakers, you can sign up to Crowd Surf or Transcribe Me and get typing in your spare
time for up to £16 per hour!
Also see: Transcription jobs UK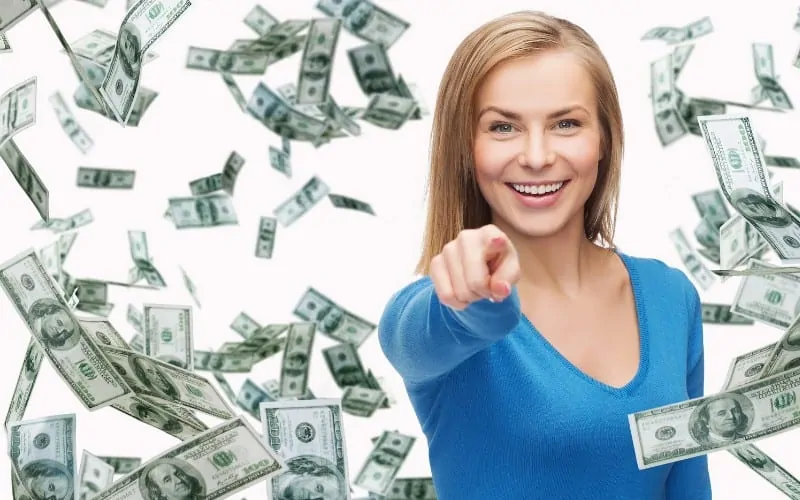 ✔️ Create a Blog and Write Away
One of the best beginner passive income trends in 2021 is to create a blog and a personal brand with little to no initial investment needed.

Having a blog brings varied options and creative ways to make money.
For example, it could lead to you creating a brand on multiple platforms who pay-out to influencers for engagement, you could land yourself a high-paying sponsorship deal or you could sell advertising space on your blog to external companies.
✔️ Stream Your Gaming on Twitch to Audiences
Twitch is another online video platform where your videos can make money simply by having viewers and subscribers.
However, the difference for Twitch is that it thrives through live streaming to audiences who can then directly pay you through 'Twitch Bit' Donations atop a monthly paid subscription fee.

Twitch streamers also gain monetary value through playing adverts during a bathroom break, but it isn't one of the main strategies to earn through Twitch.
Also see: How much do Twitch streamers make?
Sites like Top Cashback scour the internet and the marketplace to ensure you are always inundated with the latest offers, ways to make money and ways to save.

With opportunities to get money back on anything from your internet usage to your weekly shop, it's always worth signing up to earn some extra cash.

We recommend Top Cashback as the UK's number one choice, but other sites such as Quidco, Cash Back World, My Money Pocket and more all offer you up to 25% back on
your purchases.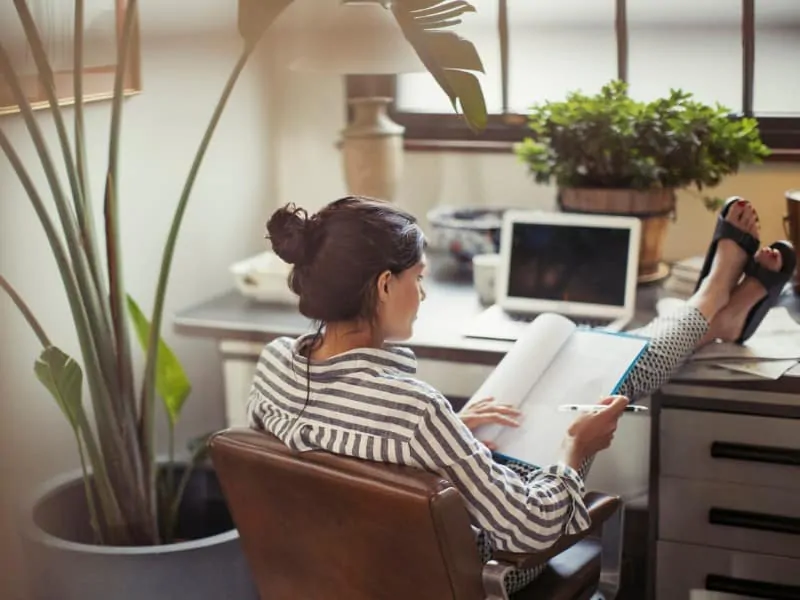 These can add up to a nice pay-out at the end of the month!
Also see: Top sites for Cashback in the UK
One of the biggest benefits to beginner passive income is being able to choose your times and work for yourself on your terms.
So, when you feel as though you're running a little low and need a quick top-up to make money without a job, sign-in to your survey site and complete a few surveys.

Completing surveys, competitions or tasks for in-site tokens that can be changed to vouchers or money can become quite addictive.
So, it's best for students or parents with limited free time.
Swagbucks, a leader in the survey world, simply requires you to join the site and login to earn points through watching, answering and searching.
Also see: UK survey sites that pay
Being a mystery shopper is one of the most fun ways to earn passive income, especially for those who simply can't keep their wallet off the high street!

With companies like iShop for Ipsos, you can sign-up to become a mystery shopper (as long as you're over 18, have access to mobile internet and have fantastic organisational skills) to shop away.

It's free to sign-up meaning there's no initial investment needed.
Then you take-up a quest, shop according to the guidelines, speak to a member of staff or two, take-in the atmosphere and buy items while pretending to be a real customer.

Finally, submit a review to iShop for Ipsos along with your receipt and any pictures so they can cover your expenditure.
Also see: Best mystery shopping companies UK
Especially good for students and those who are a true wordsmith or grammar 'ahem' at heart, you can proofread for pocket money in your free time.

There are many ways to go about this from offering to classmates, people on social media or signing up to be a freelance proofreader through sites such as Polished Paper
or Proofreading Services.

You'll be responsible for ensuring grammar, syntax, spelling, rhetoric, punctuation and formatting of the copy is correct as one of the quickest and most creative ways to make money.
Also see: Proofreading jobs from home in the UK
✔️ Create Print-on-Demand
If you've ever noticed that companies and brands will always have specific items (always the same) with their company branding on them?

Items they can give to staff, potential customers, partners, shareholders, clients and visitors. Things such as: pens, T-shirts, tote bags, caps, coasters, rulers, books and more.
These items are print-on-demand dropshipping solutions.
The idea is that you create a website, offer personalisation as well as some of your own designs, and send orders directly to the warehouse to be printed and distributed.

You don't have to stock inventory, nor do you have to invest into the business; you simply see a small commission from the sale after other avenues in the supply chain have been taken care of.
✔️ Make Logos for New Brands
If you love designing, drawing, illustrating or writing in a calligraphic style, designing logos on a freelance basis is the perfect stream of beginner passive income.

Either by creating your own online brand with social media or by heading to a freelance site like Fiverr, UpWork or Freelancer, you can be accepting and fulfilling logo orders for anyone across the globe in your own time.

As long as you have the right tools at home, there's no need for investment or to rely on company property.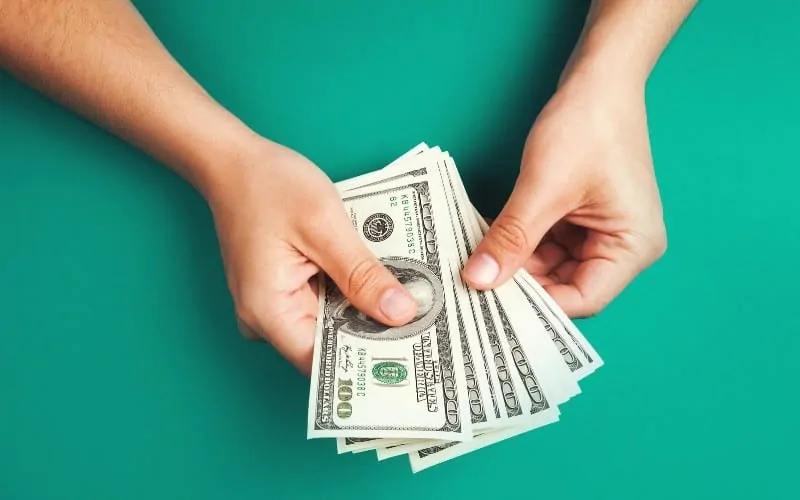 ✔️ Become an Amazon Associate
The Amazon Associate trend is growing, and you could be on the bandwagon for creative ways to make money in 2021.
The premise, as told by Amazon themselves, is as simple as signing up, sharing items and pocketing the profits.

When you sign-up to become an Amazon Associate, you need to share listings through mediums such as YouTube Videos, Twitch videos, blogs, social media, influencing,
TikTok and more.
When you link specific items your viewers, they'll likely click through to Amazon.
The beauty to the scheme is that the viewer doesn't even need to buy the product you're promoting, they just need to buy a product on Amazon after clicking your link.
Then, you'll be receiving up to 12% in commission!
It's a no-brainer.
✔️ Review Products on Social Media with Sponsorships
Sometimes, if you're an avid social media user with a niche audience and a crowd of a few thousand behind your back, you could be approached by different companies relating to your personal brand.

Often, they'll simply ask you to review some of their new products or services but sometimes you'll be asked to promote them, too.

After about 10,000 followers, you may receive requests to make promotional posts for £100 but will progress exponentially.
So, after 30,000 followers you could be requesting £750 per post and after a million followers it could be £10,000 just for one post.
✔️ Babysit for Family, Neighbours and New Faces with Childcare
Babysitting is a (mainly) innate task where most people with siblings have had their fair share of looking after the young ones.

So, when you're a little low on cash and looking to make money without a job, boss or contract, simply look to family, friends, neighbours and websites like Sitters.co.uk in
order to give parents some much needed time off.

As long as you have a valid DBS as some proof you're experienced with kids, you're good to have sitting as one of your multiple income streams.
While sites such as Rover generally allow you to sign up for cat sitting, dog sitting or dog walking, it's an 'anything goes' situation and if you're experienced walking hedgehogs you could be the niche many pet owners are looking for.

With a no-investment sign up, you choose which tasks and walks you'd like to apply for and then have a chat with the owner to ensure you're a good match.
Then, you and the animals will be cuddling in no time.
We have to admit this is certainly a favourite method to make money without a job here at The Debt Free Family.
Also see: How to become a dog walker in the UK
✔️ Be a Delivery Cyclist for Your Local Take-Out
Have you got a bike? Have you got stamina? Have you got direction? Have you got a smart phone? Have you got willpower to not eat the take-out that's on your back?
If the answer was 'yes' to all of the above, you're in perfect stead to become a delivery courier for many companies such as Deliveroo, Uber Eats or Just Eat (whichever is
operating in your local area).
In fact, you can sign up to all of them and accept deliveries to suit you without any minimum requirement. As a courier cyclist, you could earn around £12 per hour cycled.
✔️ Mow the Lawn for Your Neighbours
Many people with full-time jobs on the generic 9-5 for their bosses will barely have the energy or willpower to take care of their garden unless it is a true passion.

With that, a beginner passive income strategy could be to simply head around your estate to ask your neighbours if they'd like to pay you for mowing their lawn and
tidying their garden.

You could offer the minimum wage requirement or set your aim a little higher with around £10 per hour to see if your neighbour will take it.
However, we do recommend a little time investment to ensure you've got the right green thumb on for the job.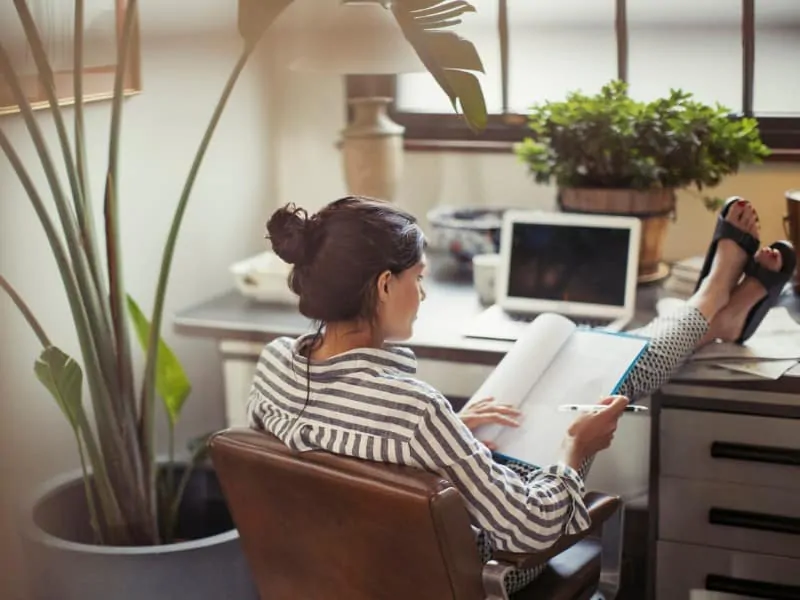 ✔️ Find, Furnish and Flip Furniture
A very 2021 hobby for many looking to renew, recycle, save and earn, you can hunt around for furniture to flip and sell at up-market rates.
You can find second-hand furniture from places such as charity stores, friends and family or even at the tip.
When you've got the furniture and an idea, head to your local DIY store (we suggest places like Amazon or Wilko because they have great prices and fast delivery) for some new handles, some sandpaper, some paint, a screwdriver and some varnish.
You'll likely invest £30 in money and a few days in time, but you could be selling the furniture through Etsy, eBay, Facebook Marketplace or at an auction house for over
£300.
Your strategies to earn could be bringing in 1000% passive profit margins!
✔️ Privately Tutor for Global Students with MyTutor
As someone who loves (or, is just very good at) a particular topic or subject, you could be offering your brain to students across the world by bettering their grades and furthering their education.
Anything from classic subjects such as Maths, English or French to Geography, Biology, Religious Studies, Cooking and more; there's no limit to the tutoring possibilities.
With sites such as MyTutor you could be taking home £10 to £20 per hour tutored as well as benefitting through a wholesome activity that is flexible to you.
You can literally get paid for searching through Google.
We use these every day and love them due to their sheer flexibility.
Let's take Gener8 for example: it is a Google add-on that will ad-block your surfing experience and then replace the space with their own adverts.
When you see these adverts, you build Gener8 points.
You can earn around 15 points per day to be changed into donations to your favourite charity, discounts off your favourite shop, gift cards, vouchers, freebies and more.
As I type, 500 Gener8 Points will get you a free Amazon Fire 7 Tablet!
Also see: Get paid to search the web
✔️ Bake Your Passions and Sell Them at a Local Market
If you're like us here at The Debt Free Family, you love to bake.
Anything from chocolates and cupcakes to bread and sweet breakfasts.
But, have you ever thought about selling these baked-with-love goods at a local market or through a social media business account?
The only investment you'll need is a foldaway table, a canopy, the market stall license (on average a UK market stall is around £1,000 for the year) and all your baking
supplies!
Then, allow everyone to come to you and indulge in your sweet treats to can make money without a job.
✔️ Buy & Sell Domain Names
A website is like a username.
In order for people to be able to find it, there can only
be one.
And, if you're in possession of a name that a new business somewhere around the world wants, they can pay upwards of thousands to get their paws on it.
Simply head to website creators such as GoDaddy or WordPress and pay the minimum fee for a domain (sometimes as little as £0.99).
Then, as you hoard your domain names, you can have multiple income streams by listing each on onto sites like Sedo where people can buy and bid for your domains.
Hint: in 2010, 'carinsurance.com' sold for $49.7 million USD.
✔️ Review Websites and Apps for Cash
New brands need their websites and apps tested by non-biased individuals that match their target demographic.
They need to know if they've nailed the user experience or
if there are any holes that need filling.
In order to do this, they go to review companies like UserTesting who source testers around the world to assess products and services for money.
You simply sign up, test some software or products as and when you'd like, review and get paid around $10 per every 20-minutes!
✔️ Make Alterations and Fixes on Garments
If you have a sewing machine and 20/20 vision enough to thread the needle, you've probably had to do your fair share of garment fixtures and alterations.
Whether it's for yourself and your own family or it's for friends and neighbours.
Use this skill to gain monetary value. Offer services for a fee through social media and business pin-boards to catch some new garments to fix and make money without a job
just by sitting at home and doing what you do best.
If you don't yet have a sewing machine, you can pick up some simple models for around £50 and self-teach as it is a very handy skill to have which can save you money in the long run.
✔️ Become a Virtual Assistant
Clickworker is another fantastic freelancing site much like UpWork, Fiverr and freelancer.
However, the difference with Clickworker is that you can be a virtual assistant to anyone around the globe at any time.
Meaning, if someone needs some transcription, writing, planning or organising done within a day with no strings attached, you could be their go-to Clickworker.
As a beginner passive income strategy, it's good for picking up well-paying tasks in a short period of time with no prior investment needed; just a profile and the willingness to be flexible for the temporary role.
✔️ Write an eBook and Sell Through Websites
Writing an eBook can be as short or as long as you'd like.
So, there's no need to worry about making it the next 500-page novel for a business.
In fact, an eBook tends to be anywhere from 2,000 to 3,000 words (far shorter than this article!) and will typically be informative allowing readers to come away feeling as
taught and knowledgeable.
After writing eBooks, you can sell through Amazon, Etsy, eBay, PayHip, Fiverr, Selz, Feiyr and more.
While they generally sell for £5, once you've written it, there's nothing to do but watch the money roll-in for years to come.
✔️ Write, Illustrate and Publish an Actual Book with Amazon
However, if you're an author-type writer with the patience and willpower to write a biography, fiction novel, poetry book or even a children's book, you can.

Simply write your book, find an illustrator through sites like Fiverr with Amazon.
Almost akin to Dropshipping, you won't need inventory as amazon will simply print a book for every purchase, and you'll see a cut.
This method can be far better for resource sustainability and our environment, too. Amazon take a $1.35 fee per book sold so ensure your pricing matches book value and intended profits to make money without a job.
✔️ Engage in a Little Technology Recycling
Technology recycling isn't just good for the environment and your conscience, it's good for your pocket, too.
With second-hand technology stores like Game, CEX, Grainger Games, Cash Converters and Cash Generators sitting on the high-street, there's no excuse.
Simply take old devices into these stores and (if they're in good condition) they will reimburse for unwanted tech.
Old phones, for example, can sometimes fetch an easy £100 and you don't have to do anything for these strategies to earn apart from source to good and head to the store.
Be sure to ask family and friends if they have any old tech lying around that they want rid of!
✔️ Head to HMRC and Claim Tax Back
For a quick fix to make money without a job, talk to HMRC.
If you've worked in the current tax year (from April 6th to April 5th) and paid tax but stopped working mid-way through, you're more than likely eligible for a tax refund.

This is because you are allowed to earn £12,500 each year before you have to start paying tax.
E.g., if you had an £18,000 annual salary, you'd only pay 20% tax on £5,500 of it.
Yet it is taken each month at an even rate on the assumption you'll work there the entire year (this makes each month's deduction more palatable).
But, if you stop working, they can recalculate and refund what you are owed. Simply contact them over the phone or through their online web chat.
Music lovers can sit at home listening to new music with the aim of providing a review for cash.
You could be doing anything such as the school run, the cleaning or a different task from your multiple income streams at the same time!
Just like reviewing websites and apps for cash, artists and labels want to ensure their work is going to be well received on the market.
So, sign up to sites such as Slice the Pie (which is the most popular music review site in the UK) and get reviewing whenever you'd like some cash.
Also see: How to make money as a teen
✔️ Sell Stunning and Clear Stock Imagery with BlackBox
If you have a camera and a passion for capturing everything from the mundane to the stunning views on a mountain top, you can make money.

In fact, this is one of the best creative ways to make money as you need to be creatively minded in order to capture the right frame.
But, when you do, listing on stock imagery sites like BlackBox, Envato or Shutter Stock can get you a passive income of anywhere from 15% per buy up to 40%.
Just be sure to capture everything, you never know when a company's campaign might need an image of someone carving a pumpkin for Halloween.
✔️ Sell Your Sound as a Voice Actor Using Voices
Voices is a website where you can sign-up with an audio clip (or, two) of your voices.
Then, businesses, institutions and brands can commission you to record yourself reading a specific script in the tone of their choosing.
With voice talent comes endless opportunities and you could be the next voice of a well-known brand's advert, an online course or even a film trailer.
The best part is knowing you can choose projects you'd like to work on, when you'd like to do them and how much you'd like to charge for your voice talent.
✔️ Join the Video Collective as a Freelance Video Editor
With Instagram, Facebook, TikTok, YouTube and other video-based social media sites becoming more popular than ever, the need for video editors is also on the rise.
There are so many creators who can devise a topic, talk to the camera, go on the adventure and captivate an audience but can't stitch the clips together.

This is where you'd step in. If you've got a background using software like Premiere Pro, Davinci Resolve or Final Cut X, you could be finding yourself in one of the quickest strategies to earn passive income.
Especially when selling your services through your website or platform like Fiverr can land you with upwards of £100 just for an evening of editing.
✔️ Sell Academic Coursework Through Nexus Notes
One way for students and academics to make money without a job is to sell course notes.
While completely legal, judging the ethical nature is down to your expertise. Having notes that helped you achieve a high grade can be useful to others struggling with the same curriculum.
So, you could be their saving grace by signing-up to Nexus
Notes and selling specific notes at $35 USD per set for the rest of eternity.
✔️ Enter Competitions on The Prize Finder
If you're someone with a lucky streak, you could try your tail at competitions.
Big or small, you can head to sites like Prize Finder who have up-to-date collections of competitions you can enter.
The site holds active links that redirect you to the website of the competition host where you can enter details for a chance to win the prize draw.
This is the perfect investment-free option to make beginner passive income before being able to invest your winnings into more lucrative strategies to earn.
Prizes at the time of writing include: £1000 to spend at Asda, a Toyota Yaris Hybrid, a Nintendo Switch and more.
✔️ Be an Extra on Your Favourite Shows and Movies with Universal Extras
Hands-down the most fun way to make money without a job is being an extra on TV shows and movies.
A tried-and-tested method by The Debt Free Family, it can be exhilarating to turn-up for a day or week on set meeting new friends and being dressed up by the hair, makeup and wardrobe departments.
Even better: if you're a student, you can sign-up to agencies similar to Universal Extras for free.
They'll send you roles in your area and you will be given a date, time and rate for turning up on set.
You can earn around £80 upwards for each day on set, get a free haircut, meet your favourite celebrities and play dress-up!
eBay, CEX, Music Magpie, Zapper and We Buy Books are all examples of online creative ways to make money just by selling unwanted DVDs, CDs games and other discs.
Simply state what you have, and their condition and you could easily make a couple of hundred.
Especially if you've finished a game and it was released in the past year.
Also see: What to do with old CDs
✔️ Rent Out Your Car Parking Space to Someone on JustPark
There are many commuters heading into the city for work every day only to be faced with the daily round of 'musical chairs' where being stuck in traffic could land you in
the more expensive car park and a warning from the boss.
So, as someone who doesn't want to work for a boss, give these people the chance to pay daily, weekly, monthly, quarterly or annually for your guaranteed parking space.
With apps like Just Park and a home in the city, you could be earning anywhere from £5 to £20 per day.
✔️ Turn Your Spare Room into an Airbnb Listing
A spare bedroom and a well-kept house with amenities provides opportunity to make money without a job.
As long as you're the homeowner or your renter's agreement allows sub-letting, you can rent-out the room to whomever through popular travel sites like Airbnb.
People pay to stay in your room if you're close to the city where they work or close to attractions that will draw in tourists, so be sure to price your Airbnb accordingly.
It might be worth looking at others in your area to grasp a price, but a room can generally go for a similar price to a hotel room.
✔️ Earn by Raising Money for Your Favourite Charity as a Collector
This role takes a hard shell and a soft demeanour. You may face a lot of rejection but those who donate to the cause will be kind and conversational.
Raising money as a charity collector may find you stood out in the cold, but it's wholesome knowing it's for a great cause, you choose your hours and you're getting paid at the end of it.
Just keep checking the Wesser job boards for freelance fundraising roles to support the causes that mean most to you.
However, you'll have to brush-up your sales skills and ensure you're up to par with the old saying; "sell ice to an Eskimo"!
✔️ Get Paid to Advertise on Your Car with Car Quids
If you have a car, like to drive around popular areas and don't mind promoting some businesses while you're out and about, you could contact companies such as Car Quids who will apply temporary car wrapping and decals to your car.
As you drive around (for a specified mileage) you'll be reimbursed for your promotion and your tank.
You can get paid around £100 per month which is a very nice and guaranteed top-up alongside strategies to earn passive income.
Simply sign-up stating your location and driving trends so they can contact you with businesses looking to advertise on your car.
✔️ Become a Life Model and Liberate Your Earnings
There is a Register of Artist's Models which can be found online and brings together artists and their future life models.
Simply sign-up and artists can find you.
When they do, they'll likely talk to you about what the project entails and what their budget is.
While it's up to you to accept or not, it's important you allow yourself autonomy. After all, striking one of the four poses while naked and in front of a room of artists can sometimes be a once-in-a-lifetime experience saved only for the bucket list.
Yet, you can be making around £15 per hour.
✔️ Source Property Below Market Value
Wealthy investors love to buy and flip houses to either sell on for profit or rent out for long term passive income.
Yet, many don't have the time to source.
So, fining the gap in the market and filling-in as the middleman, you can source property below market value (by dodging estate agents) and pitch to investors for a final sale cut.
There are many ways to source such as going to auctions or handing out leaflets to neighbourhoods.
It's your job to haggle the price, ensure the neighbourhood is profit worthy and not too much work needs to be done. This way it will seem like a no-brainer deal to investors.
✔️ Become a Freelance Taxi Driver with Uber
As long as you have your own car that is safe to drive, a clean driver's license, private hire insurance and a photo for your profile, there's nothing to stop you from signing up as a freelance driver with popular global taxi service: Uber.
One of the best ways to make money without a job, boss or contract, all you need to do is sign up, fill out a form and accept jobs through the app.
This means you can choose the passenger, the distance, the journey and more.
Then, you'll be earning an average of £8.75 per hour.
✔️ Build an App and Sell Free with Adverts on the App Store
As you might be aware, smart phones are the hub for small and simple mobile games that magnetize you to a screen for hours causing you to miss a train stop.
What you might not know is how these small free games are making their money.
If you have a knack for app design (which doesn't take much as there are various app builders such as BuildBox), you can list apps for free on the Android Store, Google Play Store or Apple App Store.
Your money will come through promoting in-app purchases and adverts that can be scheduled within the game.
Perfect as a beginner passive income revenue stream, it only requires initial time investment before it is listed on the mobile device store and earning you income while
you don't have a job.
✔️ Try Being a Mini-Angel and Investing in Small Businesses
When you already have funds to invest and you're looking to greenhorn passive income as a strategy to make money without a job, then become an investment angel and provide key support to small entrepreneurial efforts and businesses.
There are many new businesses looking for funds and by using sites such as the Angel Investment Network, they can show their brand, their aims, their investment needs,
the number of angles they're looking for and what the minimum investment would be.
If you see potential and a price tag that suits you, then invest, set your deals for a return on investment and make connections for multiple income streams.
✔️ Create a Udemy Course on a Topic You're an Expert in
Much like writing an eBook, you can write an interactive course for people to follow and learn from.
Whether it's an introduction to CSS, how to use LinkedIn marketing or finding how to awaken through Yoga.
If you have a passion and expertise, you can teach others about it.
They'll generally need you to record various 'lesson' videos and devise tasks to complete before the next lesson begins.
But, it is a relatively low-investment to a secure passive income stream.
Luckily, Udemy will also promote your course for you!
✔️ Create and License Music Through Envato
You may love to create music.
You may have a passion for creating soundscapes that other people can relax to or use within their videos.
And, if this is the case, you can sell your music through subscription services like Envato. This music will be sold through the Envato 'Audio Jungle' platform to ensure they are sold with Performing Rights Organization (PRO) affiliation.
Each piece of music (or foley!) can be sold for $15 to $19 USD depending on the length of the clip.
But, be sure to familiarise yourself with the terms of fees for Envato and Audio Jungle.
✔️ Join a Community Brand for Network Marketing
A community brand to market is also commonly known as an MLM (multi-level marketing) strategy where it's all about recruiting first and selling products second.
While it is a controversial topic to have on a list of the best passive income methods for earning without a job, it can be a sustainable revenue stream when you get the marketing right.
This means, finding the brand that speaks to you, getting to know the product, whipping out your best sales tactics and turning up to events for the newest tips and tricks.
Your marketing (in a 2021 world) will generally be on social media sites like Facebook and Instagram, so make sure you know how to post and engage traffic to create conversions and your prospects for profit are endless.
Some good brands to think about include: Forever Living, Tupperware, Avon, Beach Body and Melaleuca.
✔️ Franchise a Vending Machine or Two
British consumers spend over £1.5 billion each year on vending machine snacks.
With the beauty being that they are active 24/7 and serving whatever you think will sell to their consumers.
For example: you might want more junk in a vending machine targeted at kids, refrigerated fruits in a machine set in a hospital for health professionals and chargers for phones at an airport.
With an initial investment of a few thousand (depending on the manufacturer, size and location) as well as wholesale prices for snacks, it is a relatively low maintenance
form of passive income where the return on investment (ROI) generates hastily within the first year.
Have a look at common British vending machine brands such as: Tubz, Charisnack and Snack-in-the-Box.
✔️ Sign-Up for Sporting Competitions
The final method of making money without a job involves looking at your current sporting passions and hunting-out the paying competitions.
While you might not become the next Beckham if you're not kicking the ball, there are many other sports that provide the opportunity to earn a cash prize when you win a competition.
For example: boxing, horse show jumping, darts, poker, golf and so on.
Where the winnings can begin at £50 but lead into the thousands, it's just a matter of practicing your sporting talent and travelling to the heart of the competition.
That makes 54 new ways you can make money as a student, as a stay-at-home parent or while you're out of commission for personal reasons.
Tell us which passive income streams stood out to you, which you're wanting to tackle first and which you'd like to hear more about from us here at The Debt Free Family.
Recent posts you might like:
✅ Can you make money without a job?
Yes! It's totally possible to make money without having a traditional job. We've got 54 ways to get you started here!
✅ Do I need to work 9-5 to make a living?

There's no hard and fast rule that says you need to work in a regular job to make money. You can make money without a job. The trick is to have a regular reliable income stream, or better still, several.