* We sometimes use affiliate links, so we may receive a commission, at no cost to you, if you make a purchase through a link. Check our disclosure for more info.
Has it ever crossed your mind that you could be making money from recycling? It's amazing what you could sell instead of putting in the blue bin, and we've listed 10 pretty common recycling items lots of us have around the house you can earn some cash from.
Making Money From Recycling
Paying for recycling has been shown to decrease the amount of rubbish ending up in landfill (source) and so helping the environment.
It's a win win: environmentally friendly and cash in your pocket!
What recycling can you make money from?
Here's some of the most profitable items:
Old printer cartridges
Printer cartridges never last as long as you hope they will: they're expensive and I'm not sure anyone loves buying them.
However, the good news is that you can make money from them when they run out.
Yep, people will pay you for empty ink cartridges. Why? Companies can refill the cartridge with ink and re-sell them at a profit, so it stop them being sent to landfill.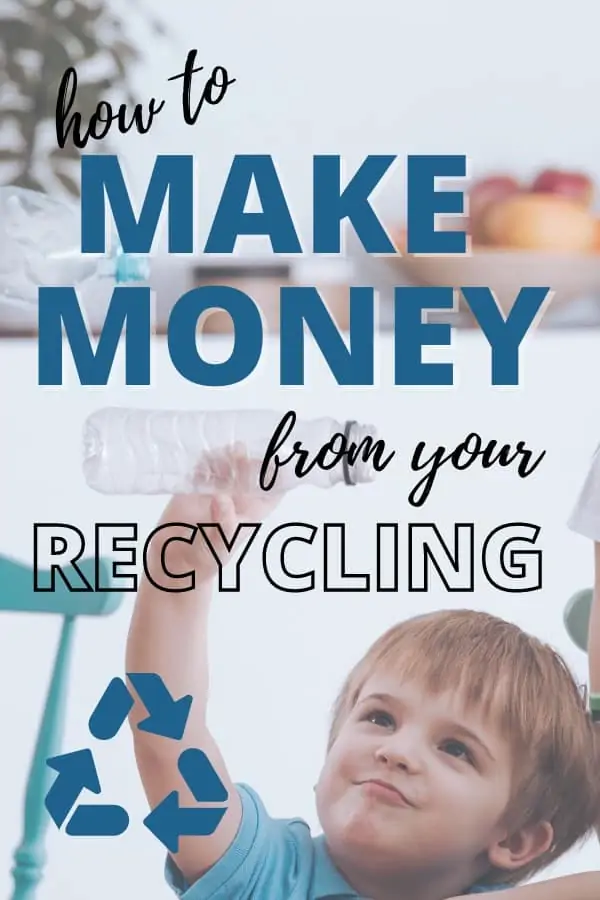 Printercartridgerecycling, Inkviro and TakeBack are all sites that will pay for your old cartridges. You simply out in the model number or name of your printer and they'll let you know how much you'll get.
Tech you no longer use
Old tech is everywhere. Only a lot of it's not really all that old.
Tech changes so fast and much of it has become so cheap that it's now a throwaway item, and many people do just that, throw it away.
But before you take your old tech to the recycling centre, check what you might get for it in hard cash!
What sort of tech will earn you money?
Old mobile phones, broken or otherwise
Laptops
Desktops
CD players
DVD players
Hifi systems (remember those?!)
Really there's a long list of tech you can sell, working or broken. Places you can check out to see how much you could make are: MusicMagpie, SellYourLaptop and Money4MyTech.
Before you agree to any sale though, make sure you've shopped around and got the best price for your old tech. Offers vary hugely between companies so make sure you've researched and found the best price.
Preloved books
If you're a book lover, it's easy to suddenly find yourself drowning in paperbacks and every so often you'll probably have to go through them and get rid of a number of them.
Luckily, there's a way to make some cash in the process.
Over the last few years a number of sites have sprung up that allow you to scan the barcode of a book and you'll be able to see how much they'll offer you for that particular book.
Once you've downloaded the app, it's dead easy to do. It's surprising what some of the books you've got are worth, and many of them will have some sort of cash value although be aware many also don't.
These sites will pay for the postage and transfer you the cash when they receive the books. Have a look at WeBuyBooks, Momox and TheBookBuyer.
You can read our full post on the best place to sell books here.
Old clothes
Before you chuck your old clothes away, make sure you're not throwing cash away! There are loads, and I mean loads of places to sell old clothes.
They don't have to be designer clothes or never worn, they can be regular high-street clothes and as long as they're not falling apart, there's likely to be someone out there who'll be happy to pay you for them.
Sometimes you get quite a lot, sometimes you get way less than you think your should, but cash is cash and if they were about to be thrown away anyway, it's well worth selling them instead.
Read our whole post on selling used clothes and how you can get started.
Tin cans
How many cans do we use in our house? Uhmm…not sure, but it's a lot. The average house in the UK consumes 600 cans annually (source). And they all could have been sold!
Interesting fact: since 2021 merchants haven't been allowed to pay for cans in cash, instead they have to transfer the money to you. It's to stop metals theft. But still, transfers are fine by us and we'd have made exactly zero if they'd ended up in the bin.
Have a look at ThinkCans and you'll be able to input your postcode and find the nearest place to you that will pay for your cans.
Scrap metal
Following on from tin cans is all scrap metal! This is a pretty enormous category. Covering everything from old cars to smaller household items, your scrap metal has a cash value.
As mentioned when I was talking about tin cans, the same payment rules apply to all metals, and if someone offers you money for your scrap, always make sure you see their license before you take the money. That way you're following the law and staying legal!
Simms, Singletons, and your local authority are good place to start looking for a buyer!
Cardboard boxes
If you've found yourself with a quantity of cardboard boxes you no longer want or need, before you out them in the blue bin, see if they could be worth anything to someone else instead.
So much if what we buy comes in a cardboard box, and often the boxes our packages arrive in are way bigger than they need to be, leaving us with the box.
There are companies that will buy used cardboard boxes but they tend to want bigger quantities that most if us have.
Your best bet therefore is to list them on Facebook Marketplace to find local buyers or eBay.
Construction waste
If you've ever had an extension of any sort, you might know there's a lot of 'rubbish' left over in the form of building supplies.
Always make sure you have a look through this, much of it will be scrap metal based so worth some cash. You might also be left with unused items that someone else can use for their own projects.
It's not uncommon for over ordering to happen in construction, and if the items haven't been returned, list them locally if they're huge or nationally if they're small enough to send through the post.
There might well be some cash in the pile of 'rubbish' you cannot wait to get rid of!
How much money can you make from recycling?
How much money you make from recycling depends on two things; the type of recycling you have and how much recycling you have. Making money from recycling is unlikely to make you wealthy, but as a means of making money form something you otherwise would of disposed of for free is always a good thing!
What is the most profitable recycling?
The most profitable recycling for a regular household is usually, but not always, from old tech.
A single unwanted phone could fetch you in the region of £80-£100, where as tin cans you'd need a lot of to reach that amount!
✅ Recycling beer cans for money
Don't overlook the empty beer cans when your planning on selling your recycling! The same rules apply to old beer tins as they do to any other tins, but many of us forget about them when we're looking to make money from our rubbish.
ScrapsAway will help you find the nearest centre to you where you can sell your (empty:) beer cans.
More ways to make money