<– Back to Beatrix Potter 50p coin collection
Mrs. Tittlemouse 50p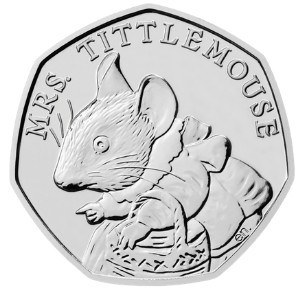 Added to the Beatrix Potter 50p collection in 2017, Mrs.Tittlemouse was minted at 1,700,000 (million). This coin shows a large image of Mrs.Tittlemouse holding her basket on the way to market.
What's the Mrs Tittlemouse 50p coin worth?
Despite the low mintage numbers, this coin is still only worth its face value of 50p.
Related posts you might like