Rare £2 coins
If you were wondering how rare some £2 coins are, would you believe the £2 coin makes up 9 out of the 10 rarest coins in circulation in the UK today?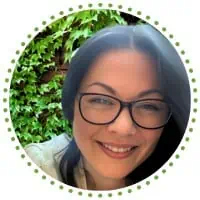 I'm Steph, mum of three! 👋
Here, I share practical insights on making (and saving!) money. With a knack for budgeting and a passion for financial freedom, I've picked up lots of tips & tricks along the way. And I can't wait to share them with you here!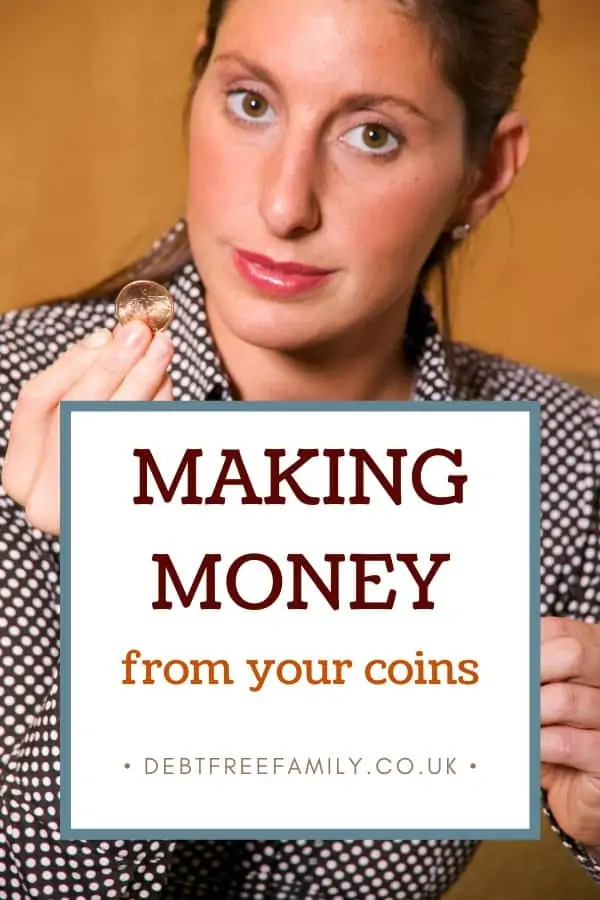 ✅ Valuable £2 coins
There are 37 £2 coins in circulation in the UK right now and although the British people have taken to collecting 50p coins since the Olympic 50p collection was introduced and more recently, collecting rare 10p's since the alphabet 10p's were minted, the £2 coin still remains very collectable.
These are the top ten most valuable £2 coins in the UK with their estimated collectors value
Commonwealth games Northern Ireland £30 2002
Commonwealth games Wales £14 2002
Commonwealth games England £12 2002
Commonwealth games Scotland £9 2002
Olympic handover ceremony £7 2008
Mary Rose £5 2011
King James bible £5 2011
Handover to Rio (Olympics) £4 2012
London Olympics £4 2008
Shakespeare comedies £4 2016
✅ Rarest £2 coins
With £2 coins in the UK becoming as collectable as 50p coins, some are going to be worth more than others.
In this post we're going to look at which £2 coins are the rarest and which are worth the most amount of money if you're looking to sell them.
The rarest £2 coin not in circulation is the 1989 Claim of Right £2, but since this was taken out of circulation in 1997 when the new style £2 was introduced in the UK, it's not on our list.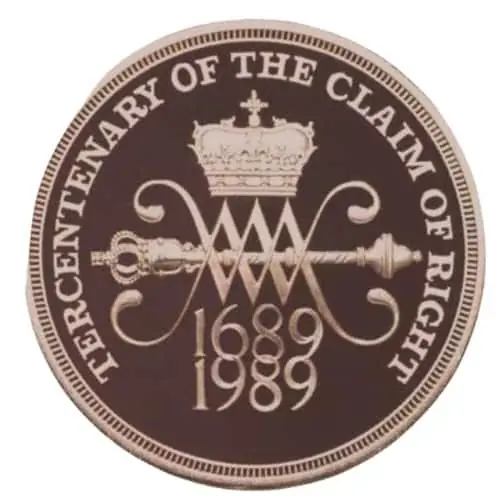 With a mintage of just 346,000 coins out into circulation, this is the rarest of all £2 in the UK.
However, in 1996 a new metallic technology started to be used to mint £2 coins and these coins were taken out of circulation.
There were two designs approved for this £2 coin, which celebrated the Tercentenary (300 years) since the Declaration of Rights was introduced.
These £2 coins are often found on eBay and other auction sites available for sale, and the asking prices for them seems to vary enormously, from as little as £19 right up to £1,000. As always though, asking prices do not reflect selling prices on many sites, so research with care!
Watch video of the hunt for rare £2 coins here! ?
✅ The rarest £2 coins
The current most valuable £2 coins in the UK are the collection of Commonwealth games £2 coins. There are 4 of them, representing Northern Ireland, Scotland, England and Wales.
Commonwealth games £2 Coin – Northern Ireland 2002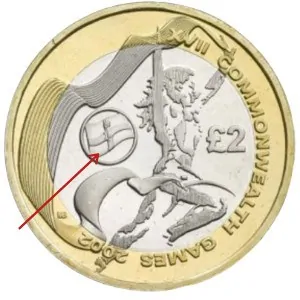 Currently selling for £30 online
This £2 is currently the most valuable £2 in the UK. Even though it has a face value of only £2, collectors will pay up to £30 to own this coin – usually because they've got the rest of the Commonwealth collection and need this one to complete it.
All four of these coins look the same expect for one thing: the flag on the face of the coin (see the red arrow in the image above)
This coin, like all of these is currently in UK circulation. Check your change, this one's definitely one to keep for re-selling!
Commonwealth games £2 Coin – Wales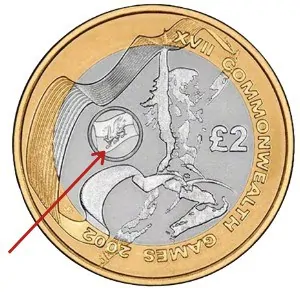 Currently selling for £14 online
This is the Wales Commonwealth £2 coin, as with the others identifiable by the flag on the coin face.
As the second rarest £2 coin in the UK, this isn't one you'll come across everyday, but there are still nearly 200k of them in circulation so well worth looking out for.
Commonwealth games £2 Coin England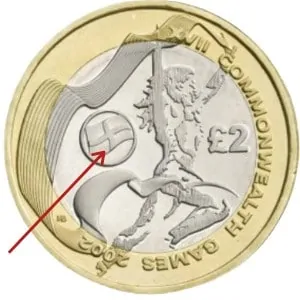 Currently selling for £12 online
With over 200k of these coins in circulation, you've a slightly better chance of finding one in your change.
Designed by
Matthew Bonaccorsi, this is the UK's third rarest £2 coin!
Commonwealth games £2 Coin – Scotland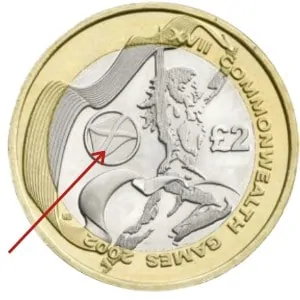 Currently selling for £9 online
And to complete the Commonwealth £2 coin collection, Scotland comes in as the UK's 4th rarest £2.
Olympic handover ceremony £2 Coin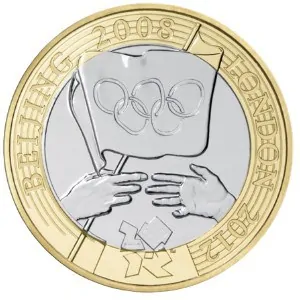 Currently selling for £7 online
To commemorate both the successful bid and the official handover from Beijing to London, The Royal Mint struck a commemorative £2 coin which featured the iconic Olympic Flag and the London 2012 logo on its reverse. Two outstretched hands complete the symbolic status of the coin and lines reminiscent of a running track surround the central design.
Mary Rose £2 coin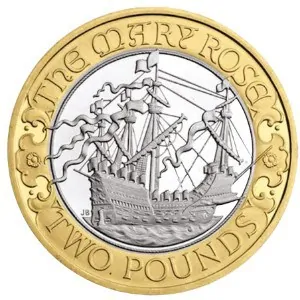 Currently selling for £5 online
The carrack Tudor warship profile is clearly shown, with the high 'castles' fore and aft, and an impressive number of heavy guns. Looking at the stern of the ship, it's easy to see the gradually narrowing width of the decks, designed to make the ship more stable and to make boarding more difficult.
King James bible £2 Coin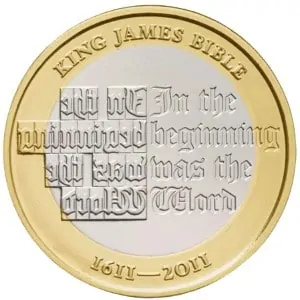 Currently selling for £5 online
The spirit of the King James Bible is captured on the £2 coin celebrating its 400th anniversary. Cleverly reminding us that printing concerns were at the heart of the matter in 1611, the reverse design displays the first words from the book of John – 'In the beginning was the Word'.
Handover to Rio £2 Coin
Currently selling for £4 online
At the Closing Ceremony of the London 2012 Olympic Games, the world watched as London handed over the mantle to the next host city, Rio de Janeiro.
This coin was the final coin in The Royal Mint's London 2012 Coin Programme and celebrated the milestone with an evocative design by Jonathan Olliffe.
London Olympics £2 Coin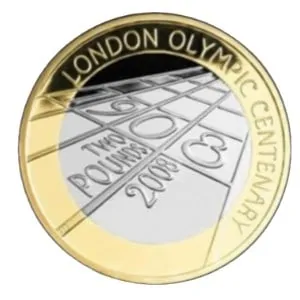 Currently selling for £4 online
This £2 coin features a running track, an image that is strongly associated with the Olympic Games. The anniversary date of 1908 is positioned within the track, with the words 'London Olympic Centenary' encircling the design.
Shakespeare comedies £2 Coin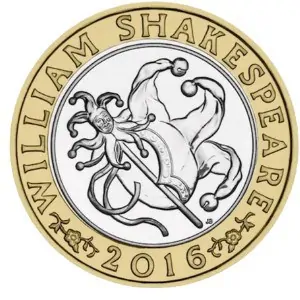 Currently selling for £4 online
These coins celebrate Shakespeare's most famous works and this design skilfully weaves love around tragedy, with the skull and rose design capturing that sense of doomed romance.
✅ New £2 coins
Are there any new £2 coins? There hasn't been a new £2 minted since 2016. Why? In short, the Royal Mint are sitting on way to many of them to need to create anymore.
Cash makes up less than a quarter of all payments in the UK meaning that there is less need than ever before to mint new coins.
The NAO (source) published that the Mint was sitting on 26 times as many coins as it needed to be, and suggested that no new £2 coins would be minted for the next ten years.
So, those minted in 2016 might just well be the last new ones available for some time to come.
✅ Where to sell rare £2 coins
If you're looking to sell a rare coins, no matter what it's face value, one of the first things you'll want to be doing if you think you've got a coin that's rare and valuable is to find out just how valuable it really is.
One fo the best ways we know to value these coins is to look at the sold pages on eBay to get an idea of what people are really paying. Don't look at the sale price of coins that haven't sold, it's the ones that have sold we're interested in.
There are also sites like exclusivecoins.co.uk who will value and buy your coins. Please not, I have never sold coins through this site and cannot vouch for them. However, it's worth looking into coin buying sites as another option.
If you have a super rare coin, always get it valued by a professional. Some coins can be worth thousands!
✅ Coins wanted by collectors UK
Coin collectors in the UK are always on the lookout for coins they know are worth money or are likely to go up in value.
But what coins do they want and how do you know if a coins going to increase in value or not?
There are two ways you can tell if a coin is going to be worth more than it's face value, either in the near future or as a coin to hang onto for a number of years.
Firstly, there are mintage figures. This tells us how many coins were minted, with the fewer minted the rarer they are.
You can find the mintage figures for £2 coins here.
The mintage figure although a god indicator, are not the only factor in causing a coin to be valuable though.
Coins that were made in error at the Royal Mint have also proved to be worth a small fortune in some cases. Whilst it's impossible to put a price on coins made in error, if you think you've got coin that looks not quite as it should, have it verified by the Royal Mint who'll provide you with a verification letter, and then take it to a reputable coin collector.
✅ Where can I sell old £2 coins near me?
Not got time to wait for the highest bidder and want some cash a little sooner?
The simplest way to find your local coin buying collectors is to type this ? into Google. It will use your IP address to give you your local coin collector information.
where can I sell old coins near me?
Some of the £2 coins we've featured you'll probably have got, if not at least come across, others are much less common.
It's always worth checking your change and looking a look out for these coins though, hanging on to them until they become a little rarer is a good idea if you don't need the money right now, and remember as a guide, that the lower the mintage, the higher the value will be.
Good luck in your £2 coin hunt!
---
Related posts
✅ Which coins are the most valuable?
– London 2012 Olympics Aquatics 50p first design – up to £1,500.
– 1983 New Pence 2p coin – up to £1,250.
– Silver 2p (1971 to 1992) – over £1,000.
– Zinc £2 coin – between £800 and £1,300.
– Silver 2p (1992 to 2018) – up to £600.
– Kew Gardens 50p – up to £160.
✅ What's the rarest 2 pound coin?
The Commonwealth £2 coin collections is the most valuable in the UK.
✅ How do I sell rare coins?
Online, coin fairs, auctions houses, online auctions. Make sure you're happy with the price you're offered before committing to the sale!