14 Quick To Start Graphic Design Side Hustles
* We sometimes use affiliate links, so we may receive a commission, at no cost to you, if you make a purchase through a link. Check our disclosure for more info.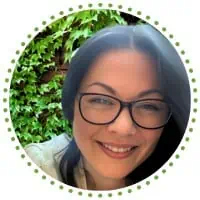 I'm Steph, mum of three! 👋
Here, I share practical insights on making (and saving!) money. With a knack for budgeting and a passion for financial freedom, I've picked up lots of tips & tricks along the way. And I can't wait to share them with you here!
Wondering what the best side gigs for designers are? Like so many of us when we're looking for a side hustle, it's easier to start with something that we already know. These 14 quick start graphic design side hustles can get you on the way to boosting your bank balance!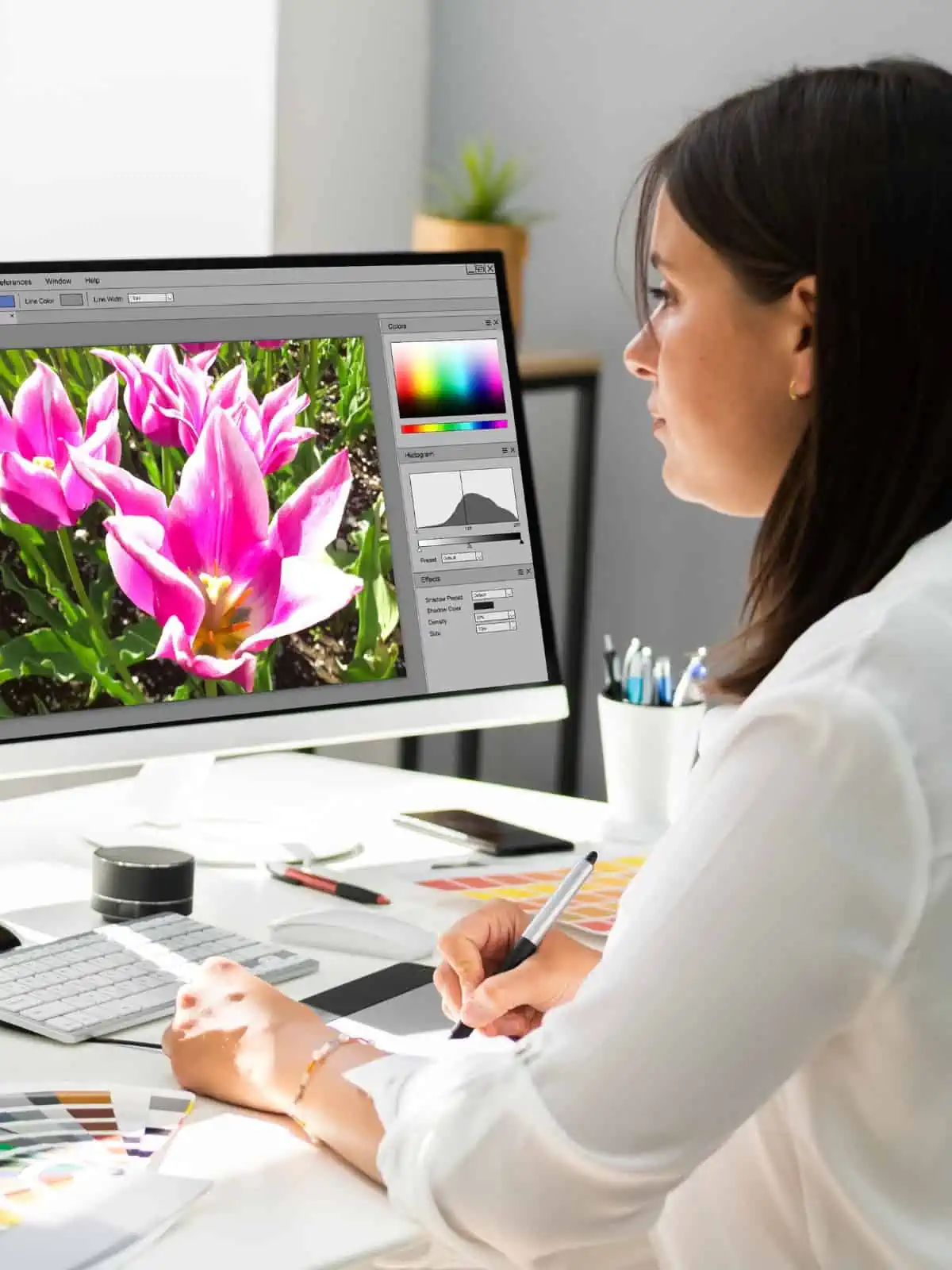 The Graphic Design Side Hustle
Looking to start a graphic design business on the side? Graphic design can be a great side hustle for people that have a talent for it. Whether you sell digital products, offer logo design or draw illustrations, you can absolutely get into this.
Very often it's us Mums looking to earn some more cash to boost our money from a full-time job, but need something that fits around the kids. This hustle offers the flexibility to work from anywhere and can provide a pretty decent source of income, especially if you have a good portfolio of work to show off and some awesome reviews for potential clients to go by.
Traditionally designers would take on freelance jobs as a way to make some extra cash, and while that can still be a good way to go about this, in today's gig economy world, you get to spend the time creating amazing designs and less on finding the clients in the first place. Which is often an uphill battle :)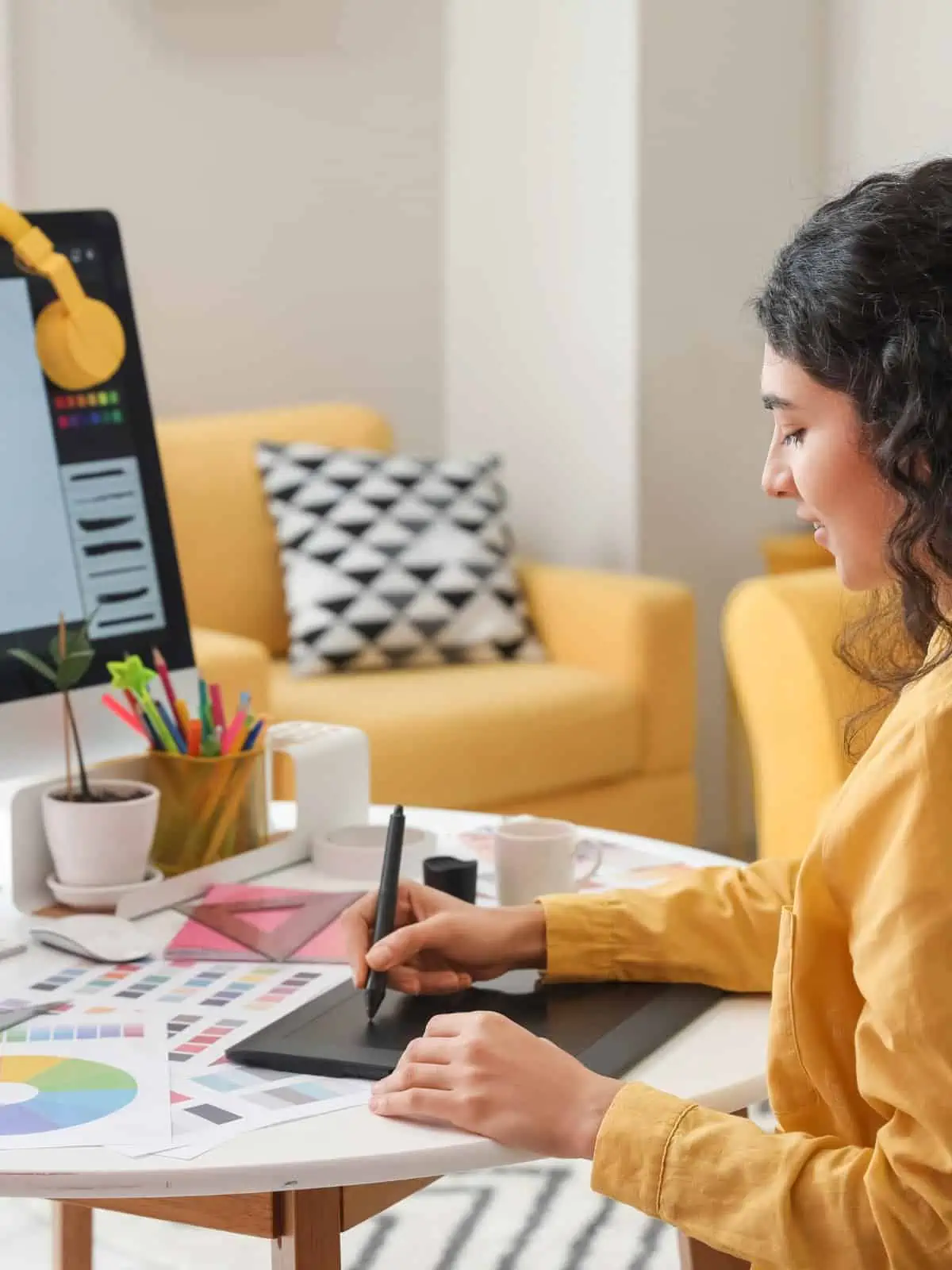 There are a variety of platforms (we'll go through them below) that can help you find work. You can also offer your services locally through word-of-mouth, networking, and advertising (on social media?!), just like the old days!
However like any side hustle having some success in graphic design will depend on factors such as the level of competition in your area, your pricing strategy and the quality of your work. It's important to keep your skills up-to-date and to constantly update you portfolio and of course, get those all important reviews!
As a designer, your skill set lends itself really well to side gigs and hustles. With the gig economy worth an estimated $43 billion, there are plenty of people out there looking for freelancers to take on small to medium sized jobs.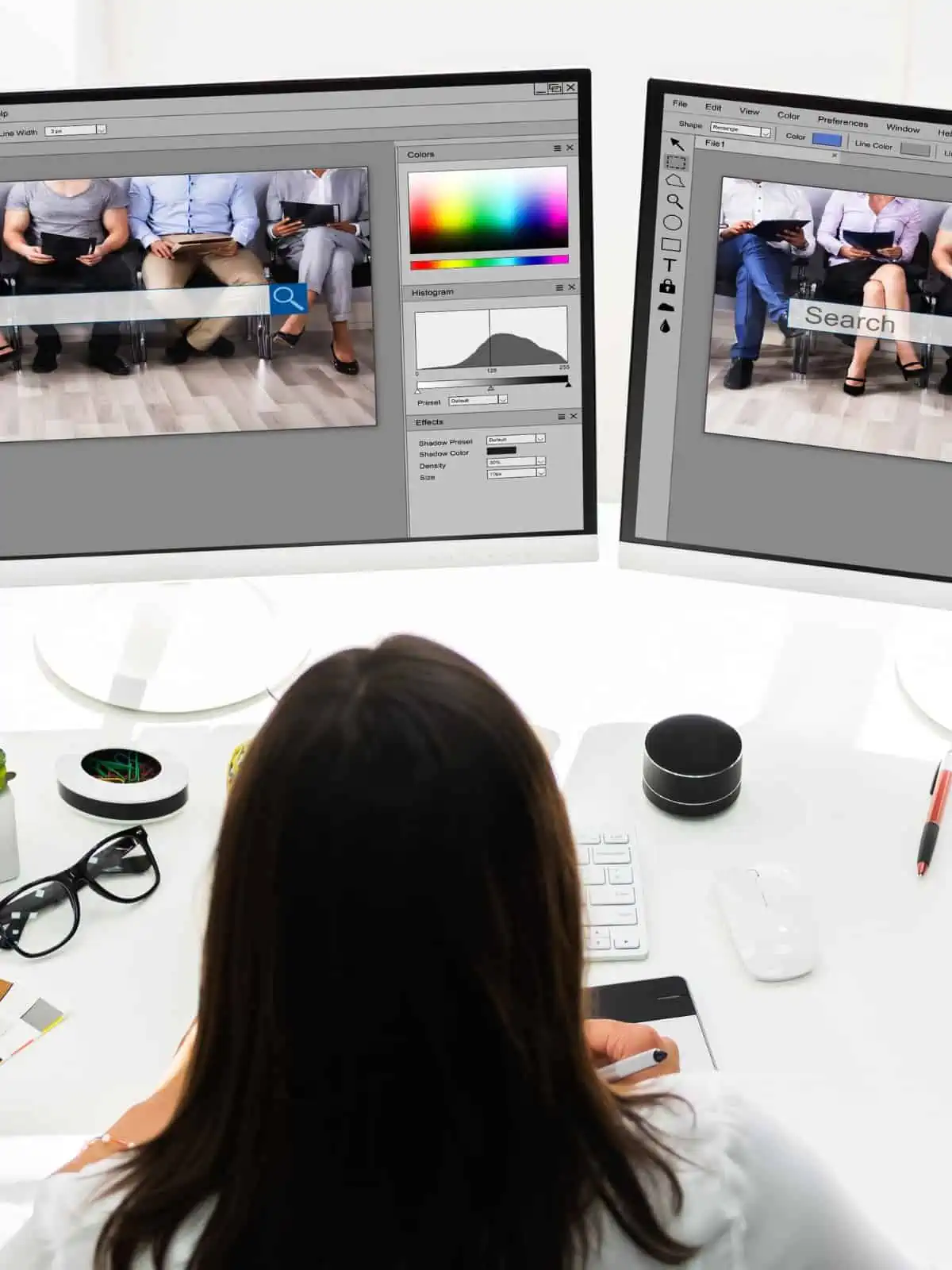 More Side Hustle Ideas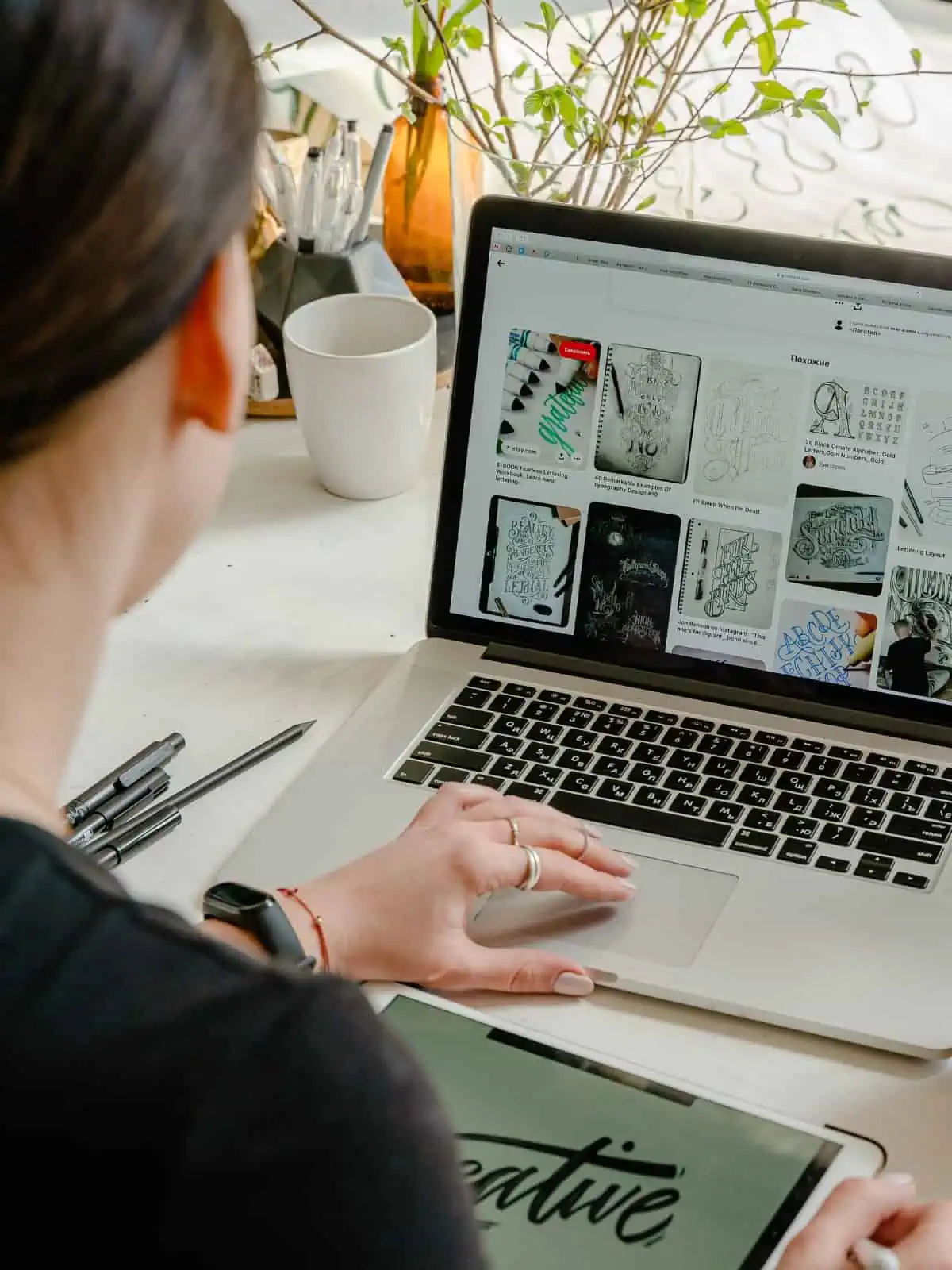 Is Graphic Design A Good Side Hustle?
Freelance graphic design is a fantastic side hustle for anyone who's creative. There are so many different aspects to graphic design, your side hustle might specialise in one area, digital art, infographics or digital icons for example.
There's really no end to what you could design and bring in some extra money, and there's good money to be made in design. Getting yourself a design side gig could turn out to be pretty lucrative!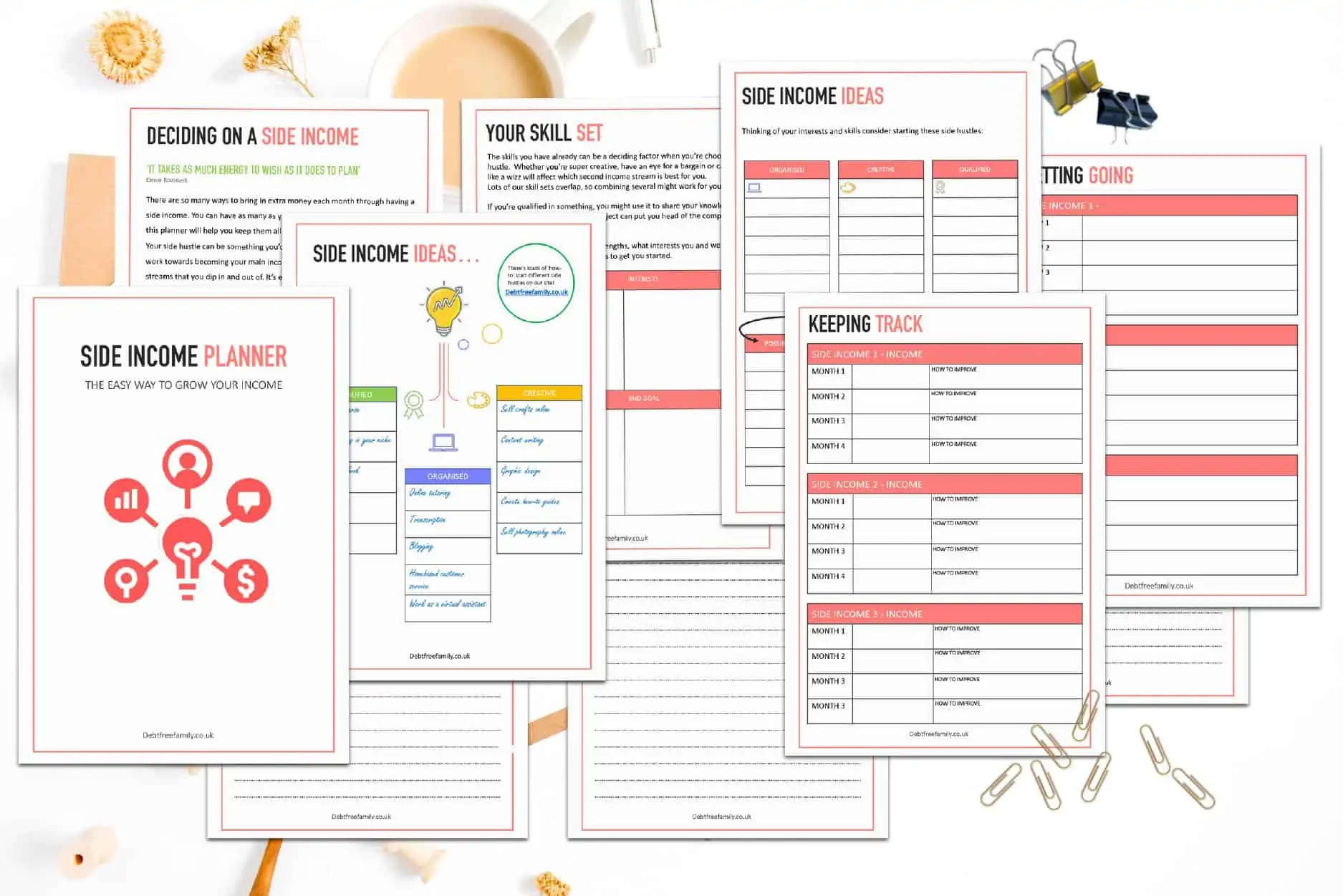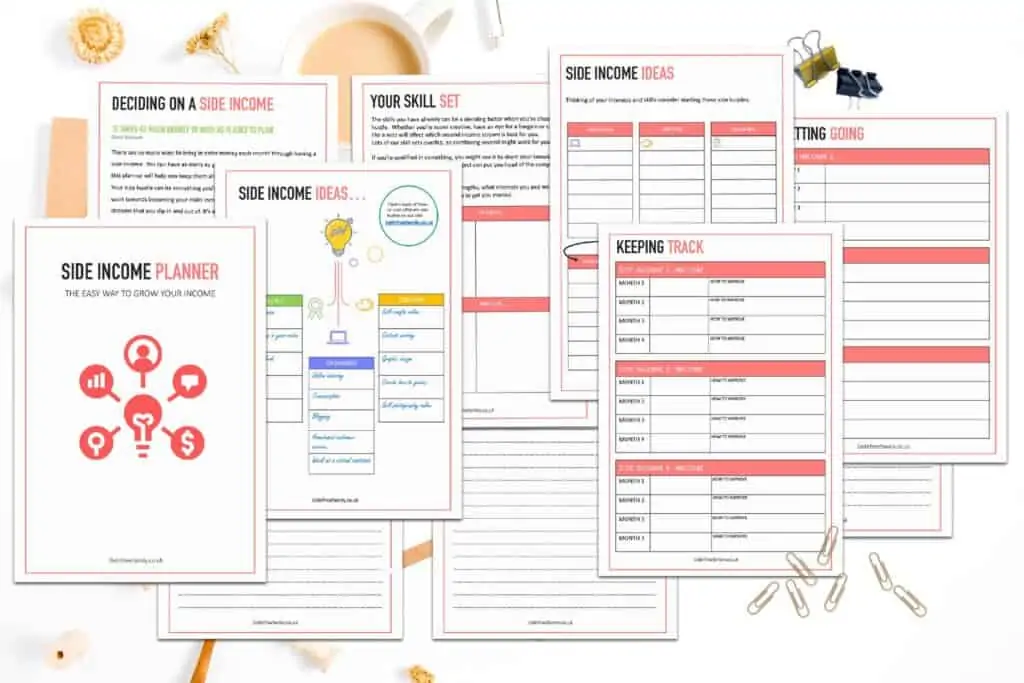 Side Jobs For Graphic Designers
Here's our list of the 14 best side gigs for designers that you can start today!
Sell Your Designs On Creative Market
Creative market is an online marketplace for designers selling handcrafted digital design content. There are no physical products sold and Creative Market take responsibility for delivering your products to your customers, so you really do only have to focus on designing.
Opening a store on Creative Market gives you the ability to get your designs in front of an audience 7 million strong: all people who are specifically looking for a product from a designer!
Opening a shop here requires you to be invited, although in theory this means you just have to fill in a form telling them why you'd be a good Creative Market seller.
Open a Creative Market shop here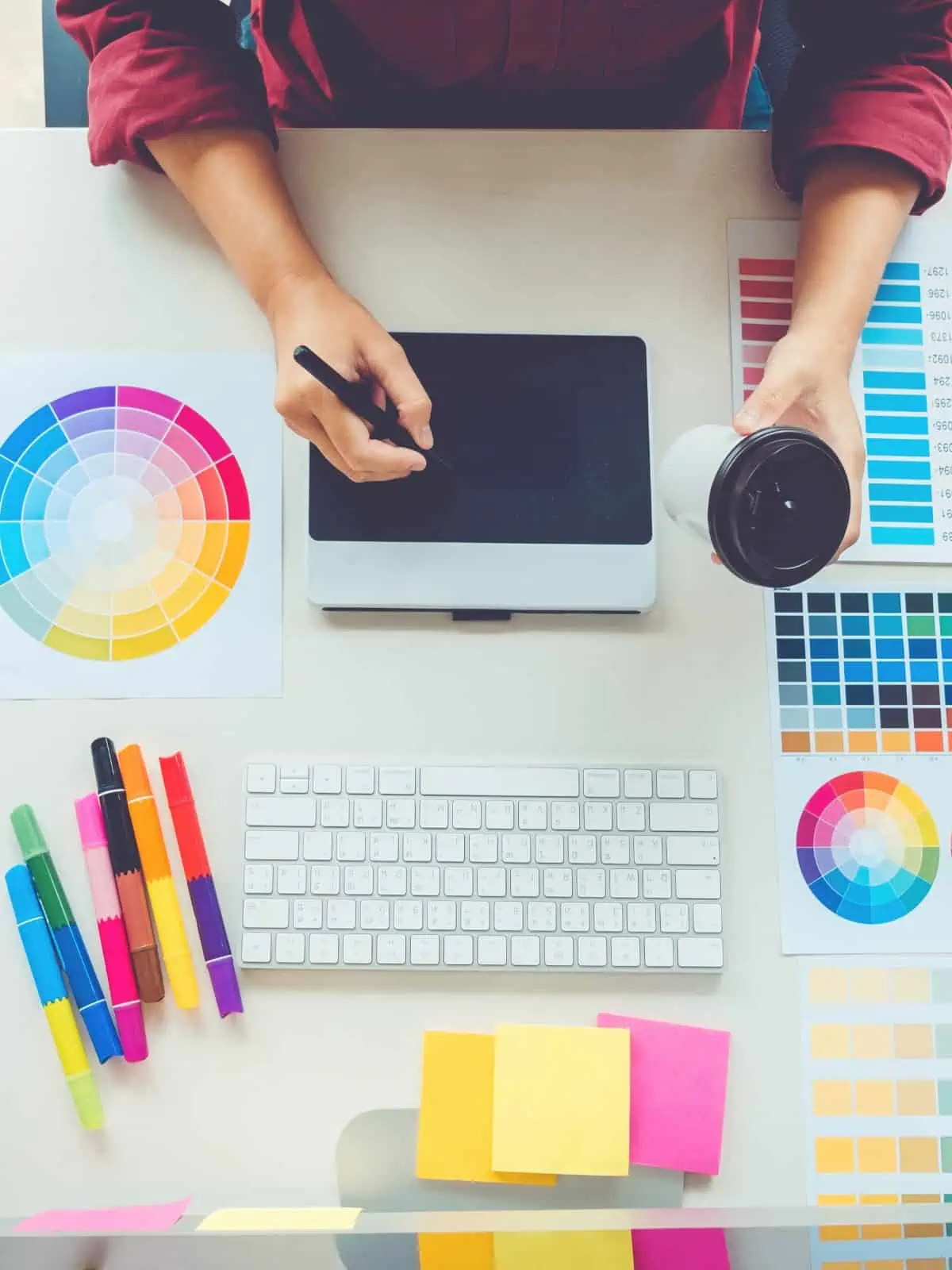 Get On 99 Designs
99 Designs is a platform for designers to be matched with customers looking for design work. The more you participate in 99 Designs, the more you'll be matched with clients, meaning more work for you.
99 Designs is totally free to sign up to, and is a really good place to get registered with. The team here will look over your application and see if you'd be a good fit fir their business. It can take a while to start earning money, but there's plenty of other ways to bring in some cash while you're waiting for work to come in.
More Ways To Make Money On The Side
Design Infographics
Infographics are everywhere right now and their popularity isn't showing any signs of waning. Infographics as a side gig can be a pretty fast way of bringing in extra cash, they're quick to make.
Prices for these start at around £5-£6, but more common for a quality infographic is more around the £35-£45 mark, so it could be quite lucrative.
Fiverr is one of the most popular places to find buyers for infographics, but there are other ways to get work. Joining blogging groups and checking with the admin if you can let people know you're offering graphics, bloggers are always looking for great infographic designers!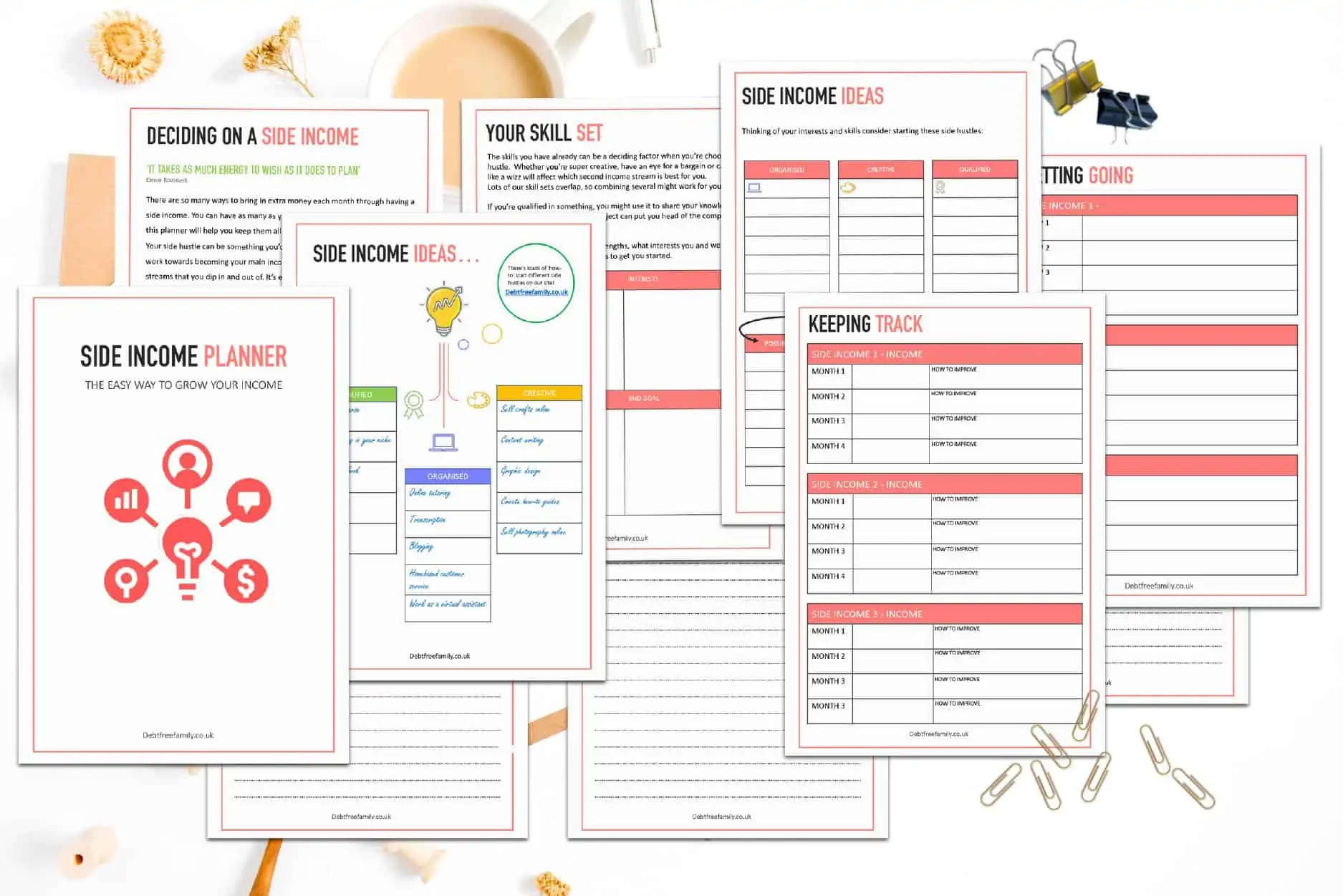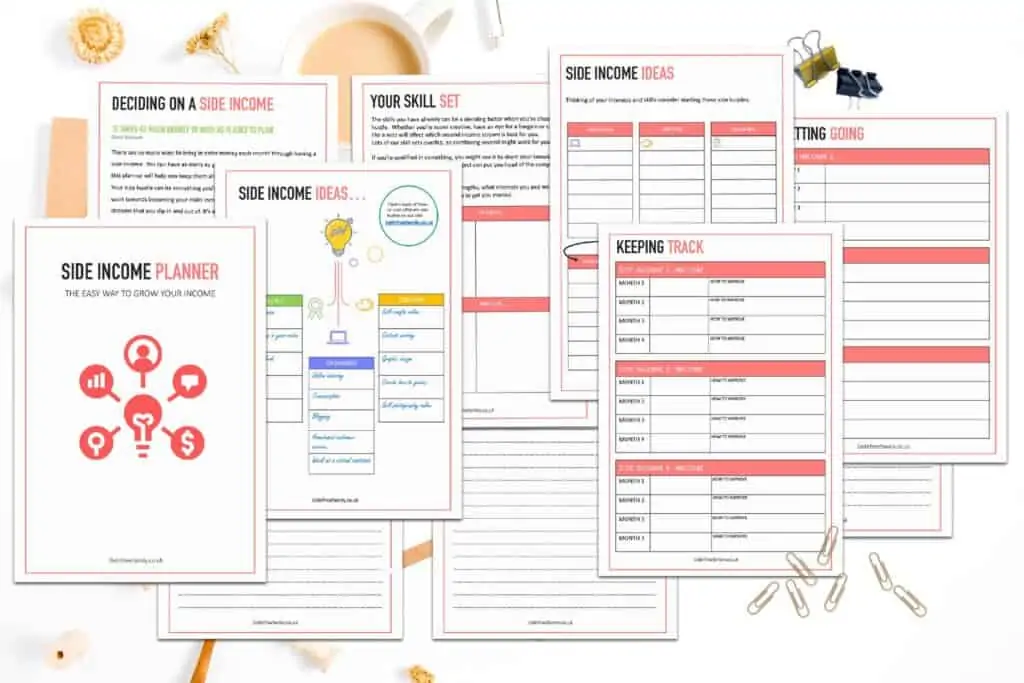 Create fonts and logos on Graphic River
Graphic River is a market place where you can sell anything design! There's everything from fonts to templates to web elements to vectors and you can showcase you're designs to find buyers and make some money.
There's so much on here, you'll be able to find a category and get yourself set up. Make sure your images of your products are really clear and high quality, as it's your images that will set you apart from your competitors and bring you in customers.
Freelance Design On Fiverr
Freelance designers can be super successful on Fiverr, and despite the name, not everything's a fiver! There are categories for anything and everything thats designed you can think of, although be warned, the competitions big.
Rather than uploading digital designs, more often than not you'll be designing for individual clients as they order.
You can set yourself apart by showcasing your most 'stand out' work, colourful large images do well in Fiverr.
There are a lot of sellers on Fiverr offering design work for rock bottom prices and you probably wouldn't (and really shouldn't!) try and compete with these sellers. They very rarely get repeat work, so it's far better to build up a customer base who are prepared to pay for your designs at a real market price.
It's free to register yourself on Fiverr and get you gigs set up. Each gig offers 3 levels, and the pay goes up according to the job.
Design T-shirts for Amazon Merch
Opening an Amazon March account is free and easy to do. Once you register you'll receive an email invite (you may have to go onto a waiting list for a while!) to start your online Amazon Merch career!
As you'd expect, there's loads of other sellers on here but as with all market places, if your products stand out and you imagery is awesome, you'll stand out and have a far better chance of making a sale.
Make digital downloads
Digital downloads, or printables are an extremely lucrative side gig and perfect for designers. You can design printables for just about anything, from budget templates, shopping lists and educational worksheets, to 'how-to' printable or digital art work.
The beauty of printables is that once you've created them they're there, ready to be downloaded and make you some cash. Any digital downloads you make as further down the road simply add to your library.
Have a look at Etsy and Fiverr to see what their biggest sellers are, and then put your own unique design on a product you like. Downloads are quite fast to make and once you've found a design that works well and sells well, the template can just be modified to create new products.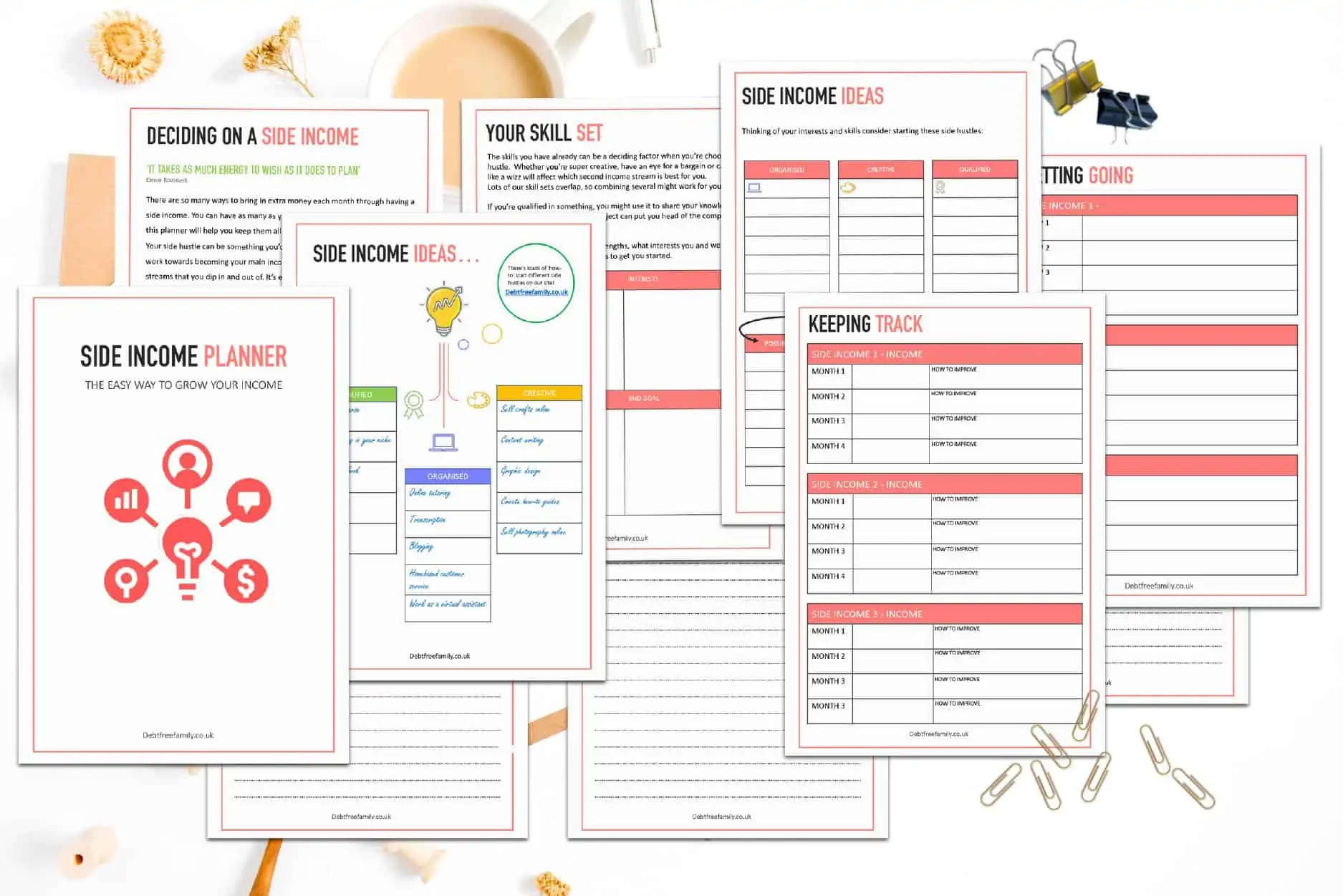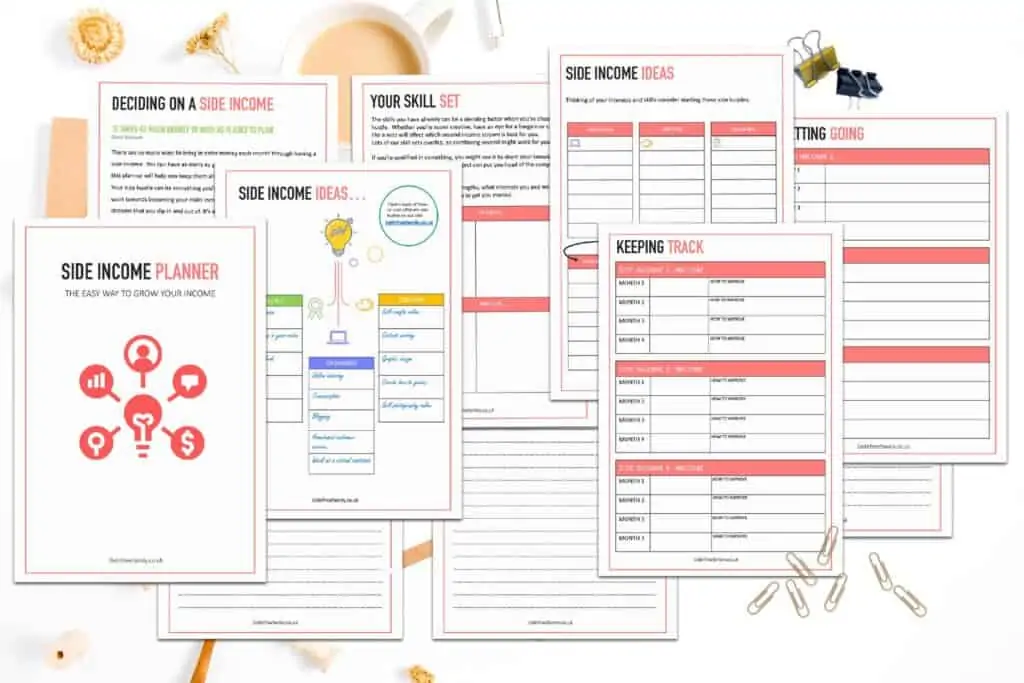 Design WordPress Themes
With an estimated 75 million websites built on WordPress, it's safe to say designing WordPress templates could turn out to be a big earner if you get the product right.
The main thing site owners want from a theme is speed, themes that create slow sites rarely do well, and so clean themes without a lot of fancy coding do well.
Check out this article on creating a WordPress theme for how to get started.
Sell Digital Artwork
A quick look at the digital art downloads on Etsy will show you just how many styles and designs there are to choose from. You can either choose to design art within a graphics program or have your own handmade artwork turned into a graphic that can then be downloaded.
Quality is the key to sales. So many downloads are bad quality and lead to disappointed customers, ensuring that the end print quality is top notch will help with repeat customers.
You could also offer a service where you print and ship, or even print frame and ship, after you've created you account and started selling, you'll have a better idea of what your customers want.
Create Design Templates
Templates are a great way to get your designs out there whilst allowing people to customise them. What sort of digital design templates might you sell?
We talked about infographics earlier, and this would be a good place to start with templates. As a blogger, well designed Pinterest pin templates are always something i'm looking for.
There's an endless list of template ideas: invitations, certificates, postcards, planners, calendars and business cards are just a few of the things that you could start with.
Cash In On Stickers
Designing stickers is fun and get get your creative juices flowing! Sites like Red Bubble have made it possible for designers to upload their designs and find buyers.
Once a customer has chosen your design, the website then has them printed in house and ship them to the client themselves. As it's your design being sold, the profits are shared between you and the website.
Once your designs have been created and uploaded, this can be a pretty passive income, although it's not always huge amounts of money, but left in the background it all adds up!
Teach Design As A Side Hustle
Ever considered passing on your design knowledge? Teaching an evening class, or starting a club at your child's school are good ways to build up successful design gigs.
The skills you've learned are valuable and many people would like to know the basics to use in their own businesses and jobs. The majority of business need design in some form and to know the basics is something many people pay for.
If teaching a class isn't appealing, you could consider writing an eBook about a particular aspect of design, or even creating YouTube videos showing your design process.
Start A Design Blog
Start a blog to showcase your designs! Blogging is a good side gig for a designer, not only will you be able to produce something aesthetically appealing but you could then go on to sell your design on your site, in the form of digital downloads etc…
Blogging is not fast money for the majority of us, but if you enjoy doing it and it's a topic you're passionate about, you can start this side gig while you're doing another and let it build itself up as you update it from time to time.
Sell Digital Design Assets
Digital design assets are everything from Photoshop backgrounds to icons and everything in between.
Design assets usually form part of a bigger project for buyers: they might be able to use Photoshop but not know how to create effects, so they upload yours they've purchased.
Where can you sell your digital assets? Most of the sites that sell services like Fiverr will have categories for assets, and sites like Etsy offer many pre-made design assets. Much like some of the other side gigs we've looked at, this could become a great passive income stream over time.
How Can UX Designers Make Extra Money?
User experience designers (UX) often make their craft into lucrative side gigs. UX is an aspect of design that's filtering down to smaller websites after being something that really only big sites bothered with.
The importance of a users experience is paramount to a site being a success, but many small site's cannot afford to have their own in-house designer and so will use freelance UX designers.
You could position your services offering a package to bloggers, small e-commerce sites and the like allowing them to address UX issues their site might have, whilst bringing you in some extra cash.
And unlike many other side gigs, the UX market although popular, is not as saturated as other design areas.
That concludes our post to help you get started with the best side gigs for designers. Let me know in the comments if you've started any others, I'd love to hear how you're getting on!