✅ When do bikes go on sale?
* We sometimes use affiliate links, so we may receive a commission, at no cost to you, if you make a purchase through a link. Check our disclosure for more info.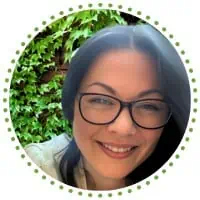 I'm Steph, mum of three! 👋
Here, I share practical insights on making (and saving!) money. With a knack for budgeting and a passion for financial freedom, I've picked up lots of tips & tricks along the way. And I can't wait to share them with you here!
Many of us have happy memories of biking as a child, but new bikes are expensive. The good news is you can pay less. So what we all need to know is: when do bikes go on sale?
Bikes are the perfect accompaniment to everyone, with each showing its own personality, size, colour, accessories, stance and more.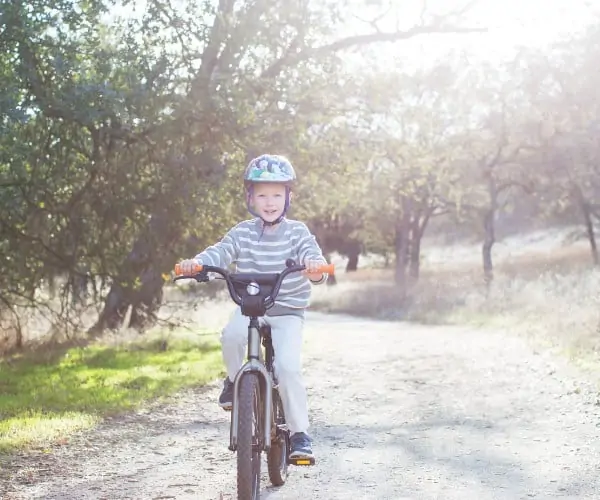 From the street bike with the basket in the front for a handbag all the way to the weekend mountain bike for new adventures in the Peaks. 
Bikes have never been so in-demand.
There's really no reason not to restart if you stopped or get the kids into biking; it's fun, affordable, customisable, easy to store, made for height, environmentally friendly, low in running costs and more. 
Yet, all these amazing benefits can come at a big cost: a literal price tag. So we thought we'd take the hard work out of finding out when bikes generally go on sale here in the UK.
✅ Where is the best place to find a bike for sale?
Bikes are a fantastic investment, as we all know.
Yet, one thing that's not such common knowledge is the mark-up and profit margins on bikes. It's very low and most bike stores make up their profits in accessories such as bike helmets, knee pads, insurance, phone holders, first aid kits, brakes, bells, GPS devices and more. 
So, when asking 'when do bikes go on sale?' you should probably be focusing more on 'where do bikes go on sale?'.
The big brands in the bike business have more room to haggle when it comes to buying a new bike in the sale.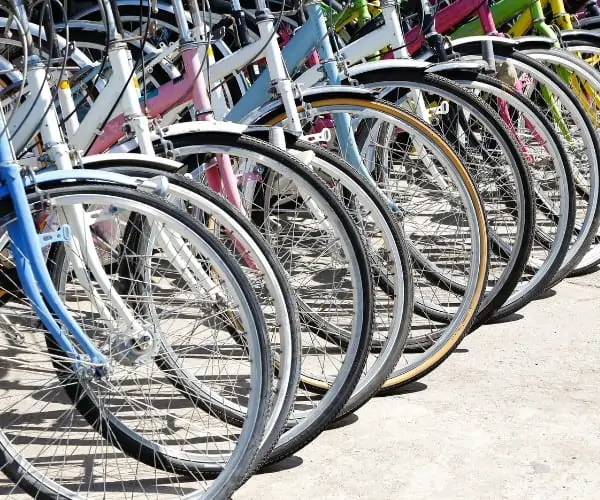 Although they won't have much profit to come through the bike itself, they are able to create much better deals that'll include your safety set and bike lock. 
With this, it's often best to head to larger chain stores who can help with every spoke in the wheel rather than just the accessories. Here's a small list we've gathered together of the bike brands across the UK with the best end of season bike sales:
That's not to say small independent bike shops don't have exactly what you're looking for.
We spoke to a few for a little bit of 'current' market research to find that, while they won't be holding many sales in 2021, as soon as the new stock comes out in the Autumn, they will be holding their usual sale to remove older stock.
✅ What month do bikes go on sale?
Much like with traditional January sales, the bike industry is no different. You'll find local stores and chains all giving in to the hype of the January sales for two reasons.
After Christmas, people want to relax and breathe out after the manic panic buying on Christmas Eve, so there isn't much flashing the cash going on.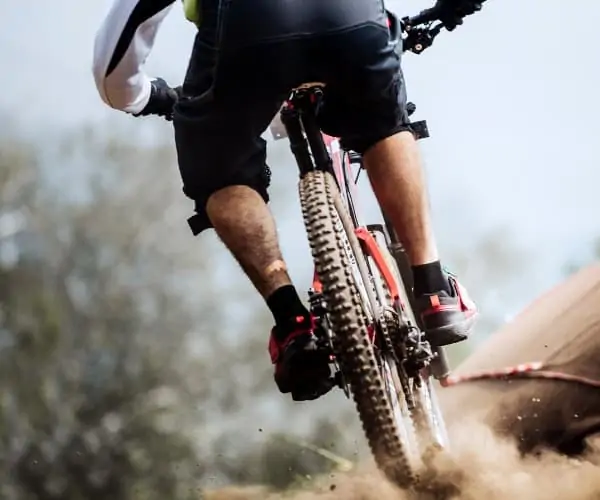 That said, there are still lots of people who are gifted vouchers for Christmas only to be put toward one thing: a brand-new bike. 
And, in order to convince peddle maniacs to buy with them, stores will create sales.
So, either head for January or the start of Autumn for your bike sale. Of course, many brands always have some stock on 'clearance' to keep the bicycle wheels turning.
For example: at the time of writing Evans Cycles has a grand total of 7 bikes on clearance and it's not a 'sale period'.
Four of these bikes are for kids, two are road bikes and the other was a standard Muddy Fox!
✅ When's the best time to buy a bike in the UK?
Most of the big bike stores such as Decathlon and Evans Cycles will offer a bi-annual bike for sale event to help clear room for new stock.
However, this 2021, things are a little different to normal. In early 2020, the demand for bikes went through the roof. And then cycled off into the distance.
People had more time; the weather was great, and bikes provided individual and affordable transport (they still do). But the story of it is that bikes were flying off the shelves in all the national and local stores with Evans Cycles saying they'd never seen such a demand from April 2020. 
With this, and being the money-savvy blog we are, we have to let you in on the fact that demand and supply will have raised bike prices over the last year making it more important than ever to look at sale trends.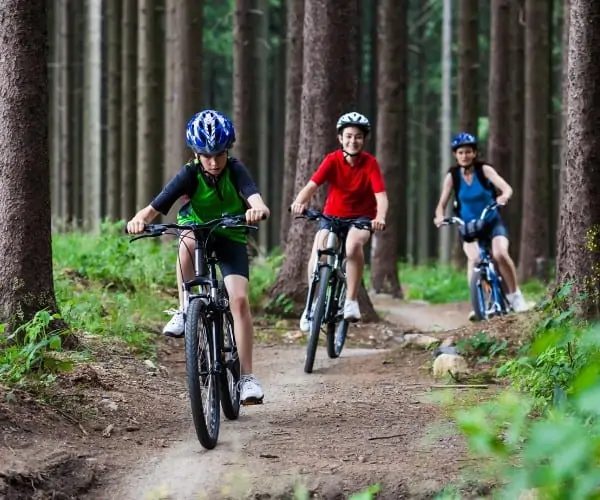 So, getting straight to it, each year bike manufacturers like Dawes, Specialized, Trek, Challenge, Cannondale and so on, will roll-out new stock throughout Autumn.
The idea is to allow cyclists the opportunity to bask in the late summer heat on two wheels while preparing for the Christmas influx.
Therefore, Autumn is the time you'll find the best deals on a bike for sale from last season's stock!
✅ End of season bike sales
To provide a little more clarification on the end of season bike sales, we'll have a think about the popular months and when new stock is released. Each year, bike manufacturers tend to release their new models throughout Autumn. Some may choose to release in September and others in November.
Luckily, these release dates occur around the time fewer and fewer people begin to cycle as a hobby or commuter transport. Simply due to the rainfall, the cold and the darker days in the UK. Hence: end of season bike sales.
So, as the season is ending, Christmas is coming round the corner and new stock is being released, bike stores find it the perfect time to discount the stock they want to move and put bikes on sale.
However, the exact dates will vary between shops, we'd advise signing up to their newsletters and the sale dates of the shop you're looking at will likely be released there first, or ditto following them on Twitter.
✅ Ways to save money on a bike
Heading to the high-street for a brand-new two-wheeler is not the only way to source a high-quality bike.
There are many other avenues you could venture down to find a bike for sale suited to your pocket (or even the right bike at a price tag to make you smile), it just might not be quite as sparkling out the factory.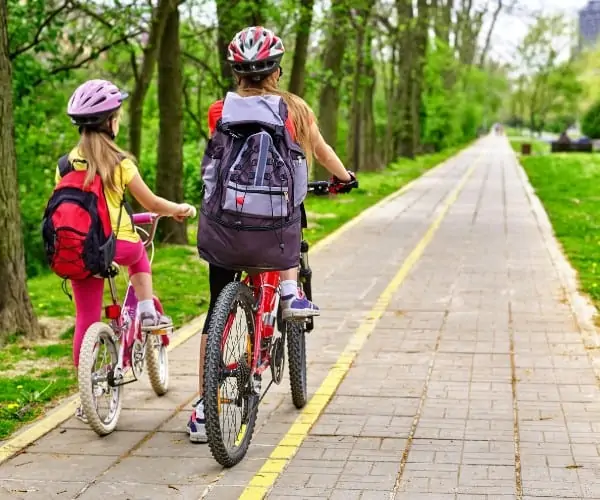 Try your fancy at these five top bike-buying tips for 2021 cycling:
Consider Renting the Children's Bikes as They Continue to Grow
Kids grow fast. Really fast; blink and they're gone-type fast.
So, sinking your money into a bike they'll only be able to use for a year or maybe two can feel like throwing your wallet under the penny farthing in the hopes you'll find spare cash in the end.  
There are many subscription services that start at just £5 per month and the bike will get exchanged at no extra cost as soon as the little one becomes not-so-little anymore.
Here are some of the best bike hire programs helping you avoid scouring the end of season bike sales:
Cycle Sprog
The Bike Club
TY Cycles
Hope Academy 
Head to the Tip for Someone's Lost Treasure
Across the UK, we have the tip, the dump, the recycling centre, the household waste centre, the destination of the final journey and whatever else you like to call it. We also like to call it a goldmine forgotten treasures like bikes :)
Of course, technological advances such as carbon fibre mean that the newest bikes are often best as they're safe, light, attuned and practical.
Yet, bikes within the last five years are still just as effective at getting you from A to B in one piece. 
Luckily, the tip is a very common dumping ground for unused bikes that need a little TLC such as a new tyre or rust treatment.
So, if you're willing to put in the elbow grease (and chain grease) for refurbishment, you can get a bike for sale at a tip's recycle shop at the grand price of pennies.
When in London, Head to Peddle My Wheels
Rent-a-bike schemes are not child-exclusive.
Circular economy businesses like Peddle My Wheels are popping up over the country, meaning you can rent, try before you buy or make use of the cycle-to-work initiatives at the fraction of the cost of buying straight from the shop floor.
At Peddle My Wheels, for example, the rental fee (of £30 per month) includes the use of a helmet, safety gear, lights, lock and an entire bike, too (wheels included!).
Other rental options include the British Bike Hire (UK wide), On Your Bike (London only), e-bike rental through NextBike (selected UK locations) and Pedal Power (who also provide cycle routes and holiday ideas!).
Look Through the Online Marketplace of eBay
We love to find the best deals and often scavenge the famous eBay marketplace.
Bikes are no exception to the discount potential. You may find bike shops listing end of season bike sales to make room for new stock or you may find a high-quality second-hand bike simply looking for its newest home.
Either way, these bike sales will likely bring you the bike you're looking for at a much cheaper price and quicker rate than a bricks and mortar store.
Take a Ride Online Looking for Discount Codes
If you do find yourself in the market for a specific bike, you'll probably have a brand or model in mind which you can only get your hands on through the end of season bike sales in Autumn.
With this, we suggest making use of voucher and discount sites there to help find in-date codes and offers. For example, if you add Honey to your Google Plug-Ins, it works in the background to find the best discounts for the website you're on.
I hope this has given you lots of ideas and thoughts about how to save money on your new bike. Got any other tips? Let us know and we can add them in!
Recent posts