* We sometimes use affiliate links, so we may receive a commission, at no cost to you, if you make a purchase through a link. Check our disclosure for more info.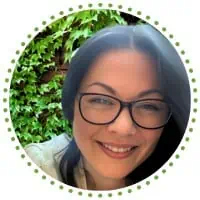 I'm Steph, mum of three! 👋
Here, I share practical insights on making (and saving!) money. With a knack for budgeting and a passion for financial freedom, I've picked up lots of tips & tricks along the way. And I can't wait to share them with you here!
When it comes to moving house, it's best to opt for used boxes over new boxes. Not only is that good for the environment, but it's good for your pocket, too. After all, they'll only be used once and then sent away to be recycled for another role in the cardboard world.
However, when it comes to valuables and breakables such as nan's heirloom vase, that's when you forget the free cardboard boxes and head to the box shop or storage facility to splash the cash on a box that'll remain sturdy to the very end. And we'll help you find the very cheapest good quality boxes about.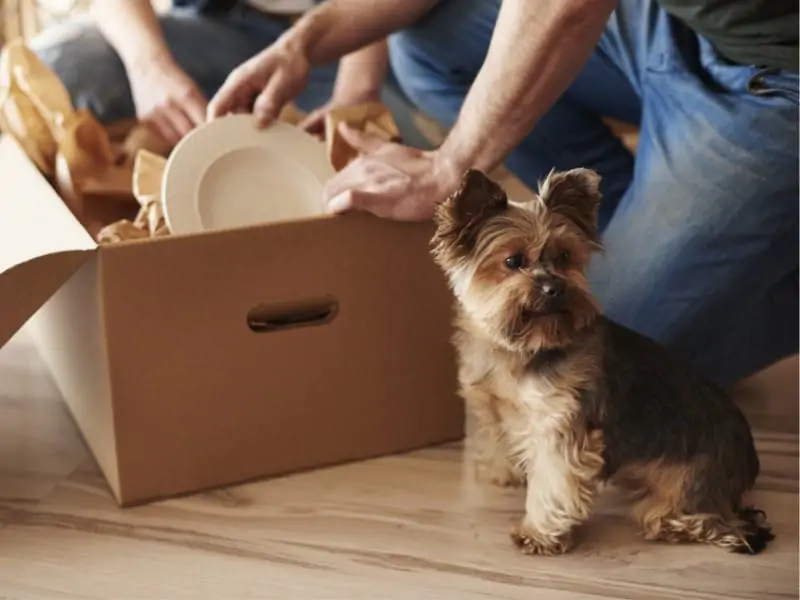 Also see:
Where To Buy Cheap Moving Boxes
It's worth remembering the box only needs to be able to hold your belongings from your home to the van and then from the van to your new home. Any other time and the box just needs to be able to stack!
With that, here's where to buy cheap moving boxes in the UK:
Cost: Set of 15 large boxes for £22.49.
Amazon is great for everything from boxes to the stuff that goes into them. The reason they're such a good option for where to buy cheap moving boxes is that they have big brands, offer freebies with the cardboard boxes and provide Prime delivery. Meaning it's all pretty much a steal.
Most of the costs are varied, so have a scroll through, but you'll often find big names such as Direct Global Trading Boxes. They'll offer you the black marker pen, fragile property stickers, fragile tape and a Yorkshire tea bag to help soothe the moving mood.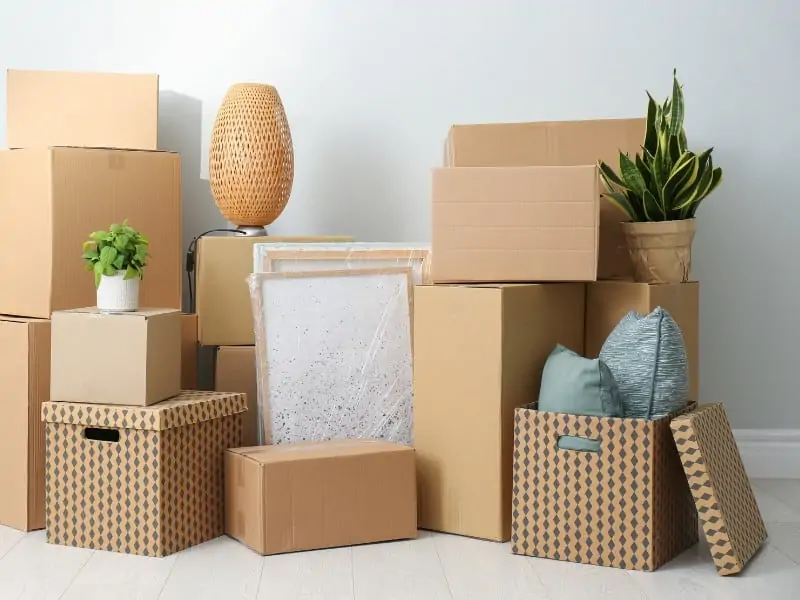 Cost: Varied.
eBay is fantastic for finding a bargain on cheap boxes and, sometimes, they'll even feel like free cardboard boxes.
The thing is to be looking at the right time. As they come from regulars just like us, the cardboard boxes can range in numbers, sizes, prices and all sorts. They'll also be listed on the site at random times, too.
One thing we will say, is that you should make sure the visible listings are in your area so you can collect. Otherwise, you might be paying more for the cost of shipping than you would for the cost of the boxes altogether!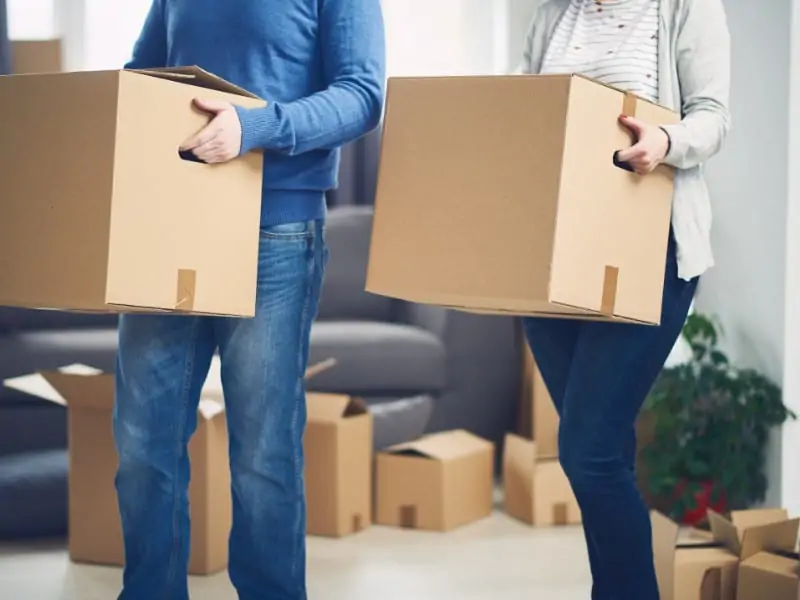 Cost: 400 boxes at 42p each.
If you've got a big house or you're moving at the same time as a number of other people (maybe into a shared house), then you'll want to consider a service like Sadlers.
This way, only one of you needs to be aware of where to buy cheap moving boxes and you can all split the cost!
They operate on bulk purchasing which makes your moving boxes as close to being free cardboard boxes as posisble without actually being free.
That said, the minimum box number is 400, so you'll be spending just over £150 for the lot if you're not one for sharing. Otherwise, 42 pence per box is the best price you'll get on approved re-used cardboard.
Cost: Varied.
After launching throughout the UK in 2016, Facebook Marketplace has become one of the most popular places for buying and selling preloved items.
And this includes preloved boxes, too. If you're looking to Facebook Marketplace for where to buy cheap moving boxes at just the right time, there's a chance you could bag yourself more than enough for the cost of a coffee. Or, better, free cardboard boxes from those who just want rid!
That said, you will have to collect yourself, so make sure your search radius is refined to where you're willing to travel.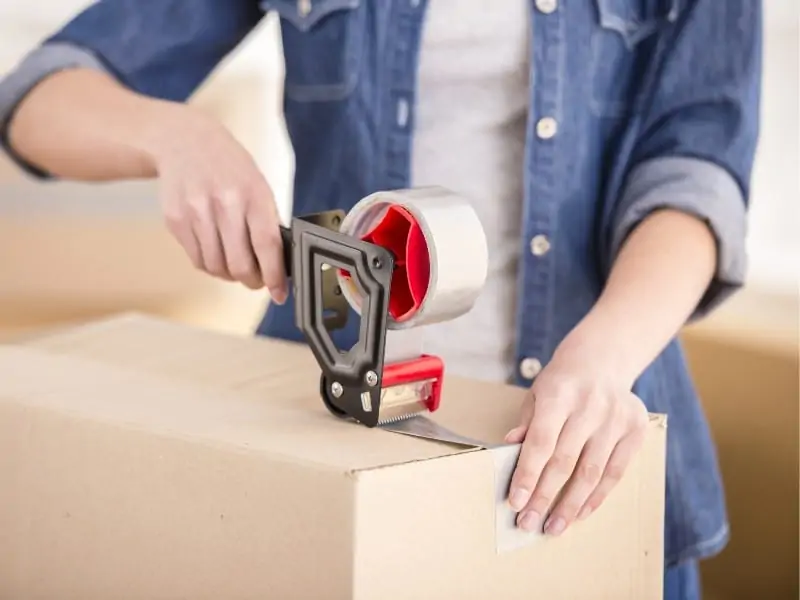 Cost: Varied.
Gumtree is just like eBay, so there's not much more to say. The prices will vary as they come from independent sellers or even independent businesses looking to make the world a better place with recycling (and make a quick penny at the same time).
One thing to look out for, while it isn't free cardboard boxes for moving, is free bubble wrap! It's just as needed during the move and just as redundant afterwards, so maybe contact the seller and see if they have packing materials to make your move that little bit sturdier.
Cost: Set of 15 assorted sizes for £45.
Argos has been a go-to for movers for years. They'll deliver the boxes to your door or (if you want to save the cost of delivery) you can pick them up from your closest store.
While their boxes aren't the cheapest, they're still a good solution for where to buy cheap moving boxes as they provide new boxes rather than used. This means they'll be best for any of those valuable items we mentioned earlier!
Your Neighbour
Cost: Probably a beer or two.
One place that nobody considers these days is your neighbour or even someone else in your housing complex or estate. People are moving in and out all the time and some people harbour boxes in their garage until they're forgotten they're there.
So, when you knock on the door or message into the estate group chat, you'll probably be a welcome guest who can take a job off their hands.
Better still, as you're simply taking boxes off your neighbour's hands, they'll often be free or at the cost of a beer at the end of a busy day packing.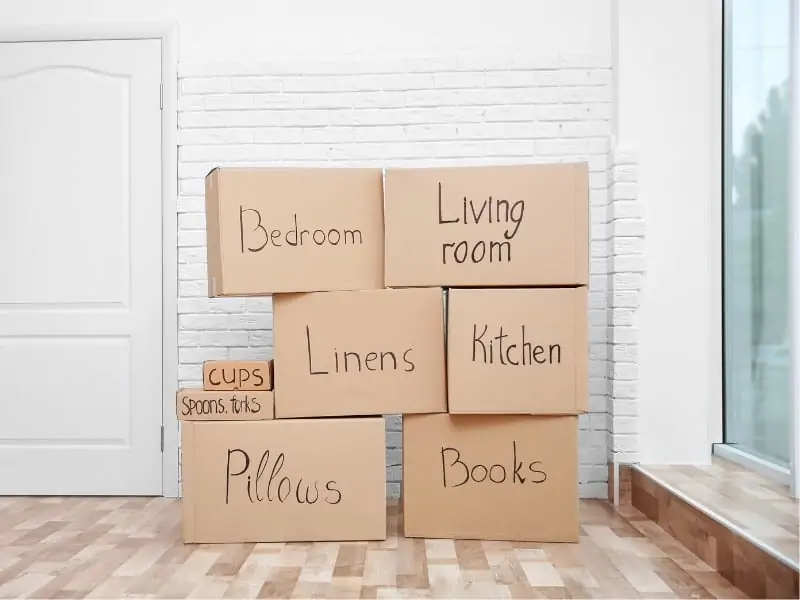 Local Stores
Cost: Petrol to get there.
Finally, the absolute best place of where to buy cheap moving boxes involves leaving your wallet at the door.
If you've got a car and you don't mind going up to someone and cheekily asking if they have any large boxes in the back, feel free to venture out into the town and ask any shop you can find. All shops need to get their produce and stock in boxes, so why not recycle to save the planet and your pocket?
When it comes to getting free cardboard boxes, you'll have to be willing to do a few trips to a few shops. They don't always have a ton in the back, and you'll be surprised at how difficult it can be to carry just a few flat-pack boxes to your car!
And there we have all the best places for you to consider when looking for where to buy cheap moving boxes (and free cardboard boxes, too!).
Where can I get large moving boxes for free?
Asking in your local supermarkets and local shops for large boxes and you might just get lucky. Give them some notice of when you'll need them, and smaller shops are often happy to help you out.
The supermarkets are a mixed bunch. Some are happy to give out their old boxes, but many of them these days take the boxes straight out to the back of the shop and aren't able to allow customers to have them.
Local market places like facebook and eBay (if you tick the nearest first box!) are good places to request and search for larger boxes. Failing that, it might be time to get your thinking hat on and think of places that have large deliveries where you might be able to ask for their boxes :)
Recent Posts