Nectar Double Up Promotion- 2021 Dates
Want to double up your Nectar points? You can, with the Nectar double up event!
By getting your timing right, it's possible to make your Nectar points go further than you usually could.
You can spend your double up vouchers in the November, having ordered them usually in October.
See below for dates!
As we've said, this event's usually held in November, although Sainsbury's don't release details until nearer the time, so just in time for some festive spending :)
✅ Double up nectar points
Sainsbury's Nectar points double up is an event, held usually once a year, where Sainsbury's allow you to exchange your Nectar points for double their regular value. You can apply online for these double up vouchers and they can be spend in-store on loads of non food items.
These double up events have traditionally been held a few weeks before Christmas, but Sainsbury's only tell us a little ahead of time the exact dates they're going to be.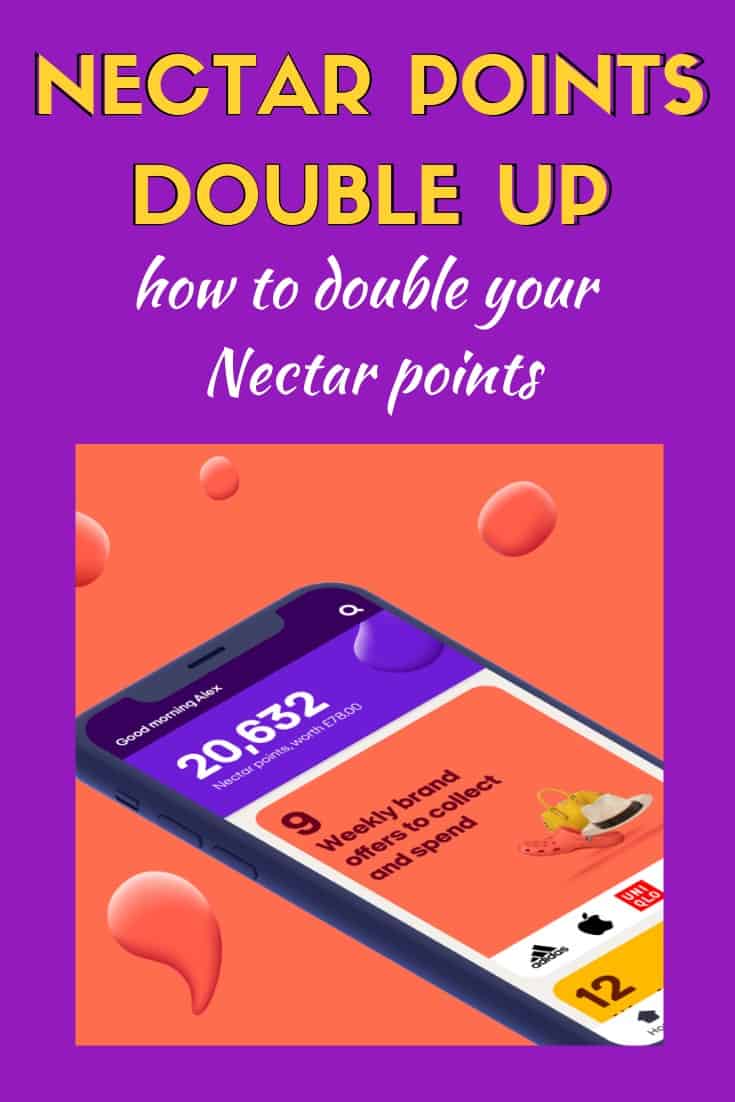 ✅ When is Sainsbury's double up?
You can change your points for Double Up vouchers from some point in October, either online or in the app, usually towards the end of the month, and then spend your vouchers in November
For the last few years, Sainsbury's Nectar double up has been held in November, with the window to change your points for double up vouchers being only a couple of weeks.
It's likely, but unconfirmed, that the 2021 Nectar double up event will be in November again.
If you can manage not to use them and you shop regularly at Sainsbury's or one of their Nectar partners, it's a great chance to save for Christmas, through the year, and be able to maximise your Nectar points.
But to clarify…Sainsbury's have not yet released the 2021 Nectar double up dates so keep your eyes open in-store later on in the year.
✅ How does Nectar double up work?
Double up vouchers can be ordered as soon as the double up event starts. You can order your vouchers either online, or through their app. I'll talk you through this in a second!
Save your Nectar points up
Exchange them for double up vouchers
Use them in-store and on selected lines during the double up period
I think you have to be a little organised for this.
Make sure you know when to order your vouchers, plan what you want to spend them on and make sure you know when they need to be spent by as if you don't use them…you lose them .😳
You used to be able to get customer service to change your points into double up vouchers in-store, but Sainsbury's have stopped this, presumably because there were too many people waiting in-store to do it, so now the options are either online or through the app.
One thing to note…..if you do not use your vouchers by the time the event finishes, Sainsbury's cannot change them back for you.
Find out how many Nectar points you've got here with our handy Nectar points calculator!
✅ How many Nectar points can you exchange?
Sainsburys says you can exchange up to 10,000 Nectar points, giving you £50 worth of points you're able to double up.
✅ How to get your Nectar double up vouchers
As it's no longer possible to get the vouchers in-store, you've got two options available to you.
Firstly, you are able to get your double up vouchers online. It's a simple process, but make sure you do this as soon as the event starts so you've got lots of time to receive the vouchers through the post.
Login to your Nectar account here and you'll be able to order them as soon as the event goes live.
The other way to order your vouchers is on the Nectar app. Use the link here to download the app if you don't already have it and you can get your vouchers through it.
I much prefer this way of getting your vouchers as you get a digital voucher, rather than a paper voucher so you don't have to wait for it in the post, and you don't have to worry about losing it or forgetting it when you go shopping :)
If you're having issues getting your points changed into vouchers, give the Sainsbury's Nectar double up helpline a call on 0344 811 0811.
✅ What can you spend double up vouchers on?
There are loads of things you can spend your double up vouchers on.
What you can't spend them on is food, so you won't be able to spend them on the Christmas food shop. Shame, I know :)
You need to have your Nectar card with you when you use your vouchers, and you also will not be able to earn Nectar points when spending your vouchers.
So…what can you spend them on?
Gift sets – great for Christmas secret Santas or stocking fillers
Toys – bigger store have a HUGE toy section so this is a great time to treat the little ones
Homeware
Skincare – I'm a new fan of the skincare section. Our Sainsbury's has recently expanded their skincare and now there is SO much to choose from. Brands I've not heard of and bigger ranges make this a likely place I'll be spending my double up vouchers!
Perfumes and aftershaves
Seasonal goods
Taste the Difference: wine, champagne, sparkling, sherry & port
Double Up vouchers can only be spent in Sainsbury's stores. The vouchers can't be redeemed online, or in Sainsbury's Locals, at petrol stations or in any Argos at Sainsbury's locations (the small ones in the back of the shops!).
The returns policy stays the same however.
✅ How to boost your Nectar Points
We've got a post on boosting your Nectar points you might like to read here, but otherwise there are lots of ways you can boost your Nectar points balance. Other places that partner with Nectar to offer you rewards are:
Expedia
Esso
Debenhams
eBay
Eurostar
Virgin
Vue
✅ The Nectar App
I like the Nectar app. I say this as someone that likes apps in general and so I think this is really easy to use, pretty handy to have on your phone and means you don't have to be scrambling around in your purse for a Nectar card you're sure is in there somewhere :)
It's also worth mentioning that I think the app has offer just for you based on your spending that I hadn't seen before (as i didn't often log into my online account!) so having therm on the app, it just takes a second to double check at the till and make sure i'm using all the offers available to me!
I keep this app on my phone in a folder with my Tesco Clubcard, my Nero's reward card app, and the other vast array of loyalty cards I can now have a digital version of. I'd totally recommend getting this, and here's a short video if you want to know a little more about it!
Love the sales? Find out the Next sales dates here, and the John Lewis sale dates here!
Other posts you might like
✅ Can you use Nectar double up online?
You can only use Nectar double up vouches in store. You cannot use them online, in petrol stations or in Sainsury's Local.
✅ Is Sainsbury's doing double up?
Sainsbury's tends to hold their Nectar double up events once a year, usually in November. They have not released the 2021 dates yet.
✅ Do Nectar points expire?
Nectar points do not expire, HOWEVER, your double up vouchers need to be used by the end of the double up event or you will LOSE them!
When is the next Nectar double up?
Keep a look out in-store for the 2021 dates of the next double up event.