✅ How to make extra money UK
* We sometimes use affiliate links, so we may receive a commission, at no cost to you, if you make a purchase through a link. Check our disclosure for more info.
Wondering how to make money from home in the UK? You're in the right place!
If making extra money from home is new to you, it can seem firstly slightly unbelievable that there's money to be made online and second, you simply have no idea where to start.
I felt this way too.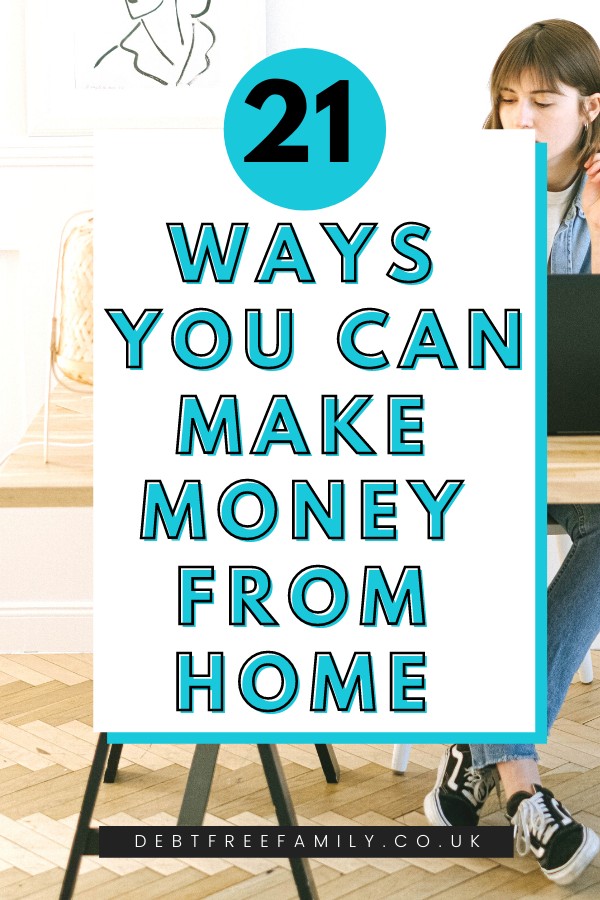 ✅ Make extra money UK
Some of the best ways to make money from home if you're in the UK are:
Check out this post here if you're looking for a product to sell online
✅ Ways to make extra money UK
There is a minefield of information out there, some good, some bad, but most of it confusing!
However, after spending some time learning how to make money online, finding the better ways of doing it and seeing what worked and what didn't, I did manage to make it work. How? Keep reading :)
If you're in need of some extra cash and would like to make money online in the UK, we've got some great ways to get you off to a flying start!
So many people don't realise you can make money sitting at home and working online. How much money can you make online? It depends on what you're trying to do. You can replace a full time income or you can add a few extra pounds to your monthly budget.
I recommend you start of small, with a plan in place and work through a list of what to do first. Before you even bring in an extra penny, make sure you're maximising all the money you already have.
There are so many offers to take advantage of and comparison sites to make sure your paying rock bottom prices for the things you already have. It makes sense to make sure these are all dealt with first.
Here's some of the better ways we found to make some extra cash!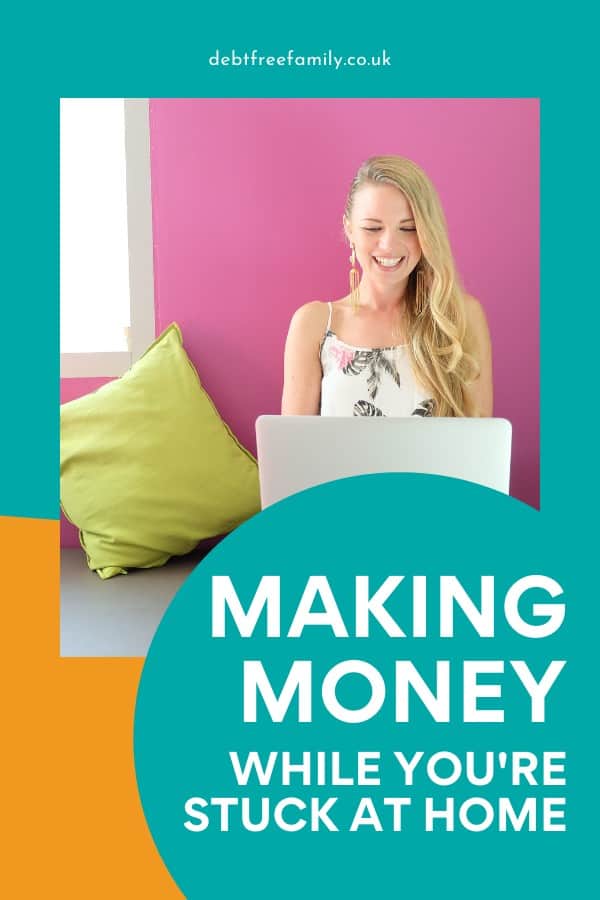 ✅ How to make extra money online in the UK
To kick things off, we'll start with the easy ones!
There are some ways you can make extra money without really doing much at all. You might only be able to do these once (maybe twice!), but they'll bring you in some extra money almost straight away in some cases, so get going with these!
✅ Get the bank to pay YOU!
Ever thought about changing your bank account? Money Saving Expert has a tool for checking who's offering you the most cash to switch.
The process is painless, quick and the bonus money will be in your account usually when the account transfer is complete.
Right now, HSBC are offering you £175 to switch your current account to them. Check here to see what the best offer is for you.
✅ Check state benefits
Every year, over £10BILLION (yep, no typo there) is left unclaimed by UK families eligible to claim it.
The department for Work & Pensions estimates that families are missing out on an average of £2,500 annually because they believe they're not eligible to claim, when in fact they are.
Check your benefits here and make sure you're claiming everything you're entitled to. It might just be the easiest boost to your finances you've had in a while! (source)
✅ Use a cash back credit-card
Perhaps best to do this if you're not at risk of being tempted by credit, there are a number of credit cards that will reward you with cash every time you use them.
Make sure there is no annual fee for using the card and only ever buy the things you would have done anyway.
Check here for the best reward credit cards on the market, and earn some free money for doing what you would have done anyway!
Cash back websites do exactly that, they give you cash back on your spending. Making a purchase online? Get into the habit of checking if you can get cash back.
Cashback sites receive a commission from retailers for sending customers their way.
Cashback sites are paid every time a consumer, that's you and me, clicks through a link on their site and makes a sale. If I go to M&S for example, via one of these sites, M&S will pay the cashback website a percentage of the sale amount, to say thanks for sending me and my sale their way.
The cashback site will then pay YOU, either the full amount or slightly less than they received.
Top Cashback and Quidco are great places to start!
✅ Lower your utility bills
Making sure your utility bills are as low as they can be goes a long way towards keeping your cash in YOUR pocket each month. Often, renewals and rolling contracts mean we don't always check we're getting the best price and over pay as a result.
Check your getting the best deals here and you might find you have some extra money each month you never knew you had!
✅ Extra cash
Oh there's so many ways to make money online!
They're not all going to make you rich, but they do make extra money and might inspire you to move onto bigger and better things!
Making money from home is becoming more and more popular, with more companies offering opportunities to earn from home.
Take a look at some of the ideas below :)
Online surveys get a bad rep on the internet. They don't pay heaps and can be irregular in being offered to you. BUT… since they take very little time and effort, they're well worth signing up for and enjoying the extra money as and when they're offered to you!
See the full post on surveys for cash sites in the UK.
✅ Become a virtual assistant
I've talked about this in more depth here, but if you're organised and have skills useful to business owners, you can get work as a virtual assistant.
A virtual PA or assistant position can be a rewarding career choice as a side job for mums, or for those looking for a truly flexible lifestyle. If you're organised and on the ball, being a virtual assistant can be a lucrative role.
Many VA's (virtual assistant) never actually meet the people they work for, although they might use Skype or something similar to keep in touch.
✅ Design t-shirts with Amazon Merch
Love design? Have a go at designing T-Shirts with Amazon Merch.
You have no up-font costs, simply design your t-shirt, upload it to your Amazon Merch account and receive a percentage of the sale price every time one sells.
✅ Become a search engine evaluator
Google and other search engines often need people to carry out research for them. You can help them out, for a fee, working from home!
They basically help companies make better products, create seamless customer journeys and empower them to develop compelling human experiences by understanding customers better than they understand themselves.
Online market place Etsy offers no end of inspiration if you're looking to sell crafts and homemade goods online. From art to clothes to vintage goods and gifts, this is the place to be selling crafts online.
Open an account for free, upload your product images and you're off.
Read our complete guide to selling on Etsy here.
✅ Become a freelance writer
If you've got a way with words, consider becoming a freelance writer.
You don't need an english degree or any other degree, you just need a good command of your chosen language and be able to market yourself online.
We've written a lot about freelance writing as a way to make money online, this is because I really like it!
There is a place out there for writers of all kinds, and some of the most successful freelance writers are the ones that have not been 'trained' in how to write but have a natural, chatty, relatable voice that readers connect with.
ℹ️ There is a lot more info on this side hustle here to go through before you get started!
✅ Qmee.com
A simple and easy way to get some extra pennies. Just install Qmee as an add-on to your browser and every time you browse the internet you might be shown some sponsored ad's.
You don't have to actually 'do' anything, and Qmee cash out into PayPal, with no minimum needed! Easy. Sign up here.
Love surfing the web? Get paid for it. There are agencies that'll pay you to test out sites.
Most website owners need to make sure their sites work for their users. For some people, this involves going through their site and checking all the links work and make sense, but for hundreds of thousands of bigger sites, they employ companies to carry out 'user testing'.
✅ Online data entry
So many places offer this type of work now, but make sure the one you chose is legitimate.
NEVER pay to get this type of work (this is about making money, not spending it!) and always look for reviews online to get other people's thoughts on the company.
Data entry jobs can be hard to come across, mainly because they're easy to start and require very little skill, making them quite high demand work from home jobs.
But they are out there. Once you start and are successful, many people find they get more work, the more they do.
There are a number of places you can legitimately get data entry work from home jobs, and I've listed some of them below.
Just remember with data entry jobs, make sure you never pay to be given work and stick to the general rule of 'if it seems too good to be true, it probably is!'.
ℹ️ We have a great post on GENUINE data entry jobs you can do at home and you can read that here!
✅ Sell with Fiverr
Got an eye for design or know how to put a pinterest template together? Get onto Fiverr and start offering your digital goods!
Free to join up to, you can be up and running in minutes and with a global reach of millions of potential customers, you might just be able to earn some cash in no time at all.
Have a look at what's already selling well and put your own spin on it. Templates do really well on Fiverr, and can mean less work for you when an order comes in!
Secondhand books sell well and if you can tap into a specific market, like study guides or similar, you'll soon know what you're looking for when you're scouring secondhand bookshops for books to re-sell.
Re-sell on Amazon, Ebay or try app like We Buy Books and see where you can get the best price.
Read our full post here on selling books in the UK.
If your wardrobe is heaving under the strain of unworn clothes, maybe you could combine having a clear out with making some cash?
Our ultimate guide to selling secondhand clothes will point you in the right direction, no matter what it is you're trying to sell!
The days of the jumble sale are over, as are being dragged to a car boot sale and having to take 50p for an item or face lugging them all home again!
If you put in a little effort, you can make good money from the clothes you no longer wear, and there are plenty of places online for you to do just that.
Read our full post on selling clothes online for cash here.
ℹ️ Read our ultimate guide to selling clothes online here to make sure you get the best prices possible!
✅ Teach online
Ever thought about teaching as a way to make some extra money?
Teaching online can be a brilliant work from home job: you get to choose your own hours, it can be super rewarding and it's well paid.
Different language schools have different qualification requirements but boostmybudget.com has a great guide here to help you pick the right place for you to start this work from home job!
✅ Create an online course
Online courses are HUGE right now and it's estimated that globally we'll spend a collective £3BILLION on e-learning by 2025. If you've got a skill you can pass onto others, then you can make some extra money!
Coursera and Udemy allow you to create courses to sell to the public, allowing access to millions of potential customers. It might take a little time to put the course together but get it right, and you'll have a nice future income stream that requires very little input from you!
✅ Sell your photos to a stock website
We've all got fairly decent cameras these days haven't we? If you've got an eye for a good photo and know how to get the best light, make some extra money by uploading your photos to stock sites. Simply upload your photos to the sites you like and every time someone buys them, you'll receive a payment minus the commission the stock site take.
Some site have more visitors than others so do your homework. To make any real money you need to sell a fair amount of images so it's a good idea to upload to more than one site.
Get started on Getty Images, Shutterstock and iStock.
✅ Make money offline & ideas for making extra money in your spare time
Making money offline could be 1001 different things, but here are some of the quickest to get started with, bringing you in that extra money in no time at all!
✅ Task rabbit

Task rabbit lets you sign up online and then bid for jobs posted by people looking to have all manor of odd jobs done. If you're DIY handy or can run some local errands, bid for the job you want and if your bid is accepted, you get to work at the agreed time and place.
The great thing about Task Rabbit is that it can put you in touch with local people who might want ongoing jobs done. Make sure you always work to within the Task Rabbit terms and conditions: not doing so might see you thrown off their site!
✅ Amazon Flex
There's lots to love about Amazon Flex. It's not a full time job and they don't pretend it is, but it IS an amazing way to pick up some extra work delivering parcels as and when you need it.
Amazon is always on the lookout for extra workers. They're a HUGE company, meaning that they have a lot of work available!
Once you sign up for free, simply log onto their work portal and out yourself down for the job slots you want. The minimum slot is an hour, so most of us are able to slot something in, no matter how pushed we are for time.
✅ Delivery driver
Have a car? Or a moped or even a push bike in some cases? Make some extra money delivering food in your local area. Food delivery is big right now, and there is plenty of work available for those that want it.
Picking your own hours is a big bonus as it fits in brilliantly around any other job you've got. Deliveroo and JustEat are nationwide. Don't forget to check your insurance is the correct type for this sort of work though, in many cases you need to have the correct insurance for a delivery driver.
✅ Good old fashioned bar work

I thought I'd end this list with some good old fashioned bar work. No, you don't need an internet connection, you're unlikely to get paid into your PayPal account and you're going to have to use the phone (or your feet) to get talking to people, but bar work has stood the test of time and honestly, is probably one of the most fun ways I can think of to make some extra money!
If you've got experience in: customer service, cash handling, pulling pints or wine knowledge, you're in with a good chance of getting a nice bit of extra work!
Good Luck :)
Some other Debt Free Family posts you might like…
Looking for even more ways to bring home the extra cash?
Jennifer at blog Monethalia has some ideas you might not have thought of! See them here.