If you've ever thought about how to make money as a kid or how kids can make money for themselves, then this post's for you!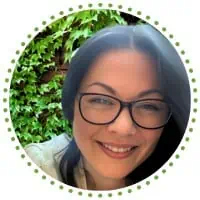 I'm Steph, mum of three! 👋
Here, I share practical insights on making (and saving!) money. With a knack for budgeting and a passion for financial freedom, I've picked up lots of tips & tricks along the way. And I can't wait to share them with you here!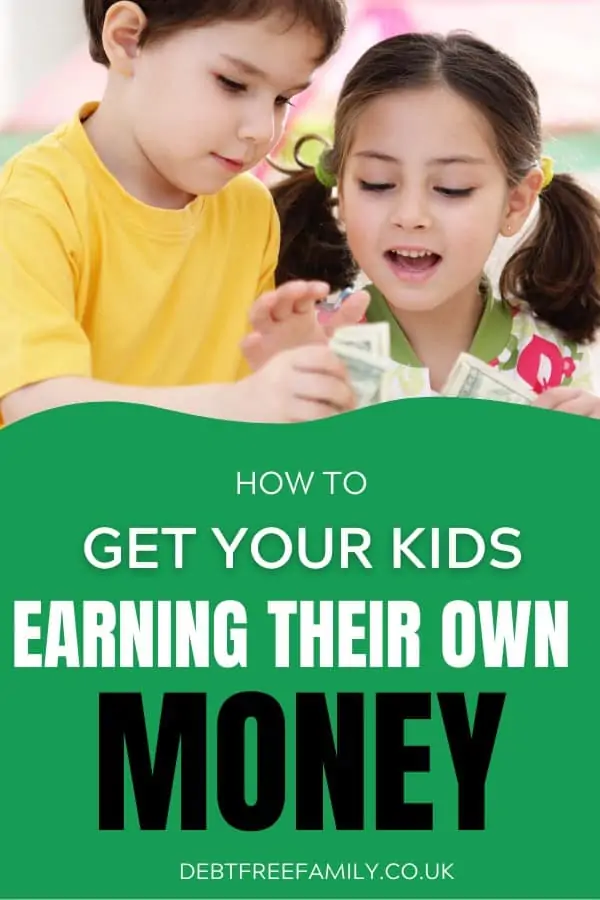 How To Make Money As A Kid In The UK – 20 Ways!
* We sometimes use affiliate links, so we may receive a commission, at no cost to you, if you make a purchase through a link. Check our disclosure for more info.
While kids might be a little young for a traditional job there's still a lot of ways that kids can start to earn their own money taking the pressure off you to fund them and allowing them to save for the things they want.
These are out top 10 ways to make money as a kid, and we go into them in more detail further in the post.
How To Earn Money As A Kid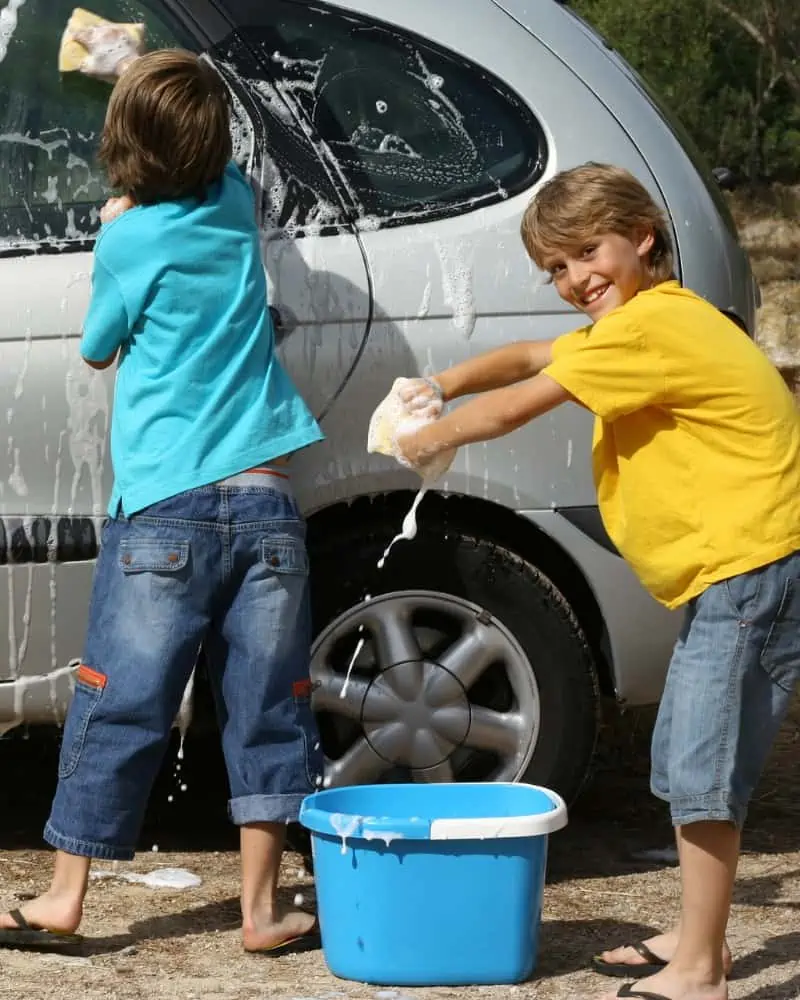 More Money Making Posts
SIXTEEN Ways To Make Money As A Kid
Baby sitting
Holiday plant watering
Household chores
Grocery shopping
Making Jewelry
Starting a blog
Start a YouTube channel
Garage sales
Music lessons
Become a holiday decorator
Slice the pie
Selling photographs
Cleaning driveways 
Wash cars 
Facebook Marketplace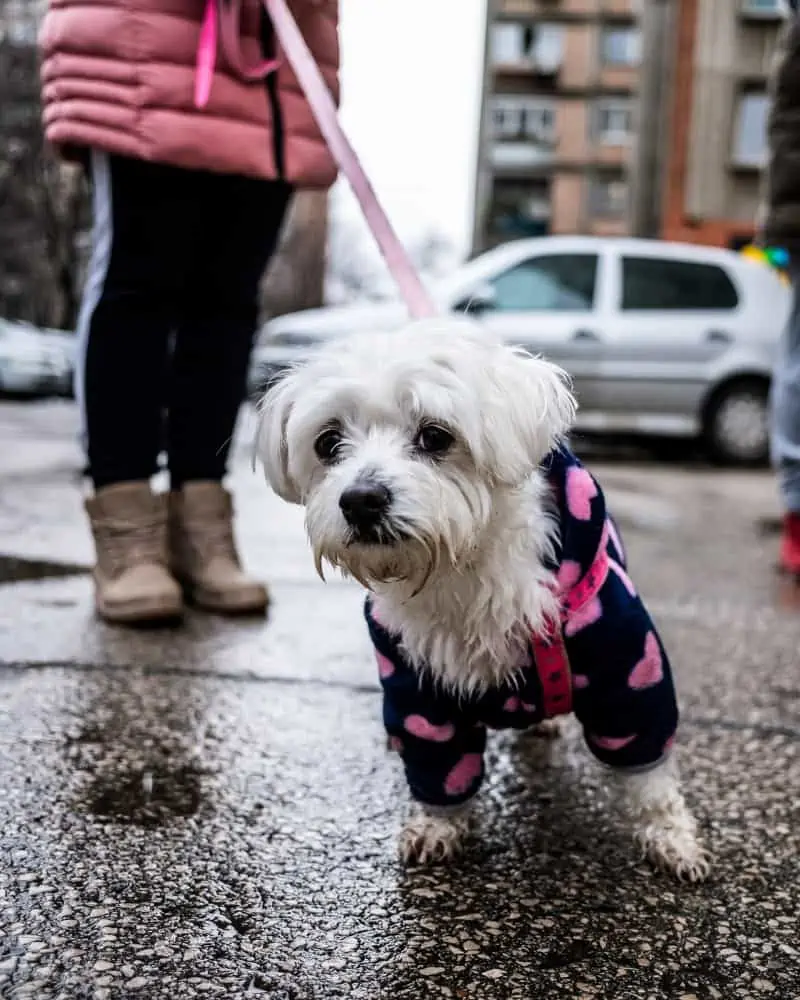 We all like to make a little extra money and kids are no exception, but it can be hard to come up with ways kids can make money that are safe and age appropriate for your kid.
If you've got older kids, this making for for teens article might interest you.
Letting your child start to earn their own money develops financial independence and important budgeting skills.
Having a small amount of money also allows you to start teaching your kids how to manage it, so if your child's asking how they can start to earn some money, we've got the post for you!
There are plenty of ways for kids to earn money.
Depending on their age and employment laws where you live the various ways they can do so might vary but wherever you are, you'll be able to find something in our list for your kids to get started on.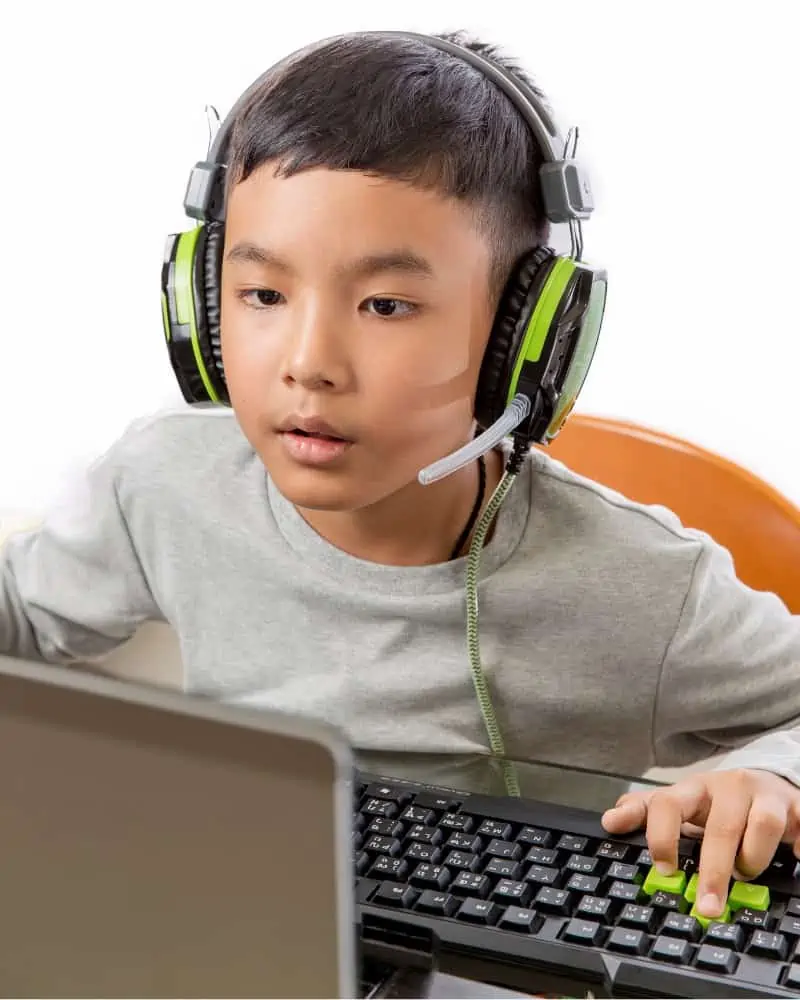 They range from the traditional jobs we used to do, babysitting and household chores to more modern internet based jobs.
Earning money online is the fastest growing way kids are earning their own cash these days and while that's not always best for smaller kids, older kids can make the most of the many selling platforms and opportunities online to make money.
How To Make Money Fast As A Kid
Making money as a kid is often something that requires some pretty immediate results.
It's all good and well teaching your kids about saving, but there are times when there's a new game, toy or movie out and kids want to earn some money fast.
Lots of these ways will give the kids some almost instant money, and if it's fast cash your kids are after, performing a service, dog walking or lawn mowing for example, will bring the fastest cash.
Kids making money online is a great way for your kids to get a small business going, but it's not especially fast, so it's a good idea if your kids looking to make money, that they set up a couple of income streams, one for fast cash right now and another for a more passive longer term stream.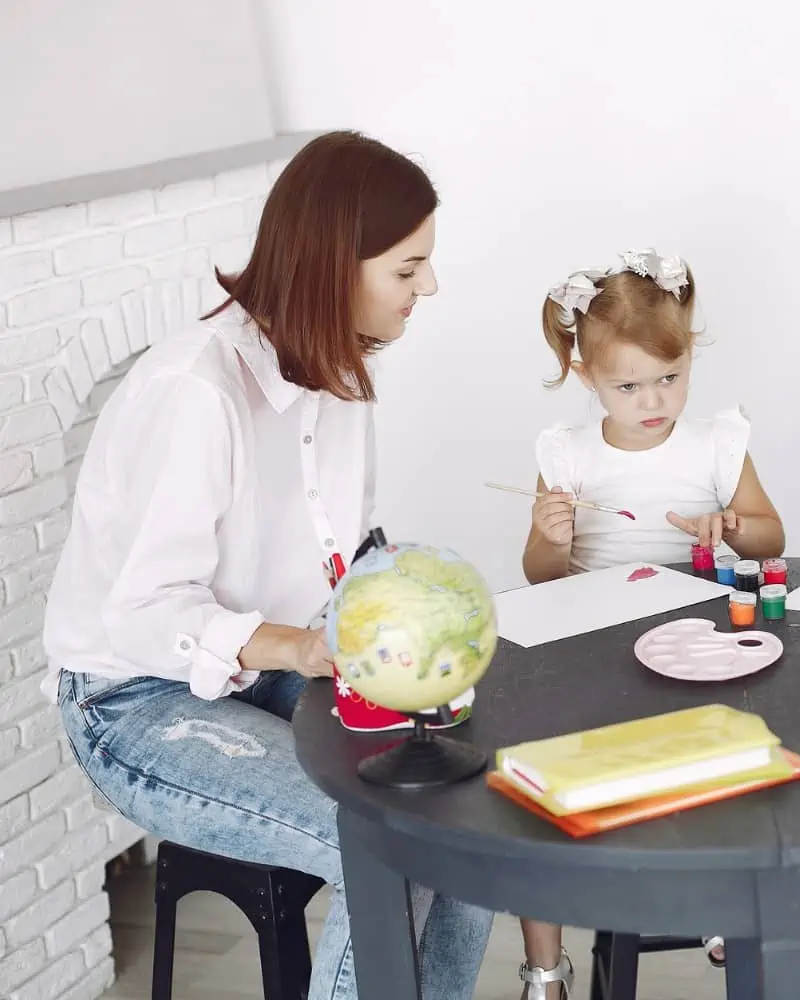 Ways To Make Money As A Kid
Kids of all ages can make money, even younger kids….have a read through our guide to getting your kids started on their money making adventures!
Perhaps your kids have asked you if they can have some cash, but you'd prefer them to be looking at ways of making their own?
As a mum, it's important to me that my kids grow up to be independent, self sufficient adults. That's the aim right? So it makes sense to make sure they know the basics about money, including how to make money as a kid.
I want my kids to know there's more than one route to making money…even if for now, that means just making enough to buy sweets.
There's no reason why any kid who wants to can't start to make their own money, so we've compiled great list of ways your kids can start to earn their own cash…..and there's not a single mention of a lemonade stand, we promise!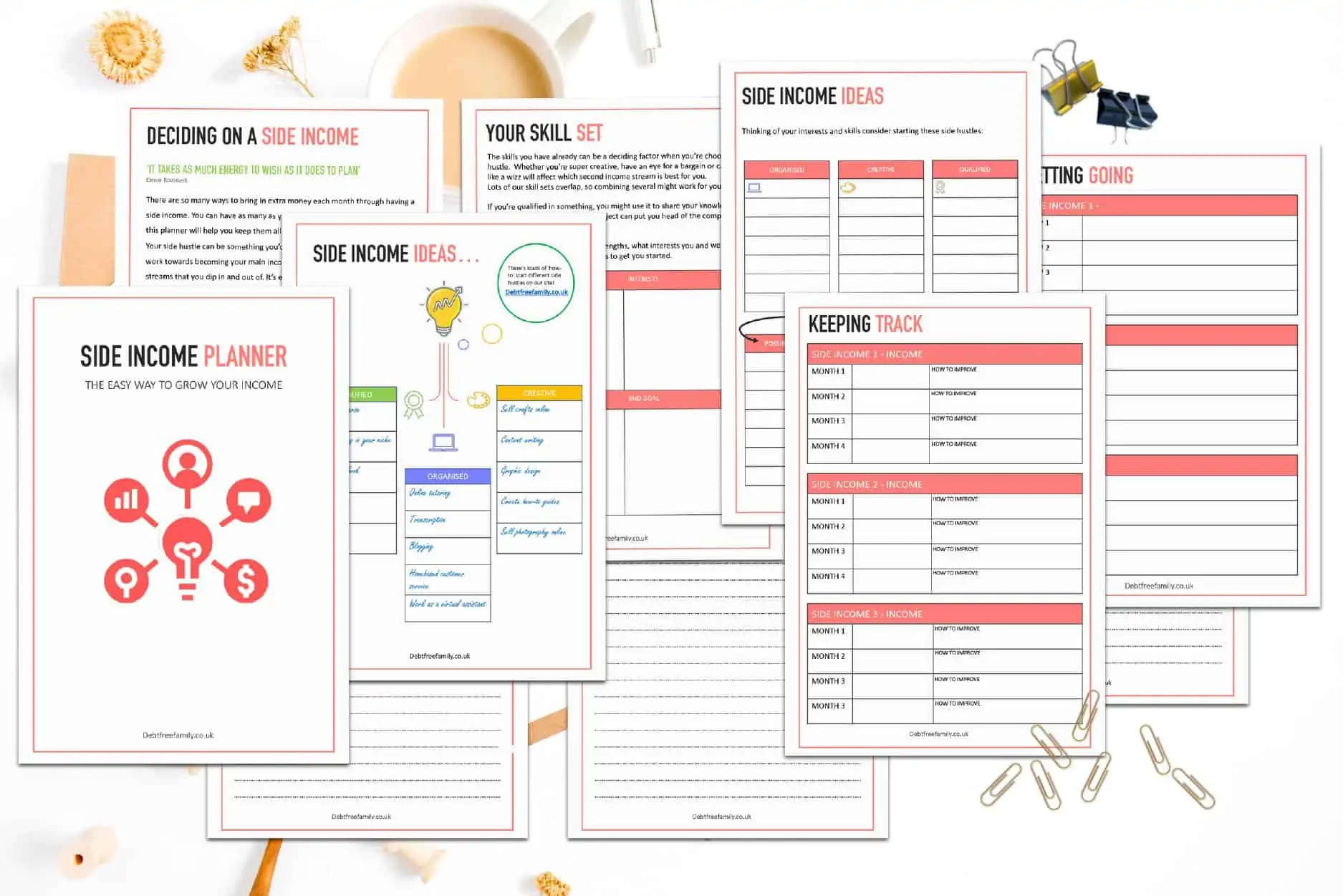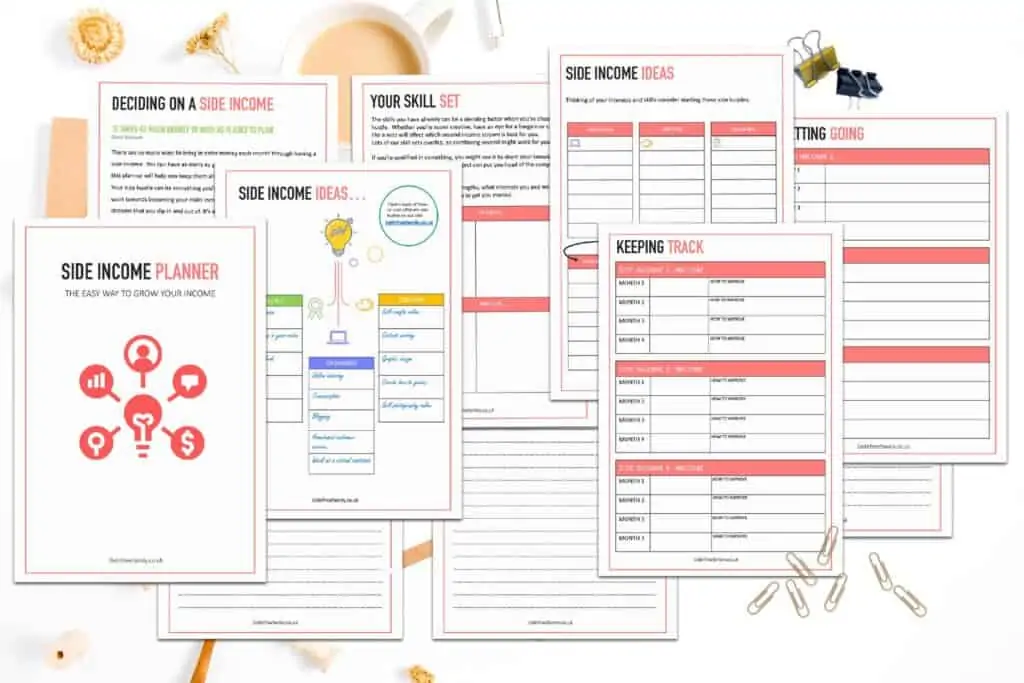 Top Ways For Kids To Make Money
Some of these ways for kids to make money are easy, some require some more thought.
Walking the dog doesn't take much thought, setting up an account selling online needs a little more thinking put into it.
Whatever ways you and your kids decide to try, there's money to be made and you can get started today!
Making Money By Gaming
Gaming can make some decent money for older kids these days.
Research it properly and make sure you know what your kids doing online, but if your child's a keen gamer, there are ways they could turn this hobby into some extra cash.
Twitch is popular with older kids and we have a whole post here on how to make money on Twitch.
We've got a complete guide here to get them started making money by gaming if it's something they're interested in!
Feeding The Neighbours Pets
Making money as a kid at home is a great place to start. Most of us have neighbours right?
While we don't want younger kids wandering the neighbourhood, you child could offer their services to close neighbours you already know.
Pet sitting while their owners are away could be a great way to earn some extra money, and you could always be on hand to supervise!
Plant Watering For Neighbours
As with feeding neighbours pets, watering gardens in warm weather and houseplants year round is another good way to start the kids off earning some pocket-money.
Maybe you could help them put a rate card together and put it through a few neighbours doors!
Babysitting
For older kids, the classic side hustle of babysitting is a brilliant way to get some pretty decent cash in.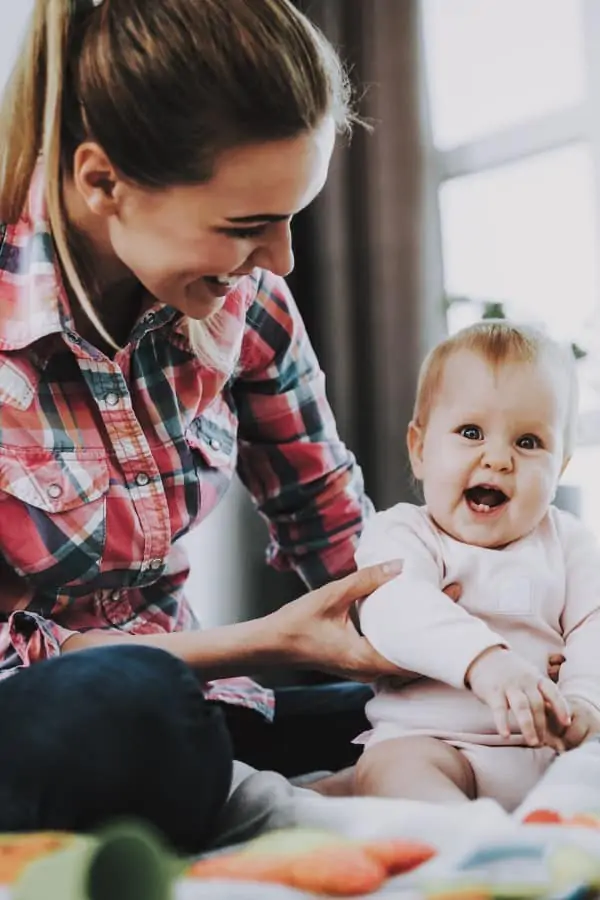 Getting a Red Cross Baby & Child first aid training is a brilliant idea and will make your baby sitting services much more appealing to parents.
It costs £37.50 but will put you head and shoulders above others looking to get babysitting work in your area.
Once qualified, baby sitting tend to spread by word of mouth….parents will recommend you to other parents and your kids might just be inundated with work!
Grocery Shopping
Many of our neighbours, especially the elderly ones, find it really hard to get to the shops. Helping out once in a while is brilliant, but lots of people will pay for a more regular arrangement.
Could your kids start grocery shopping locally for an elderly neighbour. Perhaps they need a regular delivery of the basics: milk, bread and the paper maybe?
Maybe your close neighbours know of someone looking for this type of service. Ask around….you might be surprised at the response!
House Chores
We always gave our kids small chores to do around our house. Nothing heavy, just helping load and unload the dishwasher, carry ironing upstairs etc…and of course, keeping bedrooms tidy!
What about upping their chores and paying them to help you out? Talk to them about the things they think they might be able to help you with. Could your teen use the iron well? Smaller ones put the laundry on?
Come up with a list of chores and their fees, the kids make some cash and you get some help. Winner :)
Online Jobs For Kids To Earn Money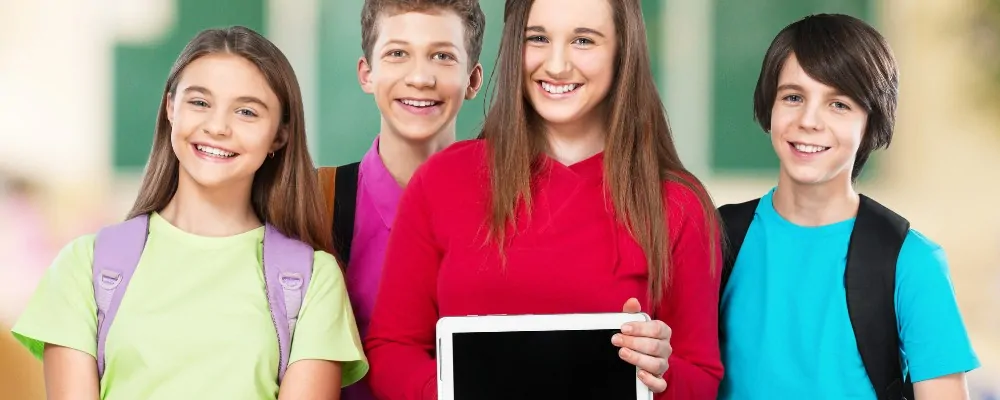 It's the digital age and the list of ways that kids can make money online is expanding all the time. I get it, it's hardly like we want the kids spending even more time than they already do surfing the internet, but….well it's a great way to earn some extra cash.
As long as they're not online 24/7 and getting plenty of fresh air, earning online can be a smart move!
Here we've got 10 ways kids, even younger kids, can start to make some money online.
Fiverr
Fiverr has a minimum age requirement of only 13, making it perfect for younger teens (as well as anyone else!) to make some money side hustling.
Popular categories include graphic design, writing and 'fun'. Design is a HUGE one on Fiverr, so if your child's creative and has a good eye for design, they could earn some big money on Fiver.
Love gaming? Fiverr also has a massive section based around gaming. What sort of thing do people pay for? Game sessions, gaming hacks, testing, to name a few. This would be VERY popular with teenagers I know!
Etsy
If the parent owns an Etsy account, the kid can sell on it with the parents permission. What does that mean? It means your creative kids can craft away and then sell their products for hard cash on craft lovers marketplace Etsy.
What sort of things could they make and sell on Etsy? Jewellery, prints, knitted blankets, handmade kids clothes, pet toys, pet clothes, stickers, the list is almost endless.
Get the kids to have a look through Etsy and find a niche they could add their items to…you never know, many people on Etsy started their shops as a small hobby and it soon turned into a whole lot more!
Making Jewelry
If you love crafts why not try making your own jewelry? There's a huge market for homemade jewelry and you can quickly and easily set yourself up on an online platform to start earning some money from it.
Have a look on Etsy which is probably the one marketplace that has the biggest audience for selling homemade crafts online.
Start A Blog
Ever thought about starting a blog? Blogs can be about absolutely anything and so if there's something you're interested in, starting and maintaining a blog can be a good way to start earning your own money.
It can take a while to make money blogging and so think of this one as a more long term way to bring in some cash!
Garage Sale
If there's a lot of things hanging about your house, why not collect them all together and think about having a garage sale.
Make sure to get your parent's permission and see if they'll help you do organise this.
Hand out some flyers in your neighborhood and see if you can make yourself some cash from your unwanted stuff!
Tutoring
Older kids could think about offering tutoring skills to younger kids for a little extra cash.
From music lessons to math, lots of parents look for tutors for their smaller kids and are often more than happy for an older kid to tutor.
Swagbucks
Can kids take surveys? Mostly you have to over the age of 18 but Swagbucks lets you take surveys from age 13 with their parents permission and on their accounts.
What can you earn? Most teenagers who use Swagbucks use it to earn gift cards, which can then in turn be used like cash.
Teens are unlikely to earn big money with Swagbucks, but it's all a little extra into the pot!
Reselling Items
Reselling is something most kids can do at any age, with a little guidance from parents!
What are the best things to buy and sell for profit? There are lots of things that sell well online and it's probably best to go with somehting you have an interests in – your enthusiasm will come across when you're selling it!
Some things you might consider selling:
Sports goods – sports items can cost a small fortune and parents often look for second hand items to lower the costs of their kids sports activities. Check charity shops for things you can resell and also online market places like eBay, sometimes you can find something that's underpriced just because it might need a small repair or clean before you can resell it on.
Video games consoles – if you know your way around a video games console and know what you're looking for when buying secondhand with a view to reselling, you've got a huge market right in front of you. eBay is likely the best place for this…popular and retro consoles sell on average within 48 hours for pretty decent prices!
Toys – another best seller in the second hand market. Vintage and retro toys, especially if they're no longer available for sale, reach the highest prices. Stick to selling one type of item and you'll be getting return customers before you know it!
Survey Sites For Teens – i-say.com
Owned by Ipos, one of the oldest market research firms in the world, i-say.com is a brilliant, totally legitimate site that kids aged 14 and over can join. Rewards are given in points, not cash, which can then be exchanged for high street vouches or prepaid MasterCards, making this a popular choice with teens.
i-say want to know your view on a vast range of things: you'll need to answer some questions about your likes/dislikes and hobbies etc…so they know what sort of surveys to send you.
The i-say team make sure all rewards are sent out on time and completed surveys are recorded so you get what you're owed. This really is one survey and rewards site you'd want to be a part of.
This is NOT big money and i-say do not suggest it is, but it's certainly a way to get some vouchers towards something bigger you might be saving up for!
Selling Photography
Got a good eye for taking photos? Did you know you can sell your photos online for a decent amount of cash?
There are loads of reasons people want stock photos…marketeers, bloggers and designers are just a few of the people who might use stock photos.
How much money you'll make depends on how many people want to buy your image, but generally you'll make a percentage of the sale price.
Of course you could sell photos on your own website but to get started quickly, consider selling on websites that specialise in stock images. Some of these are:
Adobe Stock – Adobe Stock sells images of almost everything imaginable, so there's sure to be a category for you here!
ShutterStock – Also a HUGE site with numerous categories for selling.
AnimalsAnimals – this is a much smaller site that specialises in, you guessed it, animal images!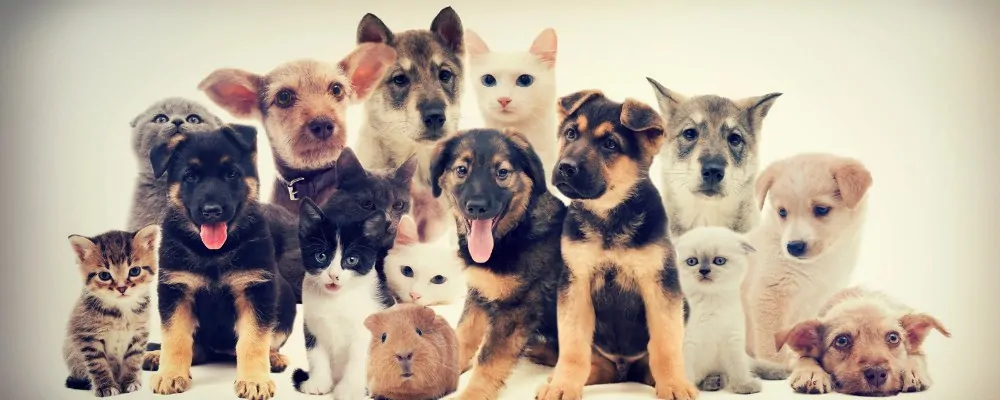 As with most types of selling, you need to review the submission guidelines and make sure you're images are high quality. If so, this could be a really lovely side hustle for some!
Slice The Pie
Heard of Slice the Pie? Neither had we! Aimed at teenagers who love listening to music, Slice the Pie pays you for your reviews on music, and also fashion, accessories and commercials before they're even released!
Slice the Pie will ask you specific questions about the thing you're reviewing, so for example you'll be asked your opinion on maybe vocals, or the rhythm of a track.
Once you've written your review and scored the review according to the instructions, just hit submit.
Payment is according to your review, so the more detailed the better. Slice the pie is hoping to have an app ready soon so you can review on the go.
Definitely one to have a look at!
Creative kids can make money selling crafts online and at fairs, held often and all across the country.
Cleaning driveways 
Many of us have paved driveways nowadays and they get crammed full of general garden debris if you have bushes and plants nearby. Get out and start raking leaves, grab yourself a few buckets and bags and have a cleanup, it doesn't take long to transform the look of a driveway full of leaves and you'll be able to earn yourself some cash in the process!

Wash cars 
It's an oldie but goodie, washing cars is still something a lot of people are willing to pay for. As a part-time job it's great exercise and you'll likely have lots of friends and neighbours queuing up for you to clean their pride and joys!
Get yourself armed with some car wash soap or shampoo and start cleaning!

Facebook Marketplace
Smaller kids might be too young to get into this but slightly older ones with a little supervision are likely to pick this up quicker than their parents! Have a look around and get a bundle of things together you no longer want (we've all got so much 'stuff' now!) and let the kids list it on Facebook Marketplace. 
Give the kids a cut, after all they're doing all the hard work, and earn both you and them some extra money!
Chickens!
one and a half million Brits keep chickens, that's a lot of cleaning chicken coops and a lot of egg collecting. Give the kids the job of keeping the chickens spic and span whilst collecting the eggs at the same time!
Reasons To Teach Your Kids About Entrepreneurship
Letting your kids make their own money can bring so many new skills. Some of them might include:
Encourages Children To Think For Themselves
Making money as a kid means you've got to think for yourself and think outside the box. Your child's going to gain the confidence to be able to make decisions. That's something not every kid leaves the school system with!
Encourages Kids To Set Goals
Setting goals gets you where you want to be. As adults we're often told to set goals to make things happen in our lives. Get your child setting goals as second nature and they'll be a step ahead of the crowd as time goes on.
Builds Confidence In Their Own Abilities
Once your child sees they're able to make things happen for themselves, their confidence will grow and grow. Entrepreneurship gives kids a focus they may not had had before, and while the initial goal might have been to make some money, it might end up bringing a whole host of other benefits.
Have your kids made their own money? Let us know in the comments below, we'd love to hear from you!
Kids Making Money FAQs
✅ Can kids join survey sites to make some money?
Yes, there are certain survey sites kids can sign up to, I've included a couple in my post.
✅ Can kids sell in online marketplaces?
The big marketplaces like Etsy and eBay require the parent to hold the primary account and be responsible for their child's selling activity.
✅ Do kids need to pay tax?
Everyone needs to pay tax on earning above the tax allowance threshold. Most kids are unlikely to exceed this earning a little extra cash. Check with HMRC if you're unsure.
✅ What's the easiest way to earn money quickly as a kid?
The fastest way to make money as a kid is to offer a service around your neighbourhood. You could pet sit, water plants or walk peoples dogs. Ask your parents if they know anyone who'd be interested.
✅ Can I make money blogging if I'm under 18?
You can start a blog if you're under 18, but you may need your parents to approve and pay for your hosting or domain name.
✅ How do I make money as a kid during quarantine?
During quarantine you can make money as a kid online. Have a read through the post and see if you can sell something online or offer online tutoring to smaller kids.