<– Back to Beatrix Potter 50p coin collection
Squirrel Nutkin 50p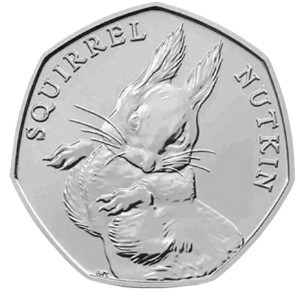 This Squirrel Nutkin 50p was issued in 2017 and 5,000,000 (million) were minted at the time.
The coin shows a large Squirrel Nutkin during his escape from the owl, Old Brown.
What's the Squirrel Nutkin 50p worth?
The squirrel Nutkin 50p is currently worth no more than it's face value of 50p. However, it's still worth holding onto this coin firstly because it completes a collection, and secondly because at a mintage of 5million, it could become rarer in the future.
Related posts you might like