Best things to sell on Etsy to make money
Looking for the best things to sell on Etsy to make money? You've landed in the right place!
You'll find everything you need in this ultimate guide to selling on Etsy to give you product ideas and get you started.
✅ Best selling things to sell on etsy
Some things sell better on Etsy than others, however, being a marketplace for independent sellers, personalised, crafted by hand goods do very well and include:
Stickers
Beads
Jewellery
Wedding Mementos
Personalised Gifts
Jewellery Materials
Charms
Patterned Leather
Baby Hair Accessories
Pendants
Custom Print Fabrics
Cabochons
Thread and Wool
Macrame
Candles
Bath Bombs
Soap
Baby's Clothing
Mystery Boxes
Art and Prints
Device Cases
eBooks
Pet Collars
Crochet Coasters
Novelty Mugs
If you're that person with creative crafts and finished products coming out your ears, you should consider trying to make money with them on Etsy.
Looking for ways to make money? Check out some of our other posts to get some extra cash in!
Also see: Etsy fee calculator
✅ Can you make money on Etsy?
Yes!
You may have heard of other online selling platforms like Amazon, eBay and Facebook marketplace.
However, these websites will generally only provide the space needed to sell one-time used items to others in your area.
Or, if you've written a book or have some drop-shipping ideas in mind, you probably believe Amazon is the way to go.
✅ Make money on Etsy UK
Then, along comes Etsy. In 2005, a website was built to provide a space for creatives and artists to use their personality, create a brand and sell handmade or crafted items as an independent.
So, Etsy is the place to go for genuine and unique items you can gift to others (or, to yourself).
But, what is it to sellers? For many, Etsy is a place to get some serious cash coming in!
Just by looking at trusted market statistics from sites such as marketplacepulse.com, we can see the Etsy platform is a viable route when looking to make money by selling personalised, hand-crafted and unique items.
✅ Best way to make money on Etsy
When it comes to your earning potential as a seller on Etsy, it all comes down to your product, your target market and your location.
For example: A true-cut diamond ring or a hand-painted canvas will always fetch more than a bow or some beads.
However, there are fewer people looking through the Etsy marketplace with the intention of purchasing an engagement ring than there are fellow crafters looking for beads.
So, while you may make more with one-off purchases of a diamond ring, you'll make more sales with beads which can lead to more reviews and a much more well-established household name.
Craft items and supplies will always be the number one most bought product through Etsy.
So, if you've got reels and reels of brass, pre-made stickers or jewellery findings, you could be making some bank.
The idea is that these items are small, ship well, are affordable to the buyer and are one-use products, meaning they'll need more in the future.
Some can make a small monthly bank top-up of £50 meaning you can treat yourself to a boujie meal-out with friends or invest in the new products to sell.
The other side of Etsy is a community of people who hit the jackpot with their items, target audiences and production costs to allow them to quit their job and become a full-time Etsy seller.
However, what you see coming in from net product costs is not always going to equate to your profit. And, if you're going to be an Etsy seller, it's important you know the facts.
✅ Selling on Etsy
It is completely free to set up an Etsy shop.
Yet, for every listing or item you want to sell, there is a small fee of 15p. If your listing doesn't make any sales within the first four months it will be removed, and you'll have to pay the 15p fee once again to re-list.
Although, if you are beginning to make sales, you will need to prepare for the Etsy fees of sale.
These include a 5% transaction fee plus an extra 20p as a payment processing fee (However, if you do choose to go down the line of selling lots of small and low-cost items, the fee won't seem as much of a chunk).
Then, it's important to know that Etsy will use your listing for off-site advertisements.
So, if you end up with a sale or two due to the adverts, Etsy will take a 15% commission to cover the off-site adverts.
Whether these are for TV, radio or social media, it doesn't matter.
Finally, you get the choice of paying £7.50 per month for a service called Etsy Plus.
Here you get access to a range of extras such as: custom web address discounts, advanced shop or profile customisation, restock requests and more.
We suggest holding-off on this offer and seeing how your Etsy business fares without the help of Etsy Plus.
✅ Best things to sell on Etsy to make money
So what might you sell for a profit on Etsy?
Stickers
Number one on the list is stickers. They are small, light, quick to make, not too delicate and cheap to mass produce.
This means the margins for profit can be pretty high in comparison to other items on the list.
This is especially the case when you consider that stickers only need an initial investment on printers and then you're all set to go.
If you love designing pop-culture stickies and other random shapes through graphics, then this is the best way for you to be able to share your designs (and get some money for them, too!)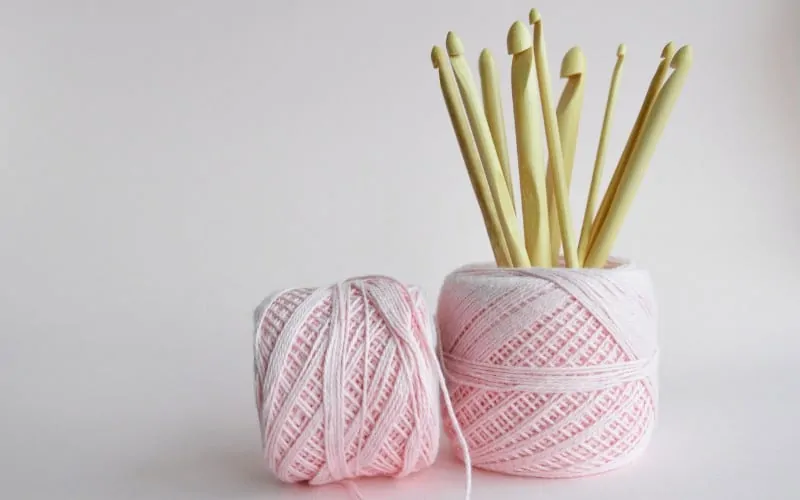 Beads
People love to buy beads and handcraft their own jewellery.
To be able to make even more unique items they know nobody else will have. And, that's why beads can be so popular.
You also have other sellers on Etsy who produce jewellery but still need to source their beads – where better than to stay in-platform and find hand-made beads of clay, resin or tumbled rocks.
If you want to begin making money with beads, your best bet is to create your own.
You'll find people treasure these items more.
But, that's not to say you can't head to your local craft store, re-vamp some usual beads and sell them on.
Jewellery
Jewellery has to be the best-selling product to come from Etsy.
Being able to buy exclusive and irreplaceable pieces and gift them to those you love, it can be an amazing feeling.
So, putting yourself in your buyer's shoes, you can begin to use metals, beads, tumbled rocks, clay, resin, petals and more.
When it comes to the statistics, if you look at the top 100 sellers on Etsy, you'll find that most of them are selling jewellery.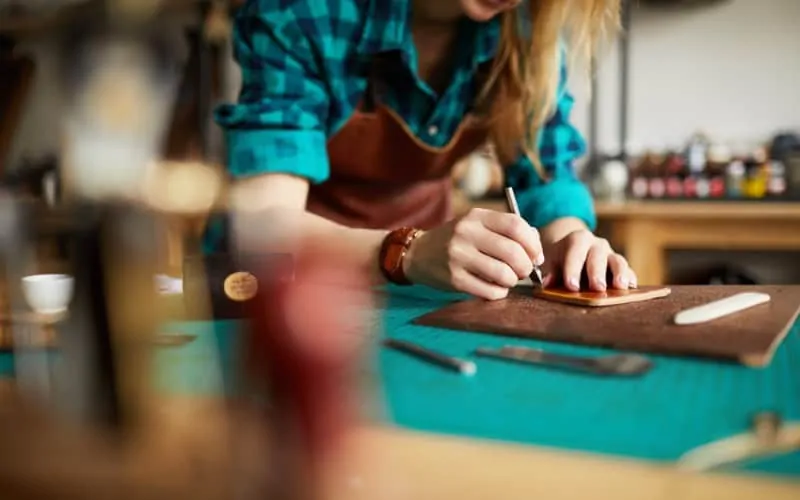 With novelty earrings being the biggest hit, there are necklaces, badges, pins, broaches, bracelets, hand cages, foot cages, anklets, collar tips and more.
Wedding Mementos
As long as people continue to fall in love, there will be big weddings, small weddings and the hen do's or stag nights to match.
That's why the wedding and party section of Etsy is so popular. Even being given its own space on the menu.
With everything from cards and name place mats to extravagant custom headpieces and the silk robes for the bridal party.
The majority of these items are personalised gifts that have the purpose of creating memories and re-living them down the line.
So, if you love love and have the creative flair for some wedding-themed crafts, start your business plan and be sure to factor in seasonal demand fluctuations!
Personalised Gifts
With Etsy, it all comes down to finding affordable and unique gifts (or personal hauls) meaning personalised items can be one of the most successful listings.
While other sites whose names shall not be mentioned (but, let's say, you won't find them on the high street) have premium prices for items, Etsy provides a space for sellers to produce and sell the same items at a lower cost while maintaining a good profit margin.
So, if you have a knack for getting people's names on items such as wooden keepsakes, tags, wine bottles, glasses, aprons, tops and more (hint: drop shipping can be a saviour here), then get going!
Jewellery Materials
In the top ten of the most popular sellers on Etsy, you will find at least two of those sellers are simply listing the means for other sellers to make their jewellery.
From beads and pendants to copper wire, findings and tools and everything in between!
If you're already a jewellery maker and you have an excess of supplies coming through from the warehouse, be sure to list them up and try to make a little extra bang for your buck.
Plus, there's serenity in the knowledge that it is a consistent market of people buying to sell on.
Charms
With the boom of charms and charm bracelets over the past decade, it is a go-to gift for families to invest in every birthday and Christmas.
And with empty charm bracelets and yearly celebrations, comes a consistent demand.
In terms of current buying trends of charms in the UK, you'll be in the selling market of small handmade steel charms of the alphabet.
Or, the runner up would be to make tiny polymer clay items such as fruit with a face.
Patterned Leather
Here's an oddball to throw into the mix. Current trends in personalised gifts are showing a spike in patterned leather.
With some sellers finding success in simply creating patterned leather swatches, other sellers create pendants, bags, purses, keyrings, camera straps, lanyards, bracelets and more.
In fact, one of the top ten sellers of Etsy is a patterned leather seller. And, she truly provides everything from earrings of leather to toilet roll holders of leather.
So, at least you know there's a market for leather lovers.
A top tip is to use pleather instead of real leather as it can be cheaper to source, easier to work with and targets a wider community of vegans and vegetarians.
Baby Hair Accessories
If you've ever seen a new-born fast asleep in their pram with a beautiful patterned bow on a headband, it's probably from Etsy.
These little gifts (the bows) are generally seen to be the perfect present from friends to friends with newly introduced little ones.
They can be inexpensive, personalised, soft, elasticated to grow into and unique.
With a passion in sewing or knitting, you can put your skills to the test with soft threads such as lambswool, cotton muslin, bamboo or fleece.
And, when the joy of making it is done, you can pass it on to a genuinely grateful recipient.
Pendants
Sometimes, having the right hand-made pendants can be the perfect listing.
When buyers see just a pendant, they can often feel as though they have the freedom to experiment with the rest of their jewellery.
Giving them the option to use the pendants on a necklace, as earrings or even on a belt.
Not only this, but you can put your business mindset to the test and use the right keywording and pricing strategy to enable buyers to think they're in for a good deal to buy the pendant without a chain.
Making pendants can be done with anything. Whether you're a resourcer of resin, a pro at polymer clay, top notch with tumbling, an old hand to origami, a master of macrame, the queen of quilling or anything. (We'll stop it there to save your sanity).
Creating pendants is an entirely broad aspect where the marketplace is bustling.
Custom Print Fabrics
One of the best things about Etsy (for a buyer) is being able to find the quirky items you wouldn't find in a regular high street store.
And, for the many out there who are a whiz with a sewing machine, finding the right fabric for their gown can be a task.
So, being able to head to Etsy, request a custom print and see it turn up on their doorstep a few days later can be a blessing (take it from us, who have been there done that and made the T-shirt).
And, this is a growing community. Meaning, it is best to capitalise on this while you can!
Cabochons
Don't worry, this is a real word and it is a real popular search on Etsy's market.
To provide a little backstory; it is a stone or gem shaped to give a flat surface on one side and a domed surface on the other.
They are great for buttons, in a vase, as table decorations, in pendants and anything else you can think of (probably).
We'd say this type of sale could be best suited if you love to take long walks on a beach, collect pebbles with beautiful colours, take them home and shape them in a tumbler.
You can keep the ones you simply can't live without and sell the rest for the sheer cost of a tumbler, some grit and your time to walk on the beach.
It's truly a win-win for a hobby making money.
Thread and Wool
Next on the list is a classic that everyone uses on a daily basis without noticing.
Treads and pre-made speciality wools are a big go-to for creators and designers across the world.
For other sellers of customised fabric or creators of stunning macrame, knitted scarves and so on, they all need to source their wools from somewhere.
And, it can be easier to head to the comfort of Etsy than into town for a haul.
As a seller, there are many ways you can source your own materials to make custom yarn.
For example: using coloured fibres to twist into a yarn or even (if you're in the right location and region in the world) you can create your own silk thread from the lotus stalk.
It takes a while to get enough for just the one scarf (two months), but it does mean the yarns can sell for thousands.
Macrame
This is one of those listings you should continue to watch like a hawk using tools such as Etsy Rank.
This is because it is a current trend for home décor. An industry that evolves every couple of years.
They are nice and easy to make while offering a gorgeous personal handcrafted touch to each one. You can create macrame planters (bestsellers in late 2020) wall decorations and even small keyrings.
The market of sellers with macrame artwork is quite varied.
As it is a simple and affordable craft, there are some who like to keep their prices low.
However, there are also some crafters who create elaborate designs and charge through the roof (successfully).
So, choosing a listing like macrame can provide you with the full freedom of a pricing structure that doesn't necessarily need to be based on competitor valuing.
Candles
One thing that will never lose popularity is a candle.
With some having surprise smells, others having reliable classics and several containing stunning candle carvings as decoration.
The best thing is that you get to feel like a mad scientist in a lab coat while burning wax in one corner, experimenting with scents in another, and finding cool containers or flasks to put them in. Thought of using a mug?
They don't have to look boring either. With pressed flowers and seashells being popular choices from buyers to gift to those they love. You can be selling scented candles for up to £60 per candle!
Bath Bombs
Leading on from the route of the mad scientist, next up in the big A-Z in the best things to sell on Etsy are bath bombs.
There have been so many viral classics from bath bombs created and sold through Etsy.
With the surprise Harry Potter house and charm fizzers to the engagement ring in a bomb surprise!
Bestsellers at the moment include organic bath bombs and shower steamers.
Soap
Making soap can be one of the easiest and most fun things to do as a seller on Etsy.
Being able to bulk-buy the soap base from stores such as Amazon or Costco, you can really make it your own.
By using colourants, scents, decorative additions, moulds and vegan options, you can construct the perfect soap for any punter on Etsy.
And, we all need soap – some more than others, but they'll be your best customers! Plus, when you personalise soap into a marvel for individual buyers, they are an in-demand gift across the board.
Make honeycomb shapes, carve popular characters or add stunning petals for a unique buy that can't be found at your local Morisons.
Just don't forget the timeless scents: hibiscus, eucalyptus, peppermint, vanilla, chamomile, chocolate and lavender!
Baby's Clothing
Etsy is where it is happening in terms of baby's fashion. With the most perfect and adorable outfits hand-made using soft fabrics in someone's home and shipped to the recipient with love.
The best thing is to capitalise on a gap in the market for baby clothes.
For example: buying in custom print fabrics from another Etsy seller (to keep the friendship within the independent seller house) and putting your sewing machine to work.
You can create custom outfits as part of a set package; and you can create multi-size deals of the same outfit to allow new parents the joy of seeing their mini-human in the same cute clothes as they grow.
As these outfits are hand-made with custom fabrics, you can charge a nifty price with buyers being happy to support you as a local independent seller. Meaning you could be receiving around £20 per romper!
Mystery Boxes
Mystery boxes are exactly what they say on the tin. Often, people buy into a mystery box with an idea of the theme but not the contents.
And, they can be a huge success for buyers looking to gift and surprise themselves (because self-love is important).
Everything from clothing items and jewellery to luxury bathroom essentials and yummy goodies. They can be made of anything.
With that, you can choose your price threshold. Some charge a benevolent £5 per package and others charge over £100.
However, always make sure the price matches the content otherwise reviews can impair your entire Etsy business reputation.
Art and Prints
As an artist (if you are already an artist) it can sometimes be hard to find the right outlet to express, portray, exhibit and sell your pieces.
Other times it can simply be a struggle to find the right buyer who will understand and appreciate your artwork for what it is.
Whether it's a new design for a 3D printer to print, a graphic image to be printed onto fabric or wallpaper or even a canvas painting to be hung and admired.
However, as a place dedicated to providing you with an outlet to sell creative and unique designs, you've found your true audience.
With this, you'll have people willing to pay the value of the piece rather than the value of the supplies.
Art's sheer popularity among Etsy buyers is upheld with it being one of the few menu options on the website.
So, while you'll be entering a flooded market, you could also be exhibiting a piece that a buyer will scour the pages to look for.
Device Cases
There are many ways to personalise a device case and creature a unique holder for people's electronics.
From using clay to create 3D designs to adding your own artistic drawings through graphic design and a sticker machine.
All it takes is the sheer phone case and some crafting supplies for you to be on your way. You can incorporate any hobby that takes your fancy; macrame, clay, resin, knitting, acrylic painting and so on.
However, be aware your main influx of orders will likely arise alongside the release of new devices.
So, if you're one of the lucky ducks to quit your job and focus on the wonderful world of selling items through Etsy, you'll need factor this into your monthly budget!
eBooks
eBooks are an increasingly popular asset to sellers around the globe. Some sellers who base their practices on other successful items and products on this list may also sell an eBook to talk about their craft.
However, there are many eBooks on Etsy that are about how to craft, how to use SEO, weight loss, how to write an eBook, living a healthy lifestyle or even some NSFW guides to aphrodisiacs.
So, if you find yourself to be a bit of a wordsmith or wizard on the keyboard, you could be making an income with next to no overheads.
For example: you can use your phone to write the document, list it onto your Etsy small business profile and sell for a few pounds.
While it may be a small price, there's no maintenance perseverance; you don't have to rewrite, post or print it.
Pet Collars
Often, when buyers head into the general pet store or superstore, they'll come across generic colours of a collar.
Or, they could be lucky and stumble across the only novelty collar endorsed with dog bones only to find it is somehow for cats.
Yet, with Etsy, you could be making and selling pet accessories such as: velvet collars, leather collars, personalised collars, fluffy collars, collars with bows, light-up collars, macrame collars, knitted collars, custom print collars, cord collars, rubber collars, charm embellished collars, plaited collars, designer collars, vegan collars and more.
They present as the perfect gift for those unsure sure what to get their puppy loving pals (don't forget to use the right keywords to target this audience!).
Crochet Coasters
A surprising addition to the long list of items selling well on Etsy is crochet coasters. In fact, not only is it a novel concept, it is a very niche subject.
Either way, this is a prime example of the importance in analysing bestseller markets on Etsy as well as your target audience in order to ensure profit maximisation.
When it comes to crochet coasters, minimalism is key with the front page. However, there are a couple of designs that appear to stand-out with multiple sellers.
These being beautiful sunflowers, seasonal snowflakes and surprising cat bums (no, really).
But, if you love to crochet, these can be a very quick, easy, light, small and repeatable pattern to sell across the world.
Novelty Mugs
As we near the end of our A-Z of best items to sell on Etsy, there's always got to be the one item remaining part of novel and pop culture for years and sticking for years to come.
If you've ever watched the Blackpool siblings on Gogglebox, you've probably wondered where they source their magnificent mugs and it's more than likely to be Etsy.
From a kangaroo mug with a biscuit pouch to a fox mug whose ears make you genuinely question how someone is supposed to drink from of it.
This gig is perfect for the ceramic maker with too many mugs to count and a few too many people asking for one.
So, hop on the Etsy bandwagon, charge around £15 per mug and watch the world rejoice as buyers sip the iconic builder's brew.
Seasonal Décor
Finally, if you're wanting to be a seller on Etsy, but just for a temporary period, make sure it is around a time of year where pockets are being emptied in lieu of seeing a smile on the face of a loved one.
What time could it be other than Christmas, Easter or Valentine's Day?
From home décor and personalised gifts to clothing and jewellery, there's always a demand at the high times so whip-out your magnificent business mind and get creating.
✅ What sells well on Etsy?
There you have the 26 best items to sell on Etsy for a quick buck.
There are far more out there such as doggy socks, 3D printed models, vintage items, furniture and toys, but the 26 above seem to be the magnets for most Etsy buyers across the globe. So far.
Don't forget to keep checking the statistics on Etsy as they can change from year to year, and while keeping-up with seasonal trends is good (who doesn't love a good Etsy Christmas haul?) be sure to continue in-tune with the yearly trends, too.
✅ Selling on Etsy UK
This fact isn't the most fun aspect to selling through Etsy, but it isn't something that can be simply overlooked, either.
When you begin to make money through other channels in your life (while a resident in the UK) you are allowed to make £1000 without paying any tax. This is called a personal hobby income.
However, if you make more than £1000 in any given tax year, you need to complete a tax return each April.
In order to do this, you need to register as a self-employed person through HMRC with a unique Government Gateway. When complete, you're good to get earning.
Then, every April 5th, you need to log-in to your Government Gateway and complete an online tax return.
Here, you'll state every penny you've earned in the tax year, if you've paid taxes within another job, your total expenses for your self-employed income and so on.
This way the tax man can effectively calculate how much money you owe them after the £1000 you get to earn for free.
With that, a top tip would be to create a savings account where you can insert 20% of each payment. This allows you to have money saved for when the tax man comes knocking.
The general consensus is that you won't have to pay exactly 20%, so you'll often get a little leftover to treat yourself with!
Related posts