* We sometimes use affiliate links, so we may receive a commission, at no cost to you, if you make a purchase through a link. Check our disclosure for more info.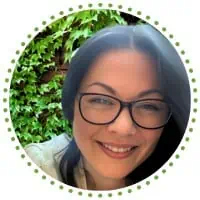 I'm Steph, mum of three! 👋
Here, I share practical insights on making (and saving!) money. With a knack for budgeting and a passion for financial freedom, I've picked up lots of tips & tricks along the way. And I can't wait to share them with you here!
Crocheting is an art, a hobby, an outlet, a passion and so much more all rolled into one skin. Knowing how to make money crocheting means you can turn your passion into £s. We've got 12 ways you could make this age old skill into a new income stream.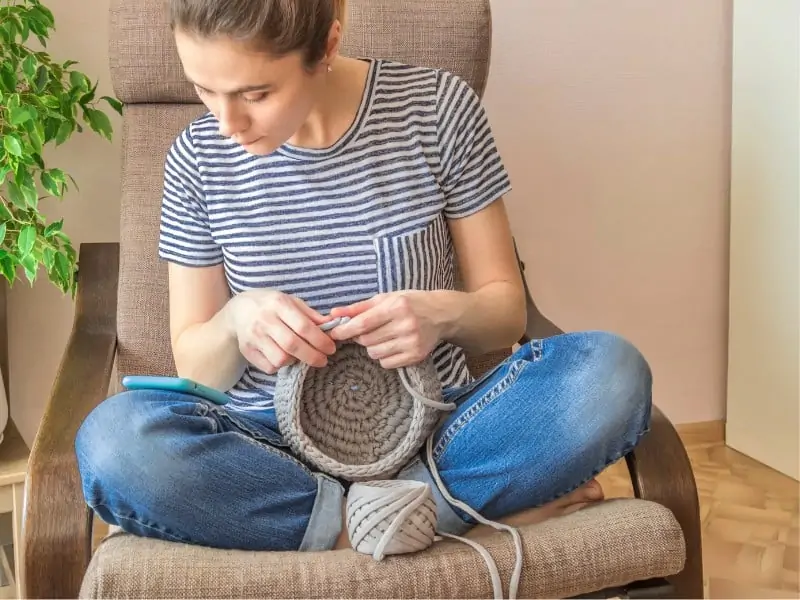 Also see: How to start an online business for free
How To Make Money Crocheting
When it comes to crocheting, we're not crocheting pros and we completely admit to that! But, we are experts at giving you ways for how to make money doing what you love.
If your skill is crocheting, we think these ways to make some money from it and think about turning something that might have once just been a hobby into something you can earn some decent money from are pretty good!
Is Crochet A Good Business?

So, we've done some digging (as some of you have asked) and we've considered what your options might be if you're a crocheter and looking to make some cash from it.
Like many things, the demand crocheted items comes and goes, but with platforms like Etsy and Folksy giving people an easy way to buy handmade one off items, demand has grown and it's now easier than ever to offer and sell your crocheted goods form home.
But selling physical crocheted products isn't the only way to make cash from this sideline, there's a whole host of other ways to capitalise on your skill set.
Here's some of the best:
Become a Crochet Tech Writer/Editor
This might sound like an alien concept, but if you want stay-at-home crochet jobs, it could be one for you. There is a community of talented crocheters out there who aren't necessarily a dab-hand at writing the steps and patterns. Here's where you would come in as the pro. You get to try out the pattern and perfect the steps for the next person to try it!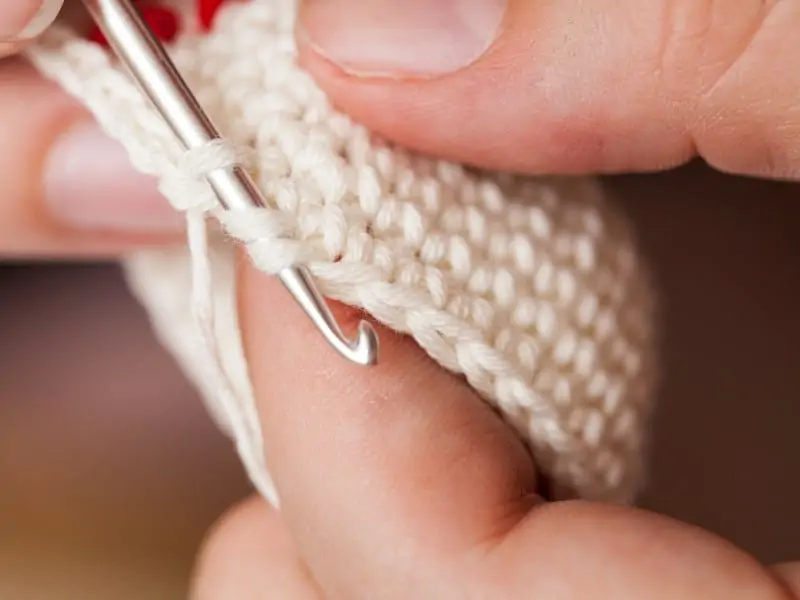 Become a Social Media Crochet Influencer
This one might not be the first thing that springs to mind when you consider how to make money crocheting. But if you love what you do, then share it online. Whether it's videos on TikTok, Twitch or YouTube, simply sharing tips, tricks and new crochet patterns to your followers could land you with a nice advertising revenue pay out each month. P.S. we suggest using all three for the best chances to deepen the pockets!
Blog About it
Just like with becoming a social media crochet influencer, you could share your latest crochet try-outs with your readers, subscribers and followers of your blog. Plus, when you have a good blog that's driving a nifty bit of traffic, there's a ton of advertising revenue you could be tapping into. Otherwise, it could be a subscription cost, sponsorships or affiliate links that help you with how to make money crocheting.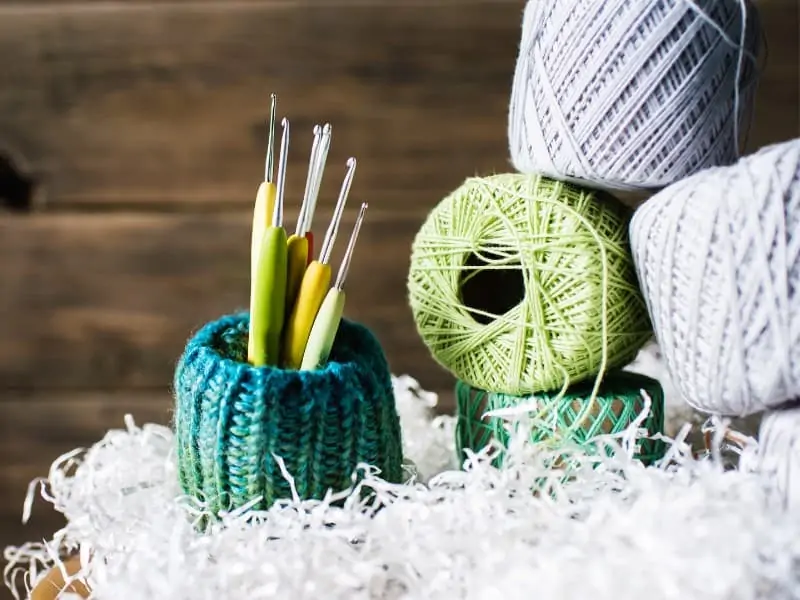 Create Make-Your-Own Kits
Everyone loves these whether they're one-off treats or subscriptions. So, tap into the market by selling ready-made kits of your favourite crochet hook, yarn skeins, patterns and instructions. Plus, the world's your oyster when it comes to how; there are companies that help bring your crocheting subscription box dreams to life such as Cratejoy who take around 11.25% on subscription transactions and do the rest for you.
Host a Tombola at a Fair
You'll have to ask the host of the event as well as the local council for permission on this one, but promoting a tombola is so much fun, especially when it gives you a solution for how to make money crocheting all your favourite things. So, have your crocheted items at the ready, a raffle book and a drawing time to get started. Then, let the ticket sales roll in.
Make Pop Fiction Characters 
When many people think of crochet, some of the iconic items include crop tops, napkins, placemats and bags. But we know there's so much more. Consider just how much people love plushies and their favourite characters. So, why not mush them together in your stay-at-home crochet jobs and begin selling crocheted plush characters?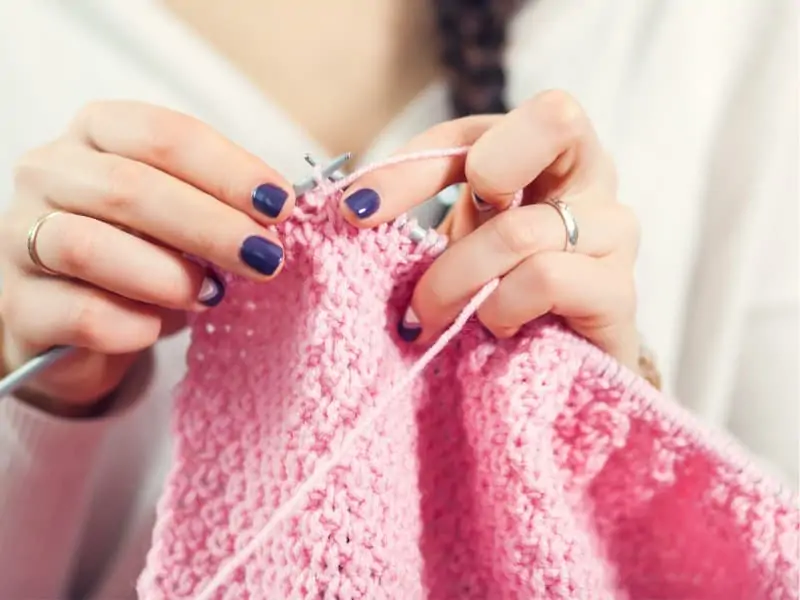 Offer Custom Crocheted Pieces
Knowing how to make money crocheting means knowing exactly what your customer wants. And knowing what your customer wants can sometimes be a bit of a task. So, instead of sitting and crocheting the same thing for sales, open up your stay-at-home jobs to commissioned pieces. Everyone loves to have unique items made with love just for them, whether it's for themselves or a loved one.
Offer to Mend and Fix 
As you already know, crocheted fashion is on the rise and is very much existing out there already. But they can often come through the form of fast fashion meaning their durability isn't quite up there and holes begin far too easily. That said, it opens the market for you to begin your journey into how to make money crocheting already made pieces. Plus, you could even monopolize the local area to charge a pretty penny.
Sell Finished Pieces
It goes without saying that selling the crocheted goods you've already got mounting up in your home is the best route for making money through selling crocheted items. Whether you opt for third-party hosting sites or become a tech-savvy crochet master who hosts their own website is completely up to you. Here are the best places for you to sell your finished pieces and continue life with stay-at-home crochet jobs.
Etsy
Facebook marketplace
Amazon Handmade
eBay
Instagram
Shopify
Local Stores
Your Own Website
Ravelry
Not on the Highstreet
Folksy
Deviant Art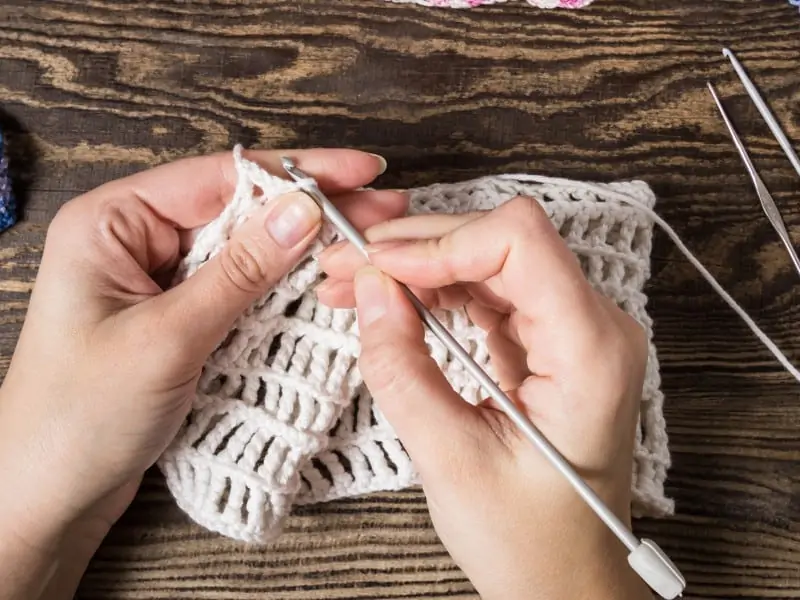 Teach Others How to Crochet
Crocheting is never something that'll go out of fashion. Even when it wasn't the height of actual fashion, it still had its place within communities of crochet lovers (and you!). So, it stands to reason that teaching others how to crochet will also be on the list of stay-at-home crochet jobs you could master. For example, offering online short-courses, one-to-one classes through Zoom or having a weekly group over to crochet.
If creating an online course interests you, have a look at Teachable to get started.
Upload Patterns onto Online Stores 
Even if you're not one to part with the pieces you spent so long lovingly hooking and threading, you can still share your patterns for a profit. We recommend showcasing all your amazing designs through social media and then promoting the places your followers can buy your patterns from. For example, Etsy or your own Shopify site. A bonus is that these become a passive income stream!
Write a Book About Crochet
Like blogging and selling patterns, people want to know how to become a crochet pro just like you. So, they'll research, read and practice! Luckily, one of the ways how to make money crocheting is to offer everything they could possibly need in one book. Plus, there's no need to consider publishing with avenues like Amazon's Create Space who offer print on demand services where you take a cut of the profit.
And that just about sums it up for the various methods of how to make money crocheting. Whether you opt for the more passive income side of things or you're on the front lines of the stitch crafting a new custom piece for a client. There's certainly one or two options for you to have a go at.
That said, if you find making money through the crochet world isn't quite for you and you'd like to keep it as a hobby, we do recommend reading through all our other ways to generate new streams of income right here at The Debt Free Family. As we've already mentioned, while we're not quite pros at crocheting (yet), we are the experts of bringing money streams to the limelight!
Recent Posts